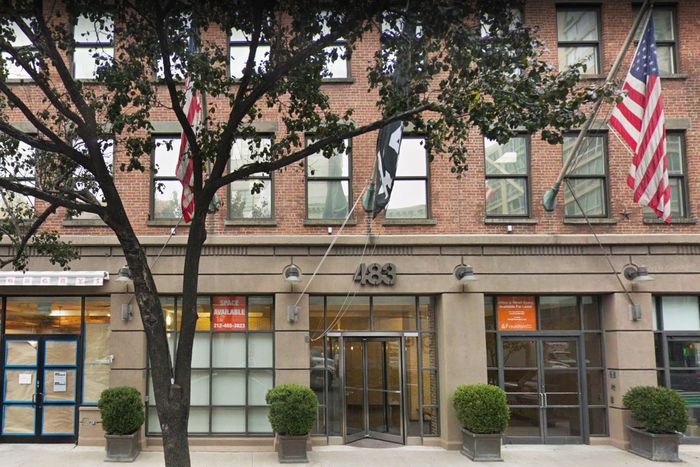 The ground floor of 483 Tenth Avenue.
Photo: Google Maps
After the first wave of the pandemic, New Yorkers couldn't wait to get back to restaurants, stores, museums, gyms (and in some cases, their apartments). The residential market, after some wobbly months, picked up more or less where it left off. But offices? Not so much. The majority have remained mostly empty since March 2020. Return-to-work dates were pushed back, then pushed back again. Some people moved to Westchester, some to Kingston, on the theory that they'd never have to commute again. More than six months after the vaccine rolled out, with the Delta variant still on the march, still only 30 percent of office workers have returned, and a lot of them are only in part-time. There is a lot of vacant space out there.
Walk around midtown during the business day, and there are once again people on the streets — this isn't the full lockdown of April 2020 — but the sandwich-and-salad spots are half-full and the street bustle is muted. The availability rate there is still hovering at a little under 20 percent, and office landlords have been desperate to fill it. They've dropped prices repeatedly, undertaken building-wide renovations and upgraded HVAC systems and elevators, and built out furnished spec suites to try to lure anyone to sign a lease. And now one building by Hudson Yards, 483 Tenth Avenue, is offering to pay brokers double commissions.
It's "a glut of inventory on the commercial side that we've really never seen before," said Marc Roman, the Douglas Elliman agent who is representing 483 Tenth Avenue. Around that building, "vacancy is in the 20 to 30 percent range." (It's 20 percent at 483, roughly double what it was before the pandemic.) And this, he added, was after rents for class B office space — that is, in serviceable older buildings without glitzy lobbies and amenities like 24-hour doormen — in the area dropped by about half, from about $60 per square foot annually to $35.
Erica Gruber, who manages the building, says it felt futile to try to compete by lowering the price, and instead, "We wanted to find ways to attract people to the building, bring more clientele to look at it," she said. Typically, a commercial broker gets 50 to 100 percent of a commission (depending on whether the landlord's rep takes half or not) that works out to about 35 percent of the first year's rent on a ten-year lease. With a double commission, a broker would get about 70 percent of the first year's rent. For a small-to-medium-size office of 10,000 square feet — that's workspace for 50 people or so — the commission works out to about $245,000.
"We've already had ten or 12 people reach out since we started the deal last week," said Roman. "Before, I was blasting to the community, 'Hey we dropped the price' or 'look at this awesome space.' Crickets. This email? I'm now getting responses: 'Thank you so much for including me in this email.' I've never had that response to essentially spam." So far they've signed one lease, which was in the works before the deal, and it's with a dentist, the kind of tenant who can't do much work through Zoom.
Is all this change permanent? Stephanie Jennings, a managing director of national research at Newmark, thinks the office market is beginning to turn upward again. "Availability rates are still relatively high, but we're starting to see a shift," she said. The third quarter of this year "was the best quarter for absorption [the amount of space leased by tenants] since the beginning of the pandemic," she said. The amount of sublease space on the market is falling and so are concessions like the ones at 483 Tenth, at least in trophy and new buildings.
It's those older buildings that will have a hard time in this next phase, suggests Ben Shapiro, a vice-chairman at Newmark. "It's a lot like the social and economic situation: New York is moving toward being a city of have and have-nots," he said. The stock market has done extremely well, and companies looking for new office space right now are well-financed ones, many of them tech companies. They'll be okay even if they spend money on space that sits largely empty for the next year. In response, landlords in Class A buildings are trying to one-up each other, going beyond the food courts and gyms to install outlandish extras like golf simulators and beehives. The logic seems to be that offices have to be more appealing than people's apartments to draw everyone back. Although it's not clear that what's really stopping people from returning to the office is a lack of bouldering walls.
Shapiro says he thinks people will gradually start going back to the office more: too many small apartments, too many social butterflies. But, he adds, some less appealing B and C buildings will likely end up being redeveloped. "I think we're going to see residential conversions and redevelopment — people will put together sites where older, mid-block office buildings are. Supply will outpace demand for a very long time."