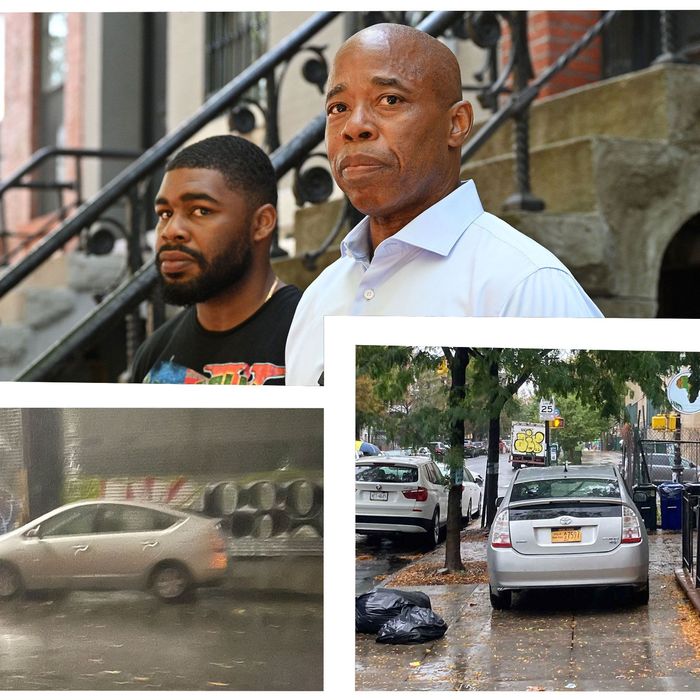 Photo-Illustration: Curbed; Photos: Getty Images, Kevin Dugan, Willy Blackmore
Where the hell does Eric Adams live? For anyone trying to get a grip on the notoriously hard-to-pin-down Democratic candidate who will likely be the city's 110th mayor, this has been one of the most confounding and difficult-to-answer questions in the weirdest race in recent memory. The vegan ex–New York City police officer turned Brooklyn borough president insists he lives in Bed-Stuy, but has been hounded since June by questions about whether he actually lives in Fort Lee, New Jersey, thanks to Politico and The City reports that he had recorded spending zero days at his supposed residence in legal documents. Next came a bizarre tour of his Bed-Stuy basement apartment, which left reporters less convinced that he actually lived in the place. Since winning the primary, his campaign hasn't responded to questions about his schedule, and he seemed to disappear for weeks at a time. During the first mayoral debate on October 20, when moderator Sally Goldenberg asked Adams how often he spent the night at his place in the last six months, Adams only replied, "I don't jot down the number of days I'm there, but that's where I lay my head."
It's an answer that, strictly speaking, is meaningless, but seems to satisfy the residency requirement for the New York City mayoralty, which defines it as having a place in the five boroughs where one "intends to return." But it's still not really an answer. Could the future New York City mayor really not live in the city? The editors at Curbed reached out to me to see if I'd be interested in finding out if he really does return to his Bedford-Stuyvesant home during the week (Adams says he stays in Fort Lee on weekends). A private-eye source gave me tips on how to tail him (use two cars and a cyclist to follow him around — a plan that never went anywhere) and surveil him (stay across the street or a few cars down the block, in a vehicle with tinted windows, and bring an empty jug to pee in). At one point, we tried using a camera trap — the kind of motion-activated setup used to photograph wildlife — to capture his comings and goings. But the machine wouldn't cooperate, even after I got assistance from Strategist tech contributor David Pogue.
Ultimately, Curbed opted for an old-fashioned stakeout: seven reporters taking shifts hiding out in a rented gray Nissan Sentra with Florida plates parked directly across the street from his building. The plan was to be on the block overnight from Monday through Thursday during the first week of early voting.
The stakeout started at 7 p.m. on Monday afternoon. Two full shifts went by — 7 p.m. to midnight, then midnight to 4 a.m. — without a soul entering or departing the apartment. Then: 4:18 a.m. on Tuesday morning. I was sitting in the car, bored, when I noticed a gray Toyota Prius with New York City plates circling the block, finally parking just past Adams's building. A tall Black man who looked a lot like Adams walked into the basement apartment, turned on the lights, then shut them off for about five minutes. Was he coming home from his Borough Hall office, where he slept for months during the pandemic? His favorite club, Zero Bond, where he recently hung out with the likes of Jonathan "Foodgod" Cheban and Equinox CEO Harvey Spevak? Either way, once he went inside, things got slightly weird. The Prius, it seemed, was illegally parked in front of an active garage for a plumbing-supply company. Which quickly became a problem for the trucks attempting to enter said supply company: They were soon backed up all the way down Lafayette Avenue, causing a bona fide pileup while Adams slept inside. This went on for hours — the trucks sat there; a few of the drivers got out to see what was the holdup — until finally, at 8 a.m., someone from the supply company came out in a forklift, tied a yellow rope to the back of Adams's car, and towed it a few feet so things could get moving.
Before my shift ended at 9 a.m., I texted Curbed editor Willy Blackmore to say that someone should come take over for me (we hadn't planned to be there during the day) to confirm it was, in fact, Adams, and to see what he would do with the towed Prius, whose driver's side was now blocked by the very traffic jam he appeared to have caused. Willy arrived just in time to see Adams — definitively Adams — leave his apartment, climb into the car from the passenger side, shimmy into the driver's seat, then drive the car up onto the sidewalk. He drove blithely on the sidewalk until he was past the jam, then turned right on Stuyvesant Avenue.
At 12:37 a.m., a couple hours after the final mayoral debate (during which Adams declined to shed more light on how often he sleeps at the Brooklyn apartment we were lurking outside of), Shant Shahrigian saw Adams walk back in his front door. A mere seven minutes later, he popped back out. He paced on the phone for a few minutes, then, looking directly at the car, yelled, "Oh, shit! I caught you! I caught you!" Assuming he'd been made by the soon-to-be mayor (who, to be fair, is also a former cop), Shant left.
So does Eric Adams live in his own home? Maybe. Though if there ever was a time for Eric Adams to "live" in "his" apartment, it would be the week before election day. In response to our findings, the soon-to-be mayor had this to say: "I got home late and drove around my neighborhood several times looking for parking, like so many New Yorkers do, and thought I would be out of the house early enough to move my car before the business opened. There is no excuse for it. In reflection I should have just rode my bike."