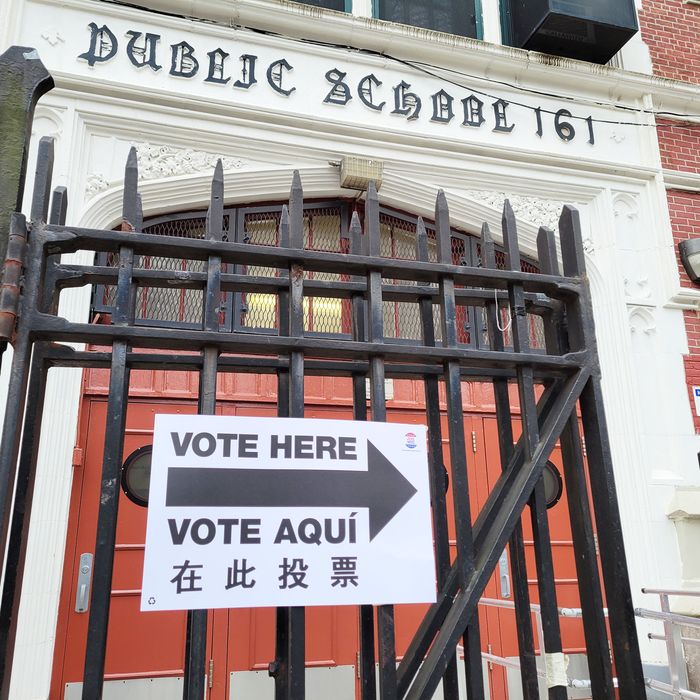 When the polls close at 9 p.m. tonight, Eric Adams is expected to quickly be declared the city's next mayor. But while there's certainty to the race, there is not exactly excitement. Resigned is more the word for how many New Yorkers feel about voting for Adams after a crowded primary that he won by just over 7,000 votes. But we found some of his more enthusiastic supporters in Crown Heights, home to a mostly Black, middle-class community that overwhelmingly backed Adams in the primary — including a six-block district where 88.4 percent of the 250 ballots went for him, one of the highest percentages for Adams in the city. This morning, we spoke with voters as they left the polls on why they're excited to elect Adams.
Mojica Salgado, 68, is a retired special-education assistant teacher
I voted for him when he was borough president, and I went to his office for help when I needed to find a new place to live. The landlord had sold the building, and after 30 years, I had to move. I had nowhere to go. Someone suggested I go to Adams, so I thought I'd give it a try. I was able to get an appointment with him, and about two weeks later I had an interview for senior housing and I got it. I couldn't believe it. I've been living there ever since — for eight years — so he honestly changed my life. And he helped my twin brother find housing too. He really came through for me and my family, so I think he could do the same for other people in the city. That's why I'm happy to vote for him. He's there for the people.
Brittany Williams, 36, works as an ER nurse
I grew up in Canarsie, and my mom raised me and my two brothers on her own. To me, it means a lot to vote for someone who understands my reality and came from a similar background. I have a lot of respect for someone who invented themselves from nothing. I've also heard him talk a lot about closing the racial health gap and doing more to help poor communities get care, and that's huge for me. My two brothers are both police officers, so I really like that he used to be a cop and tried to change things from the inside and says he wants to build more community trust.
Thomas Oppenheim, 62, lost his job due to the pandemic and is searching for work
I'm hoping that he can fix the crime around here being that he's an ex-cop, and I'm hoping he can deliver on the economy. I was laid off from UPS during the pandemic and was on unemployment for a year. But I've put in 75 applications since then and got two callbacks. People are talking about all the jobs out here — I am desperately searching for work. I'm going to Jersey for a job interview tomorrow. I've put in applications for patient transport, cleaner at a hospital, I even put in an application for a dishwasher. I found a job that was three days a week, but who can live on three-days-a-week pay? So I'm really hoping Adams can help fix the economy and get people to bring good-paying jobs to the city again because it's tough out here. I'm an optimist. I'm hopeful he can get the job done.
Richard Keller, 48, is an MTA bus driver
Adams just strikes me as a man with a plan. We need to focus on recovering from the pandemic. I'm talking vaccines, boosting the economy, more housing that people can actually afford — he has plans for all that. I most like how he wants to handle public safety, making changes to the police without gutting them. I like that he's a personality, too. I haven't heard of many gun-toting, vegan mayors. He has charisma. We need charisma. Lord knows we don't have it in our current mayor.