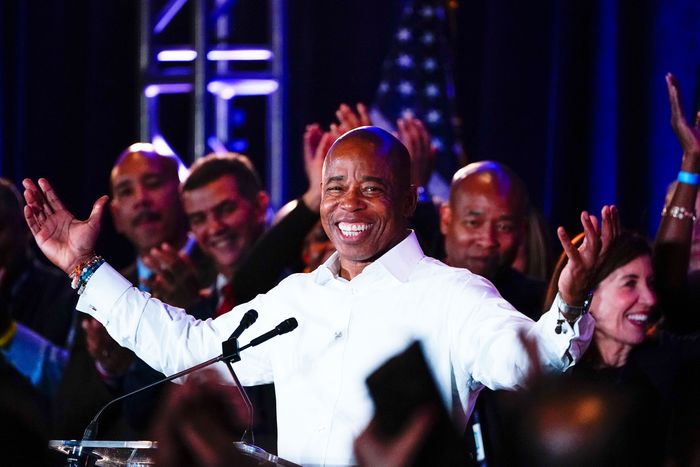 He's your problem now, New York!
Photo: Frank Franklin II/AP
There's nothing as briskly refreshing as starting over. Like any downtown hottie prowling on the rebound, we have careened from Captain Dullsville to someone way more unpredictable and more powerful — our new mayor-elect, Eric Adams, who never sleeps and rages all night, which, heck yes. He's already getting scolded by powerful Williamsburg-living Canadian Pat Kiernan on NY1 for partying on Election Night.
Dad???
"I'm the mayor now," Eric Adams hilariously announced last night, while going big at his home away from home (away from other home?) Zero Bond with Eric Schmidt, the former Google honcho who bought his way into Cypriot citizenship; Chris Rock; Ja Rule, whom you'll remember from his storied career in festival promotion; and the least beloved man in New York City and good friend to Harvey Weinstein, James Dolan. He was accompanied by truly intense publicist Ronn Torossian, described by the Post as "the mayor-elect's confidante." Wendi Deng was there? It's like the '80s and the '00s are having a very public and age-inappropriate affair.
→ Read more: I Hung Out With Both Curtis Sliwa and Eric Adams on Election Night
This chaos makes it clear that in the next, well, let's say between one to 16 years of the mayoral era of Eric Adams, anything could happen. He promised us everything, after all: He's pro-labor but also pro-business. He wants to expand services and cut spending. Also, he wants to build an app??? He's a police officer who's deeply suspect of police power but wants to continue stop and frisk. He's a true bike enthusiast who is also apparently fine driving on the sidewalk? Maybe he'll ban cars! Maybe he'll ban bikes! He's Mr. Order and Systems but also is out 'til the wee hours every night at what could be best described as an exclusive co-working space with lots of liquor. Zero Bond, in case you're interested in joining this party, requires just one letter of reference from a member, but also makes you do some real math for the membership fee:
Current annual membership dues are $3,000 plus a one-time initiation fee of $1,000 for Under 45 members, or $2,200 plus a one-time initiation fee of $500 for Under 28 members, or $4,000 plus a one-time initiation fee of $1,000 for members Over 45.



Listen, I just want to party with Foodgod, not take the LSATs.
Hot like John Lindsay, exuberant like Ed Koch, in over his head like David Dinkins, shady like Giuliani, bossy like Bloomberg, and a party-machine manipulator like de Blasio, Eric Adams might have been grown in a lab by New York City. We made this mess — try to enjoy it!