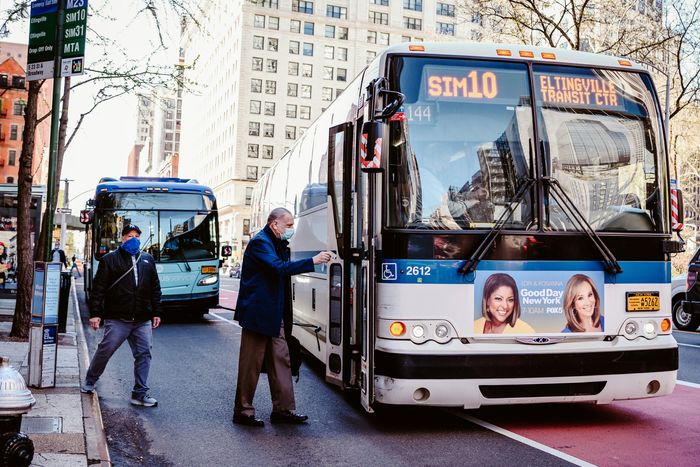 Good day to you too!
Photo: Nina Westervelt/Bloomberg via Getty Images
Greg Kelly — former Marine Corps pilot, podcaster, former host of Good Day New York on Fox 5, retired playboy, former Fox News Channel White House correspondent, good friend of the tabloids, conductor of an often hilarious and extremely conservative Twitter account, and the son of Ray Kelly, the two-time police commissioner of New York City — was undone by a city bus today.
The junior Kelly was forced to overshoot his stop slightly because, his driver told him, the installation of bike lanes had caused some stops to be removed. The trip was too slow, and then, very soon after that, too fast. Mr. Kelly is now both adamantly anti-bus and anti-bike. Non-car transportation has lost another ally! The war on cars is losing!
It's unfortunate that he mocked the "PLASTIC COVID BOX," as the disease, which has killed at least 5 million people globally, had a terrible effect on transit workers in NYC and on bus drivers in particular. (According to Local 1181, 17 of its school-bus workers in New York City died from coronavirus.)
But this doesn't need to be you.
What Is Bus?
Urban buses can sometimes be overwhelming upon first encounter. New York City runs four kinds of buses. The basic buses are easy! They're great for getting crosstown when you want to feel romantic about civic life, or if you are in a remake of Rosemary's Baby or The King of Comedy, or are otherwise emotionally involved with the recent, more gritty history of New York City.
The limiteds make fewer stops than the regular pokey buses. They'll jet you along six or ten blocks at a time.
The Select Bus Service is intended to cover longer distances and some crosstown routes in dedicated, fast-moving lanes, and is really only for those who are accomplished bus riders. Don't start there. The express buses are also pretty intense, but marvelous — you can get to Staten Island and stuff! Wow!
You should have a MetroCard, or if you're lazy like me, you should just have the OMNY app installed so that you can tap your phone and pay full price and not carry a card to lose. (Good to note: You are maybe also giving up your privacy if you do that.) For the most part, you get on the bus in the front and off in the back.
How to Get On and Off Bus
Say hello to your bus driver with courtesy. Do it.
If you are on a regular or limited bus, you request a stop by pulling on the cord or pushing the button or tape to request a stop! FUN FACT: Late at night and early in the morning, you can ask to be let off anywhere, to help you feel more safe or to not encounter mad gangs of rats! Advanced-level tip: Do not push or shove the back doors at your stop, which makes drivers mad. Press gently and delicately.
Express buses have designated stops, and you don't even need to ask!
How to Plan for Bus?
The schedules and routes are posted on little poles at the bus stops, which is charming and great. But if you have a smartphone, do yourself a favor and install the MYmta app or Citymapper or Transit. Google Maps probably works pretty well, too, but I honestly just don't trust it in cities.
You can learn more about buses here from the MTA, a punching bag that must feel like the saddest dog in the shelter after the political travails of the Cuomo administration.
Also, do not attack people on buses or otherwise be rude.
Mr. Kelly has not tweeted since his bus trip and did not respond to an inquiry made through his website, indicating he may be on the bus yet.
Correction, November 2, 2021: Limited buses also require riders to request a stop. An earlier version of this article stated otherwise, proving the point that buses are tricky.