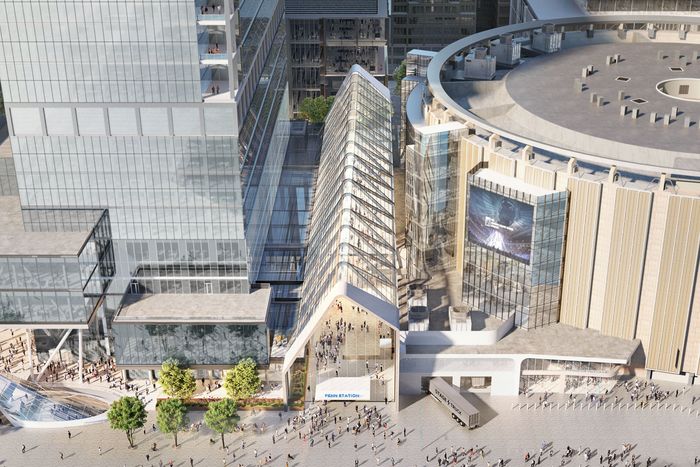 Illustration: Courtesy of ESDC
If announcements were made of concrete, Penn Station would be done by now, and it would be a thing of beauty. New Jersey Transit and LIRR commuters who bypass Amtrak's airy Moynihan Train Hall still navigate the same dank maze they always did, but Governor Kathy Hochul has inscribed her own name in the logbook of aspiring visionaries eager to ennoble one of New York's most mortifying civic spaces. What she adds is focused speed—or the desire for it, anyway—in the face of infrastructure's geological time scale.
Transit advocates have long argued that the most crucial part of upgrading Penn Station is to build a new cross-Hudson rail tunnel (the centerpiece of the Gateway Project) and add tracks, which would require extending the complex into a new structure provisionally called Penn South. The good news is that, after years of delays and Trump-administration hostility, the project is finally going forward. The less good news is that Amtrak has set a completion date of 2035.
Hochul decided New Yorkers couldn't wait that long for a decent commute, so she has refined the mission to renovating the existing Penn Station now. Well, soon. Okay, soon-ish: as soon as the necessary environmental review and assorted other approvals are complete, and when the money starts to flow from private investment in an office market that may or may not shake off its pandemic-induced torpor, and if Hochul wins reelection or her plan isn't revised out of existence by her successor. Other than that, we're good to go.
The $7 billion plan for precisely how to fix up that gruesome mole's lair hasn't changed much since Andrew Cuomo released a sheaf of promising renderings last spring. It involves scooping out and relocating much of the back-of-house machinery to create a single-level, high-ceilinged set of halls and concourses and funnel in a foreign substance: natural light. But the latest iteration pulls back slightly on the imperial city Cuomo had envisioned for the area surrounding Penn Station, cutting some height and bulk from the forest of ten new towers. It makes nearly a third of the megaproject's 1,800 apartments permanently affordable. New entrances will make the station more porous, and the surrounding streets will become more parklike and pedestrian, less like the fume-choked canyons they are now. The plan looks good. Can't wait for the next one.