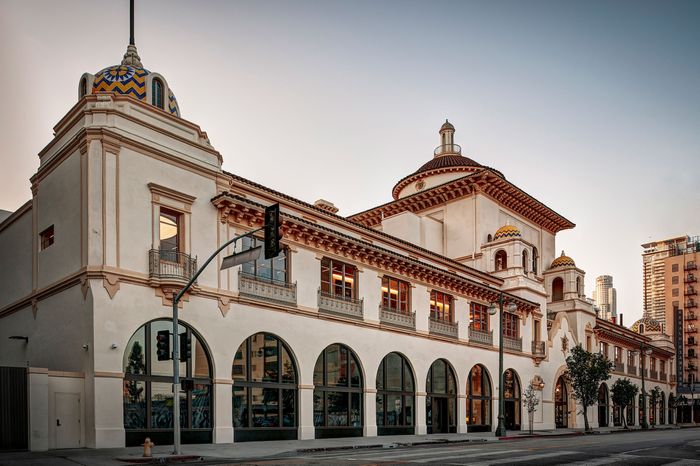 One of Julia Morgan's most famous works is open again after sitting dormant for over 30 years.
Photo: Gensler, Ryan Gobuty
For more than a century, the Herald Examiner Building has been a gasp-inducing façade holding court on the southern edge of downtown Los Angeles. The 1914 Mission Revival structure is an almost confectionery presence, the tiered stucco sculpted like fondant and dotted with gleaming yellow-and-blue tiled domes. But after the Los Angeles Herald Examiner folded in 1989, the building became an out-of-context medieval ruin along a quiet stretch of South Broadway, as plan after plan to revitalize the landmark fell through. (As befits any neglected L.A. space, it was regularly reopened for film shoots.) The bricked-up windows created a bunker running the length of a city block, sealing inside one of the grandest interiors in all of L.A.: a marble-clad lobby with gilt details fit for an Italian palazzo. Finally, 103 years after the building first opened, the New York developer Georgetown began a full restoration in 2017. It's not quite finished; some of the ornate woodwork still needs repainting and the ground-floor space seeks a restaurant. But the main tenant, an L.A. outpost of Arizona State University, which holds a small stake in the property, has moved in. On a recent morning, the school hosted a breakfast for civic leaders in the lobby, and just the view from the sidewalk, sunlight filtering again onto the patterned tile floors traversed by real people who were not actors, was nothing short of breathtaking.
The reawakened building remains one of L.A.'s most important pieces of architecture, in part because of who designed it. It's an early work by Julia Morgan, the first woman to become a licensed architect in California and the first woman accepted to study architecture at the esteemed École des Beaux-Arts in Paris, where she was permitted to enroll in 1898 thanks to nearly a decade of organizing by the Union of Women Painters and Sculptors. Before heading to Paris, Morgan had earned a civil engineering degree from the University of California at Berkeley (also the first woman to do so), and when she returned to the States, she put her combined expertise to use. In 1904, she completed the first reinforced concrete building west of the Mississippi, El Campanil, on the campus of Mills College, an all-women school in her hometown of Oakland. Two years later, a magnitude 7.9 earthquake off the San Francisco coast and the fires that followed leveled most of the region's buildings, but not El Campanil. Her work gained a reputation for withstanding forces of destruction, and she was particularly in demand after she rebuilt the prestigious Fairmont Hotel in San Francisco's Nob Hill.
This was also when she began working with her most famous client, William Randolph "W.R." Hearst, who hired her to design the new Los Angeles headquarters of what was then the Los Angeles Examiner, the publication he had founded in 1903. Their decades-long partnership would have been remarkable in any era, but it was exceedingly rare for the time; while she designed the Herald Examiner Building, Morgan was working closely with one of the most powerful people in the country, yet was still not permitted to vote in federal elections. "She had only soft power, and she used it in the most incredible way," says Victoria Kastner, the author of the forthcoming book Julia Morgan: An Intimate Biography of the Trailblazing Architect. As one collaborator spoke of the discerning Morgan, Kastner recalls, "I've seen strong men tremble when she says, 'No, that won't do.'"
It's a moment of resurgent appreciation for Morgan's work. In 2014, she was the first woman to be awarded the American Institute of Architects gold medal; in 2019, the New York Times published a long-overdue obituary. And several books, including Kastner's, have appeared in recent years, continuing to shed light on her professional and personal life. The Herald Examiner Building went up at the start of a phenomenally prolific period for her, which included the design of many YWCA buildings that gave women access to affordable housing as well as spaces for recreation and socializing. Morgan managed a full roster of other clients as she traveled by train from her San Francisco office to L.A., where she would stay in a women-only hotel across Broadway, working into the night. Drawing inspiration from Spanish cathedrals and Moorish temples, she piled on the palatial details, many of which would be echoed in her subsequent design for Hearst's sprawling estate up the coast in San Simeon, her most famous work.
"I would always joke that I only took the job because I wanted to work in the building," says Sharon Bernstein, a national affairs reporter for Reuters now based in Sacramento, who worked at the Herald Examiner during the 1980s. "Just to walk down that staircase every day was so amazing." Bernstein had gone to college at Berkeley, so she was familiar with Morgan's work, and found the building "fantastical, really crazy, and kind of tacky." Bernstein once crawled out onto one of the cupolas to take headshots with the sweeping views of the city behind her — "We were definitely not supposed to be there," she says — and remembers drinking across the street at Corky's, a bar that served as an extension of the newsroom, complete with a phone that had a direct line. "You could call over there," Bernstein remembers. "When the computers went down, we all went over, and they'd call when the computers went back up." In the late '70s, Joy Horowitz, a journalist who now teaches at USC's Annenberg School of Journalism, landed a job as a copyboy — yes, they were all called that, even if they were not boys — and her tasks included monitoring breaking news, which at that time meant literally tearing off the copy from a roll of paper coming out of the wire-service machines and bringing it to the editors. In September 1975, Horowitz was still orienting herself when she dutifully carried an editorial bombshell into the newsroom: Patty Hearst had just been arrested after robbing a bank. "I got chewed out by the city editor," a "cigar-chomping guy," Horowitz remembers, for not calling more attention to the news. "Oh, he was furious with me! He says, 'You're supposed to scream, "Stop the presses!"'"
While the showy lobby is what most people associate with the Herald Examiner, employees remember the rest of the building as a dusty, acoustically challenged warehouse. "I think what people forget is that it was an industrial building," says Olivier Sommerhalder, design director at Gensler. "Even the newsroom was relatively industrial-looking." Thanks to its designation as a historic landmark in 1977, the building couldn't be significantly altered or torn down, but it also hadn't been kept up; the structure required three decades' worth of safety upgrades and had suffered a great deal of water damage. But as Sommerhalder's team worked with MATT Construction to both preserve Morgan's work and build out ASU's campus, they ended up leaving much of the building alone. The third-floor newsroom remains about as it was, a vast open-plan workspace with original sawtooth skylights reopened to reveal seams of blue sky, and it is now, incredibly, a newsroom again, ringed with edit bays and production studios for ASU's Walter Cronkite School of Journalism and Mass Communication. On the upper floors, offices and conference rooms open to balconies with downtown vistas framed by diamond zigzags of tile and rippling terra-cotta roofs. (A stash of original replacement tiles turned up in the basement.) The print room, a cavernous ground-floor space ringed by a mezzanine where the publishers could peer over the railing to watch the presses churning out the evening edition, has been made over, with a very light touch, into an event space. Also left intact and placed behind glass in the lobby is the 107-year-old fire alarm, each room noted on handwritten labels, a reminder of the looming threat that was top of mind in any early-20th-century city.
Morgan's deft designs could not save a troubled institution. Many of the details she was instructed to work into the Herald Examiner Building were meant to insulate Hearst from the rest of his employees. An opulent glass-and-bronze private elevator was installed in the center of the lobby so Hearst could ascend directly to his office — part of a larger suite that included an apartment — without interacting with the workforce. Everyone else was relegated to various staircases, a symbolic power dynamic which eventually manifested in violence. On December 15, 1967, members of the Los Angeles Newspaper Guild staged a walkout when negotiations broke down over a $25.20 per week wage increase, and were subsequently joined by other unionized employees, from paper handlers to stenotypers, who also walked out in solidarity. When International Typographical Union members refused to take on the tasks of their striking colleagues, management ordered a lockout. A few weeks later, on January 25, union representatives from across the city showed up in solidarity for a large labor rally. As it grew dark, the protest "turned suddenly violent as firecrackers began to explode around the premises," the Los Angeles Times reported. Windows were broken by rocks and picket signs; in all, 35 out of 42 of the plate-glass windows along the Broadway façade were shattered. In one interior stairwell that gracefully curves through a small corridor, a bronze railing was dinged and dented from striking employees trying to intimidate George R. Hearst Jr., the publisher and William Randolph's grandson, by beating the banister with baseball bats. It's a detail the restorers left in place as a way to memorialize the publication's fraught relationship with labor, says Gensler senior associate Melanie McArtor. The archways were eventually stacked with concrete block to protect against future actions, an alteration that also symbolically severed the paper's connection to the streetscape and its readers. Circulation plummeted and the publication never recovered. The strike was the beginning of the end for the Herald Examiner: A cascade of mergers followed that was devastating both for local media and for the local labor movement. The last issue, published on November 2, 1989, read, "So Long, L.A.!"
Kastner is glad that Morgan, who died in 1957, didn't live to see the Herald Examiner Building walled off from the city it covered. "That would have been so painful for her," says Kastner. "When you look at how her buildings are used, people don't really remodel them. They were so beautifully and so thoughtfully made." Now the newly reopened archways are filled with ASU students on their way to class, many of whom are the first in their families to attend college through a new community-based program to draw in students from nearby neighborhoods, according to Wellington "Duke" Reiter, executive director of the University City Exchange at ASU. "The genius of Julia Morgan's Herald Examiner is that it has two distinct components: the highly rhetorical entrance, which signaled the cultural aspirations of the paper, and the massive 'factory' floors dedicated to the creation of content and delivery," he says. "The elaborate front door communicates our intention to be a welcoming, public resource to the City of Los Angeles." The school's initiative also neatly parallels Morgan's own efforts — both within the institutions she reformed and the spaces she designed — to build a more inclusive society. "She would be so pleased at how it was being used for students, with so many of them for the first time in a university setting," says Kastner. "It didn't matter to her who you were or where you came from. You were exalted and honored by her building, whoever you are."