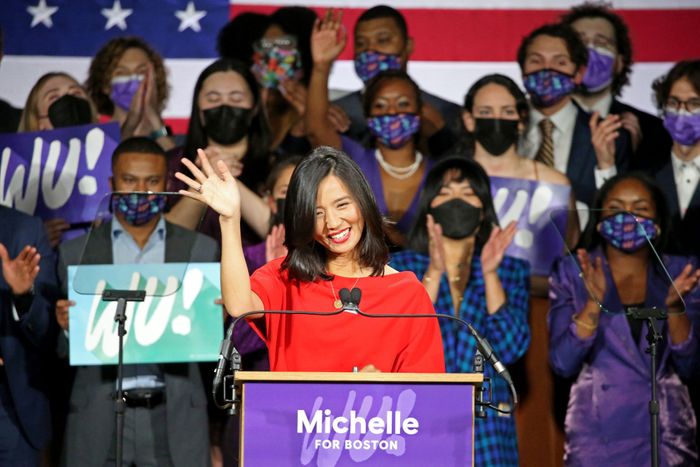 Boston's new chief executive is a bus-riding mom who wants to make transit free.
Photo: Stuart Cahill/MediaNews Group/Boston Herald
Last night, Michelle Wu was elected mayor of Boston, marking an array of firsts. She's the first person of color and the first woman to be elected to run one of the country's oldest cities. She's also a millennial who has nudged the city towards social reforms like rent control. And, given her strong transportation record, paired with a visionary plan for streets that actually prioritize walking, biking, and transit — something few big cities in this country have been able to reliably deliver despite many highly publicized commitments to do so — Wu is also set to become the first bona fide U.S. climate mayor.
As a city councillor since 2014, Wu has become well known for transit advocacy — her Twitter handle is @WuTrain — and she's coming into office with her own Green New Deal, a climate-justice agenda that's backed by the original Green New Deal's co-author, Massachusetts senator Ed Markey. Wu's plan is effectively a localized, citywide pilot for the federal proposal: doubling the number of street trees, electrifying school buses, and incentivizing building retrofits, all led by a jobs program aimed at providing a just and equitable transition to a zero-emission economy that champions the city's lowest-income workers. As part of her plan, Wu also proposes some transformative transit policy that will go a long way towards tackling housing affordability, improving public-health outcomes, and clamping down on transportation emissions, which even in dense Boston still make up 30 percent of all greenhouse-gas emissions. "To make change at scale — and at street level," as she said in her victory speech.
Wu actually uses public transit herself, too — for years, she navigated the system with her kids in a double stroller loaded with stuffed animals and snacks — and has challenged her fellow councillors to do the same, arguing that they need to experience what they're funding. During her time on the city council, she even kept a transit diary for Curbed for a week, documenting how she got around the city almost exclusively via bus, train, and bike share, but also, and perhaps most important, highlighting the holes in the system that required her to use a car.
At the center of her climate mandate is "Free the T," a plan to make no-fare transit the centerpiece of a more accessible city. She's already brought about two successful real-world examples of how this might work: a center-running dedicated lane to move buses faster than cars and a pilot project making congested routes free as a way to provide economic relief to transit-dependent Bostonians. She also wants to accelerate the rollout of Go Boston 2030, an ambitious plan meant to lay down networks of accessible sidewalks and safer bike infrastructure. (The former Boston mayor Marty Walsh fell short on hitting goals for the 58 projects after caving to neighborhood groups opposed to the safety improvements.) That will mean diverting more funding to the plan, StreetsblogMASS pointed out, and as mayor, "Wu will have much more direct control over how Boston's streets are designed and maintained." Most U.S. mayors hold that power, yet few leverage it at the pavement level.
Right now, some of the chief executives from the official Climate Mayor collective are meeting at a conference held by C40, an international city-focused climate consortium, taking place in Glasgow as part of the UN's COP 26 summit. Watching the presentations, it's painfully clear that the Americans are lagging far behind their counterparts on every other continent. Many cities, including New York, have co-opted the "Green New Deal" terminology as a way to frame their own climate initiatives. But few of their mayors are willing (or empowered) to make big changes to their local transit systems that would most quickly and effectively benefit the people who rely the heaviest on that transit. For the eight years he's been in office, Bill de Blasio has talked about climate goals but balked at the necessary reallocations of road space to bus lanes and bike lanes, especially where it serves the city's most marginalized communities. Anne Hidalgo, who has been mayor of Paris the same length of time, has made transformative changes that have dramatically decreased car use. Too many so-called climate mayors are unable to see the gulf between the transportation policies they propose and whom they're serving when actually put into practice. Mayor Wu, if she keeps to her principles, will be for the bus — and on the bus.