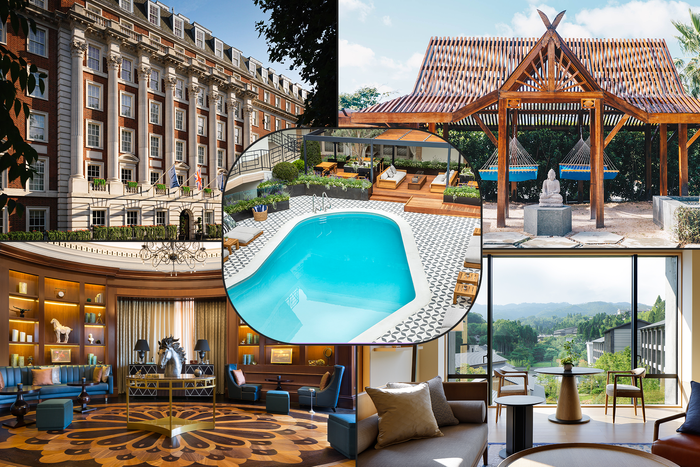 Photo Illustration: (clockwise from top left) The Biltmore Mayfair, LXR Hotels & Resorts, Zemi Beach House, LXR Hotels & Resorts, ROKU KYOTO, LXR Hotels & Resorts, Habtoor Palace, LXR Hotels & Resorts. Center: Oceana Santa Monica, LXR Hotels & Resorts
Photo-Illustration: Lauren O'Connell
The chicest hotels aren't just stunning but deeply rooted in the cities and cultures in which they are located. Whether it's a heated pool overlooking a white-sand beach or a VIP club at the center of Dubai, it's all proof that adventure — and the resort you choose to stay in — can't be mass-produced.
For a truly one-of-a-kind vacation, go off the beaten path to some of the world's most intriguing places. Around the world, wherever you land, LXR Hotels & Resorts hand-picked collection of hotels exist to inspire the adventure-loving and the design-obsessed. These hotels don't only feel like an extension of their locales; they're steeped in originality, with their own stories and character. They're also the perfect places to indulge in a variety of exploratory amenities and bespoke experiences. Ahead, seven hotels fit for every aesthetic and thrill, from the states to the Indian Ocean.
Nestled between northern Kyoto's Takagamine Sanzan foothills, you'll discover the peaceful ROKU KYOTO. The 114 guest rooms and suites feature Japanese minimalism at the forefront, each space boasting wooden details, minimalistic furnishings, soothing neutral palettes, and lacquerware.
Kyoto is home to a wide range of Buddhist temples, Shinto shrines, palaces, and gardens, some of which are listed as a World Heritage Site. That same zen can be found within the resort: With a natural hot spring and garden rooms that look out at semi-terraces and greenery, ROKO KYOTO feels a world away from the bustling capital. Take a stroll along the nearby Tenjin River, then explore the protected forested grounds (which surround the resort). Or indulge in tasty Tenjin, a French-style restaurant that features the best of locally sourced and seasonal ingredients.
If you've ever taken a sunset cruise through western Los Angeles, then you already know Santa Monica feels more like a movie set than an actual city. Oceana first opened in 1996, but it has since received a $25 million facelift that complements the city's idyllic beachfront living. Located just a few blocks from Montana Avenue's cafes and boutiques, and just a beachside walk away from Santa Monica Pier, this hotel boasts the coastal, SoCal vibes we've all come to crave.
Interior designer Anna Busta made sure to incorporate soothing beachfront tones into the hotel, with color palettes of silvers, blues, ivory, blackened steel, and gold metal accents. Geometric patterns boldly adorn many decor pieces, while the walls feature custom art curated by LA artists and international photographers. Outside, revitalize your mind with complimentary morning yoga overlooking the beach. Then, have breakfast poolside and enjoy some passionfruit French toast with butter croissants and iced tea.
Shoal Bay Beach in Anguilla, where Zemi Beach House dwells, has been recognized as one of the top-rated white-sand beaches in the Caribbean. The entire boutique property pays homage to Anguilla's Arawak heritage and history by naming it after the culturally sacred stones called "zemis." Relaxation areas feature wave lounges, luxe fabrics, and green areas that'll keep you connected to the surrounding nature.
Guest rooms and suites echo the meditative state of oceanfront living, with contemporary decor (soothing neutral hues with wicker and rattan details), sleek furnishings, spa-like bathrooms, and garden views. Zemi Beach House really wants you to relax, and the wellness amenities showcase that. Practice your swing with private or group tennis lessons on the well-lit courts. Or, grab your robe and head over to Zemi Thai House Spa — a 300-year-old Thai spa with customized massages and a mud deck for body scrubs.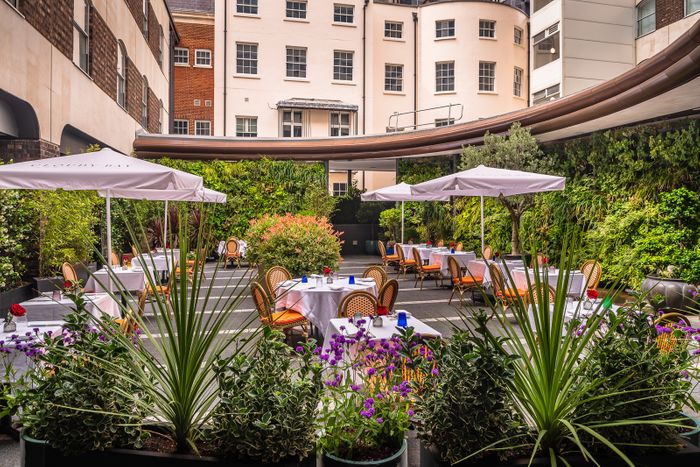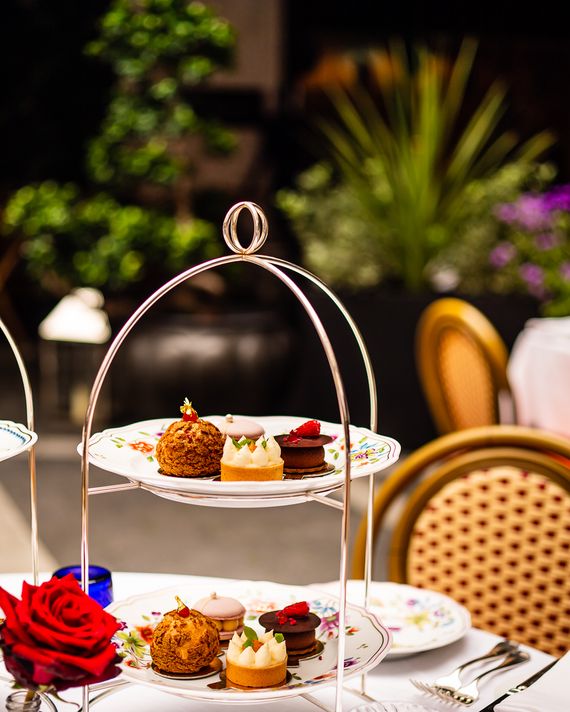 Guests searching for 20th-century splendor mixed with quintessentially British accommodations turn to The Biltmore Mayfair, a hotel built to show off the best of London. Giving a nod to the contemporary components of the city, the resort's suites boast paneled walls, darkly-colored furniture, lush velvet fabrics, and distressed headboards.
Situated in the West End, The Biltmore is just a breeze away from luxury shopping, fine dining, and royal parks. But the hotel is steeped in bespoke experiences, including afternoon Tea produced by Michelin-starred Chef Jason Atherton, and an exclusive tour through the Regency era of London by a certified Blue Badge Guide, for a true blast to the past.
The motto of Mango House? "Welcome home." Mango House was originally built as a family estate by well-known Italian photographer Gian Paolo Barbieri and was recently converted to a 41-room property. Nestled between fruit trees and tall grass, this little hideaway wants you to feel surrounded by the rugged beauty of Seychelles. Although it stretches along the bay of Anse Aux Poules Bleues, the resort itself feels intimate and cozy, with breathtaking views of the beach.
The decor is modern yet warm, with high-thatched ceilings, canopy beds, and natural materials detailed throughout. Think local woods, wicker, rattan, and lots of bamboo. You can find personal and familial touches throughout the hotel; cream-colored rooms invoke a touch of the owner's old home, with vinyl players, telescopes, and bookshelves. After getting cozy inside, guests are invited to check out Anpe Spa where treatments (like massages and facials) feature products with fruit, charcoal, and tropical ingredients. If you'd had enough relaxing, go on an adventure and explore native wildlife with a tour conducted by a private ranger.
This opulent hotel pays tribute to French architecture, with sprawling gardens on the grounds, a porte cochère, and a grand staircase complemented by over-the-top chandeliers and bright gold tones. Sleek details, like herringbone curtains, eclectic art, and poolside cafes, can be found throughout the property. All 234 guest rooms come with butler service — and the option to take plenty of dips into the three sparkling pools.
Of course, it's not just the design elements that will transport you to a gilded era. Immerse yourself in all the rich experiences of royal living. Sip on some bubbly at the champagne lounge with your travel group. Or lounge about in the sun at the rooftop garden where complimentary fruit and cold towels are brought to you. And, after unpacking, take in La Perle Theater, an intimate venue with immersive artistic performances, or the 22 decadent restaurants nearby.
If a star-studded experience is what you're after, then look no further than Crockfords Las Vegas. All 236 rooms feature thoughtfully designed amenities and views of Las Vegas. Those wanting a more luxe experience can stay in one of the hidden, estate-style villas or palaces — which feature king-sized beds to stretch out in, and an in-suite massage parlor for anytime services.
Upholstered headboards, ultra-modern bathrooms, walk-in rain showers, and double vanities exude glamour while soothing colors offer a relaxing escape from the bustling city of Vegas. This hotel has more to offer than just the suites: guests have access to two private cocktail lounges where live entertainment is accompanied by bubbly. Or dance the day away at Ayu Dayclub, an outdoor pool venue with vibrant beats featuring Southeast Asian vibes. And if you'd rather spend the afternoon tanning, choose from one (out of seven) of the largest pools on the Vegas strip — all of which have submerged lounge chairs for relaxing with a cocktail in hand.
Enjoy a wide range of thoughtfully-designed spaces and unique experiences at LXR Hotels & Resorts. Discover your next adventure here.
This advertising content was produced in collaboration between Vox Creative and our sponsor, without involvement from Vox Media editorial staff.