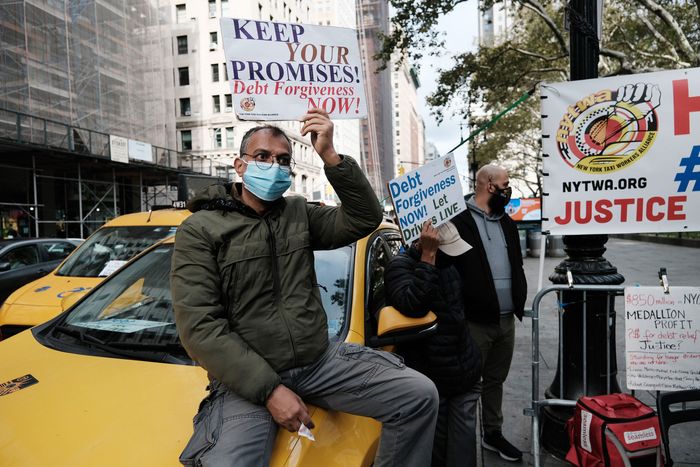 Photo: Spencer Platt/Getty Images
At City Hall Park this afternoon, dozens of taxi drivers broke out into chants of "TWA!" and waved victory signs in the air. Some even began dancing. The news that they had won their demands on debt relief had spread through the crowd, which has been protesting outside City Hall since September. Among them were drivers, like Richard Chow, who had gone on hunger strike and were now visibly haggard, and some who were too weak to get around without wheelchairs. For them, it has been a harrowing 15 days. They and several supporters have stayed outside in the elements, subsisting only on water, Gatorade, and coconut milk, and sleeping in their taxis or in rental vans at night. But there is no doubt that this extreme and risky tactic finally pushed the city to make the significant changes the drivers have been demanding for years.
The new agreement, brokered by the de Blasio administration between the New York Taxi Workers Alliance and the city's largest medallion lender, Marblegate Assessment Management, will dramatically slash cabbies' outstanding loans and shrink their monthly payments. The city also agreed to be the guarantor for those loans. These changes, which were called "naïve" and "unfeasible" by critics, according to Representative Alexandria Ocasio-Cortez, may cost up to $100 million on top of the $65 million relief fund announced by the city back in March, which the cabbies found to be inadequate. Now, many medallion loans with an outstanding balance of at least $200,000 will be restructured into a city-backed loan of no more than $170,000. Interest rates on those loans will be capped at 5 percent over a 20-year period, with payments maxing out at $1,122 per month (compared to the previous cap of $2,000, which would leave many drivers without enough money for rent or food). Although this plan does not apply to other medallion lenders, many of the city's 6,000 medallion owner-drivers, who owe an average of $500,000, may now actually be able to get out of debt.
"This is a historic moment," Bhairavi Desai, the executive director of New York Taxi Workers Alliance, shouted into a megaphone to the City Hall crowd. "These terms mean that our brothers and sisters will no longer have a lifetime of debt." Participants broke their fast with paper bowls full of halved avocados and dates. Balkar Singh, a hunger-striking medallion owner who has driven taxis for 32 years, complained of headaches and high blood pressure during his fast but said he continued because "winning debt relief would mean that me and my family would be able to survive." As Augustine Tang, a taxi medallion owner who owes about $490,000 on his medallion loan, put it: "We freaking did it."