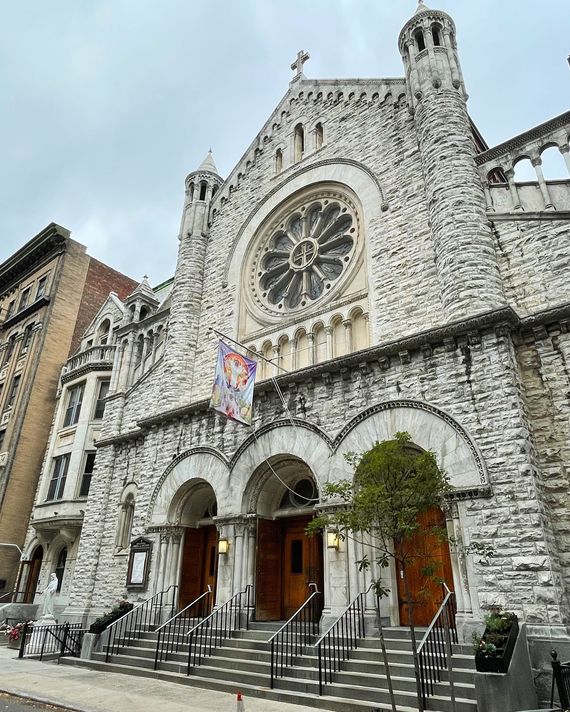 Church of the Ascension on the Upper West Side
Photo: Luke Cregan
On a warm September night, five men climbed a set of cast-iron steps to a deck behind the Church of the Ascension on the Upper West Side. They took their seats at a patio table sandwiched between the sanctuary's stained-glass windows and the brick wall of the rectory. Volunteers laid out plates of rice, beans, salad, and roast chicken that they had prepared, and then sat down to join the group. Susan DeVito, on duty for the first time that night, asked for music. One of the guests, a middle-aged man named Antonio, took out his phone and offered to DJ. As they began to eat, Robin Klueber, 61, who has run Ascension's shelter since 2015, hurried up the steps with as much exuberance as a recent knee replacement allowed and welcomed everyone. After the meal, the group descended into the basement of the Catholic church, where the five guests who had no other place to sleep, along with two volunteers, would spend the night.
The dull blue cots, vinyl flooring, and fluorescent lights in Ascension's shelter space may look institutional, but unhoused guests say it's quite different from many city-run facilities. The beds are generously spaced, the room isn't crowded, and the residents aren't afraid that someone will take their stuff or — worse — attack them while they sleep. Staying here also means access to the services and the path to permanent housing that the shelter system offers, without having to face many of its dangers.
Before COVID, there were dozens of shelters like Ascension's in places of worship. When they were all up and running, unhoused people might have stayed at an Upper West Side church one night, a Park Slope synagogue the next, and so on. But in March of last year, as the pandemic began devastating New York, every one closed its doors. Since then, most of these institutions have reopened for religious services, but many of their social programs have not resumed. More than 400 beds sit untouched in church cellars and synagogues across the city. Only the one at Ascension has reopened.
Peter Gudaitis, the executive director of New York Disaster Interfaith Services who coordinates a network of these faith-based shelters, is worried about the potential effects of their closure. "Are there going to be people that die on the streets because they didn't have a safe place to stay?" he asked. With winter approaching and the shutdown of the program that placed unhoused New Yorkers in hotels, the city wants these volunteer-run shelters active. But congregations have balked at reopening as the pandemic lingers.
Klueber, who not only runs Ascension's shelter, but also the church's school and food bank, never wanted to close in the first place, and tried to get it open again well before most others. Even before the city's announcement about ending the hotel program, she and her colleague Yehudit Moch planned a reopening for months. Moch works for CAMBA, a Flatbush nonprofit that provides direct services to homeless clients, including directing them to shelters like Ascension's.
When Ascension's volunteer coordinator Chris O'Donnell reached out to a list of those who had helped out in the past, she found that about a dozen regulars had moved away and about half that number were too worried about the COVID risk to participate. But the rest were eager to return. She herself volunteered on the night of the reopening. That first night, on June 13, only one client came. But O'Donnell wasn't discouraged. Nearly all CAMBA's clients were still in hotels. Since then, the nonprofit has sent an increasing number of guests to Ascension, and the church has been able to accommodate everyone who comes.
Officially, shelters like Ascension's are known as "respites." It's a fitting name for the break from street existence that they provide. But it's also just that: a break. Ascension is open only on Sundays. (It used to host on Saturdays too, and Klueber hopes to resume that when more volunteers get involved.) For now, on all the days that Ascension isn't open, clients sleep on chairs at CAMBA's East New York center. That's all the organization and similar nonprofits can offer for now.
"I gotta get out of the chairs," said a man waiting to sleep inside a Midtown Manhattan homelessness services center run by a different nonprofit, Grand Central Neighborhood Social Services Corporation. He said he couldn't wait for more volunteer-run shelters to reopen, since Grand Central has no partnership with Ascension and can't send him there.
But besides Ascension, most congregations are still hesitant about resuming their shelter programs because of the likelihood that many potential clients will not be vaccinated. Earlier this fall, DHS said it had fully vaccinated 8,200 unhoused clients out of the approximately 20,000 adults in the shelter system. The agency cannot legally require that clients get vaccinated; it can only offer them the shot. Gudaitis noted that those who try to survive on the streets — the same group that turns to respite shelters in winter — are less likely to be vaccinated, let alone have proof on hand.
CAMBA and peer nonprofits also do not require clients to be vaccinated to receive services. When Ascension's shelter reopened, Klueber and her team adopted the same stance: Neither guests nor volunteers need to show proof of vaccination. (Under the rules governing New York's Catholic diocese, Ascension also does not require people attending religious services to prove they've had their shots.) CAMBA could make vaccination a condition of staying at Ascension, but that would cut the pool of eligible clients drastically, so it doesn't. Friends Shelter, which shares its 15th Street site with a Quaker meeting house and the private K-12 school, Friends Seminary, has remained closed for that reason, as do many other respite sites. Katy Homans, who coordinates Friends Shelter, said their partner nonprofit agreed to send only vaccinated clients and hopes to reopen soon, once the school and meeting house leaders approve it.
Moch suspects that "some of the churches will never be involved again." Some seem simply to have lost the will or capacity to maintain these shelters. She added that even for those that want to reopen, retaining volunteers was a challenge even in the best of times and fears about COVID aggravate that problem. "Sleeping overnight was always a hard sell" for volunteers, Moch explained. "It's a lot harder now."
In lieu of vaccination requirements, Klueber and Moch have worked out many other precautions. Masks are required. Social distancing protocols mean only 10 beds are available, down from the 20 they had before the pandemic. CAMBA checks for COVID symptoms too, on top of its regular screenings. Ventilation devices fitted with HVAC filters line Ascension's basement.
Thankfully, the church has not had any infection scares since reopening. There's still some danger, as Klueber was reminded when she came down with COVID last week. Though she is vaccinated, Klueber had a moderately severe breakthrough case, which she thinks she was exposed to through family members.
But providing for strangers has always been fraught. "There's always been a risk of working with the street homeless, of tuberculosis, of influenza, of just being sick in general, and somehow we have a tolerance level for that," Gudaitis said. "But we haven't reached a point where people have a tolerance level for COVID risk." Klueber's brush with the virus hasn't shaken her determination to keep the shelter going. "We are working to do the ministry of God. This is who we are and part of that sometimes requires taking risks," she said.
O'Donnell, Ascension's volunteer coordinator, added, "We could all get COVID, but we're in a much better position to deal with it." The guests, she said, "are out there with that same risk, but no safety net."