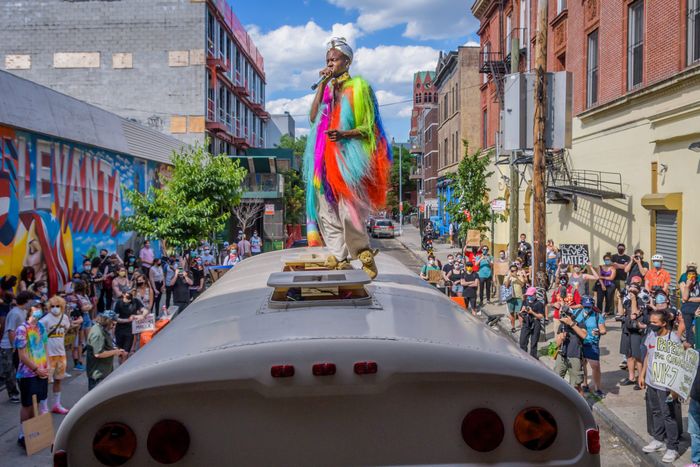 Photo: Erik McGregor/LightRocket via Getty Images
Paperboy Love Prince was this year's most exuberant long-shot candidate for mayor, and they made the most of it: The 28-year-old rapper traveled to campaign stops around the city in a rainbow-striped "Love Tank" bus, and rapped about Universal Basic Income ("UBI, giving out paper"). Now, ahead of the midterm elections, Prince is reviving their spread-the-love platform for voters in Brooklyn — and Queens, Manhattan, the Bronx, and Staten Island, and Rockland and Westchester counties too. That's right: Paperboy announced they're running for 11 — 11! — different congressional seats at once. Oh, and they are running for governor too.
Paperboy sees the multi-district campaign as a way to show voters how the nomination process really works, and encourage other regular people (not just politicians) to run for office. "The average New Yorker getting back on their feet after the pandemic? They're not really focused on the midterms as much," they said. "There's basically a nomination process that most folks don't know about — the parties have hidden this information and haven't done a good job of disseminating it to the average voter." But public-information campaign aside, how is it even possible?
Despite all the political posturing about local bonafides, candidates for Congress don't actually have to live in the district they seek to represent — just in the state. Still, the playing-the-field approach will be put to the test next April, when candidates have to petition the Board of Elections to add their name to the ballot — or in Paperboy's case, 11 local ballots. "I think that either the Board of Elections on their own, or some other candidate running in one of those districts will challenge Paperboy's petitions on the basis that it's considered a kind of a fraud on the voter," said election-law attorney Leo Glickman, of Stoll, Glickman & Bellina. Glickman added that the BOE could potentially say that since Paperboy is running for multiple districts, they wouldn't be able to represent all of them simultaneously — and not put their name on all those ballots.
But Paperboy Love Prince plans to continue running in all of the districts — the Sixth, Eighth, Ninth, Tenth, 11th, 12th, 13th, 14th, 15th, 16th, and 17th — nonetheless. If they can't make it on the ballot in any one district, they're prepared to take the issue to court. And there's always the possibility of a write-in campaign too. They will be adding more districts soon: "In about maybe two to four weeks I might be running for 17. Three or four months after that, it might be up to 30 or 40; three or four months after that, it might be down to 11 or 12." The one that will definitely be added to the list is the Seventh Congressional District, which includes Bushwick, where Paperboy lives. It won't be the first time they've run there: Paperboy lost to Representative Nydia Velazquez in the 2020 primary race. Ahead of that election, BOE challenged Prince's inclusion on the ballot, saying some of the signatures on their petition were invalid. But in a hearing where Paperboy represented themself, they argued that the BOE's challenge against the campaign was invalid because of a typo in the paperwork — and they won.