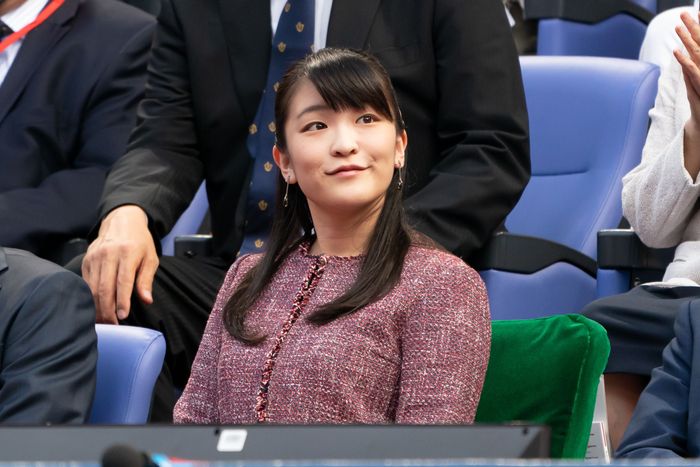 Photo: Masatoshi Okauchi/Shutterstock
Mako Komuro, formerly Japan's Princess Mako, officially moved to New York City this past weekend after marrying her (nonroyal) college sweetheart, Kei Komuro, and abandoning her royal status. Paparazzi photos showed the couple hauling their luggage out of JFK airport and into 525 West 52nd Street, the Hell's Kitchen building where they've reportedly rented a one-bedroom.
Seeing how the ex-princess declined a $1.23 million payment for leaving the royal family, we weren't exactly expecting her first New York spot to have ballrooms and gilded ceilings. But 525 West 52nd Street (525 for short) is a bit blander than one might expect.
Built in 2017 with almost 400 units, 525 is the newest and priciest building on the block (three of the last five one-bedrooms rented there went for above $5,000). But you can hardly tell. Unlike Bjarke Ingels's pyramid-shaped Via 57 West or the massive Mercedes House (with cascading terraces) on West 54th Street, 525 is subdued. Its two buildings (connected by a courtyard) are, for the most part, rectangular volumes clad in red brick.
The apartments themselves are also extremely plain. The only real characteristics — if you could call them that — are the walls of glass and the brown, handleless kitchen cabinets (the newer units at Via 57 West and Oskar on 11th Avenue feel largely the same). Otherwise, it's just a slightly partitioned box with pale wood floors and plain white walls.
So why did the Komuros pick this place? They may have heard about it from someone they know (one of the building's developers is Mitsui Fudosan America, the U.S. subsidiary of Japan's largest real-estate company). And they likely wanted to be near the midtown office of Lowenstein Sandler, where law-school graduate Kei Komuro is clerking (the commute is a reasonable 16-minute walk or 12-minute bus ride). Also they probably did want a new construction (which is the standard preference in Japan, where buildings are routinely knocked down after 20 or 30 years). So while on first glance the living situation may seem incongruous with the former princess who inhabits it (she used to live in a house with multiple floors and wings on a 123-acre royal estate, and now she has fluorescent striplight fixtures), the arrangement actually makes a certain sense.