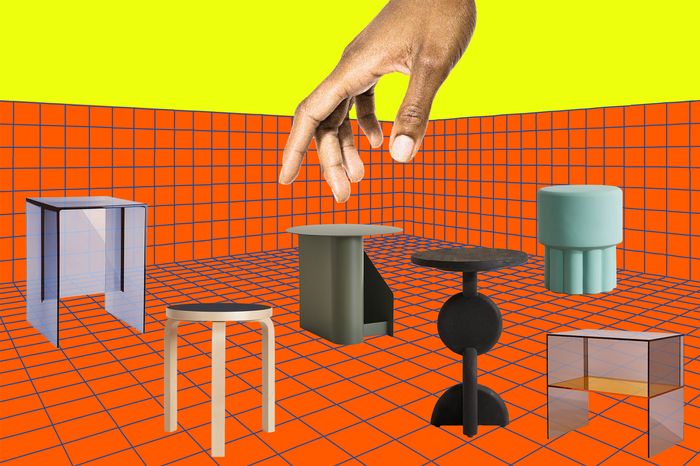 Photo-Illustration: Curbed; Photos: Getty Images, Retailers
When our design firm approaches interiors projects, the largest furniture items (sofas and dining tables) tend to drive the design vision. Often ignored till the last minute is the humble side table. Which is a mistake! Because these small pieces of furniture are crucial supporting players in any living space.
A side table can really anchor a furniture grouping and make a setting feel complete. We often approach the side table in one of two ways: as either a neutral complement to an ensemble or as a playful juxtaposition to the other furniture — a change, say, to bring in a color or form not found elsewhere. Side tables, unlike nightstands or bookshelves, typically serve limited practical function; they need a level top at least as big as a dinner plate, but little else. Because of that, they can be made from unconventional materials like ceramic and cork, and they are freer to be sculptural objects unto themselves.
Here are a few side tables, all around $500 (except one that creeps just a bit over, but I swear it's worth it!) that run the gamut from quiet and neutral to bold and fun. For this list, I sought out tables that have tops big enough to hold a book, and that are tall enough to have a presence next to a sofa.
Ceramic is a terrific material for both indoors and outdoors, and we've used this little number in a range of spaces. With its chunky fluted base, its pleasing, chalky matte finish, and its candy-colored hues of celadon and terra-cotta, this is one of the trendier pieces on this list (you can see the influences for this piece all over Sight Unseen's 2020 American Hot List), but I think the simplicity of its form will give it some staying power. One great thing about side tables is how easy they are to pick up and move from room to room, and I can see this table at home in a kids room, a patio, or a living room.
Molded and glazed by hand in Vietnam, this (also ceramic) side table looks like it was made out of long snakes of clay. It's also good for indoor-outdoor use and has a more subtle and approachable form than other more contemporary chubby terra-cotta tables on the market. We recently used this table in a tone-on-tone bedroom alongside burnt orange, cinnamon, and rose pink.
Designed by Ludovica + Roberto Palomba in 2013 for Kartell, this one already feels like a modern classic. It's a beautiful and durable gem-like plastic with straightforward detailing. The table's simple shape really sings in vibrant hues of cobalt, safety orange, and aquamarine. This is a piece that can create contrast with a curved sofa, an overstuffed chair, or a vintage rug. It also works like a dream in front of a window, glowing with daylight and casting unexpected color blocks with the movement of the sun.
Atop two skinny legs, this table's thin, wafer-like top bends to create a third point of support along the wall. It's not often that a side table has such an impish personality, and I could see this as a conversation piece in a fun living room.
This table caught my eye as soon as I saw it during some late-night furniture hunting for an upcoming hospitality project. The roughness of the matte-black sandblasted texture balances with the feminine stacked forms of the base. It's so sculptural on its own that it can hold down a corner of a room. Also, my son thinks it looks like stacks of Oreo pieces, and I can't pass up a food-themed furniture piece.
You may not be totally onboard with Studio McGee's transitional neutral suburban aesthetic, but its hits for Target just keep coming and can fit in almost anywhere. Just close your eyes, tuck away your snobbery and get on the McGee juggernaut. I like this table for its plaster-like finish, which gives it a handmade feel and the appearance of being much more expensive than it is. In a soft white that fits with a wide range of spaces, this could be a piece you keep around for a long time, moving it as your home grows and changes.
Cork is a strong and rapidly renewable material. You might think of it as being more appropriate for wine bottles and coasters, but when treated, it can be used as furniture and even buildings. Right now, our team is designing a pavilion for the Flatiron Plaza where cork will be used as seating for the cold winter months; it's a beautiful, sustainable, and warm material that I like to use as often as I can. My partner has a decades-old solid cork table that has darkened with time, and while it may have chips here and there, time adds character to the material. I like this cork option because it's affordable, it's a great simple shape, and, above all, it's a solid hunk of cork that will last.
There are a million knockoffs of this stool, from rainbow-hued kids' furniture to Ikea's four-legged version, but none beat the original, a poem of three legs, one disc, and three screws. This piece is designed as a stacking stool, but makes a dynamite side table, too. Originally designed in 1933 by architect Alvar Aalto, the table is now available with a rich range of hues and even upholstered tops (see this on-trend checkerboard fabric). Trust me when I tell you this is a purchase for a lifetime; it's beautifully engineered and will be a timeless classic.
Just a few years ago, I felt very in-the-know when I brought back Hay housewares from Salon del Mobile, the blockbuster annual furniture show in Milan. Now, of course, Hay has stores across the United States. You've probably noticed some of their best sellers in start-up offices or museum gift shops — many of their pieces share a modern sensibility and clean forms in surprising colors and textures. The Slit table is available in a range of sizes, heights, and finishes, but I like it best in the tall gold version.
You've probably seen Danish designer's Kristina Dam's work without knowing her name. Her pieces exemplify contemporary Scandinavian minimalism; furniture pieces are graphic, elegant, and restrained in form and color. One of my favorites is the Curved Side Table. In beige powder-coated steel, it has pockets for storage, but looks great empty as a simple and bold shape. This piece is a repeated module, also appearing in a long bench form.
The Sentrum side table has the European feel of pieces from places like Hay, Muuto, and Menu, but I'd bet few in America have seen this piece before, giving it a where-did-you-get-that cache. Produced by Danish brand Woud and designed by Maximilian Schmahl and Fabian Schnippering, the table is a sensible and hardy painted steel, available in a range of neutrals and my favorite, burnt orange. It has a smartly designed base that can hold books, magazines, and knickknacks in two side-facing pockets. The table is so appealing because of its balance between curves and straight lines: a circular disk tops a base that is S-shaped in plan but sliced to reveal sharp diagonal cuts.
A cousin of the Kartell Max Beam side table, this piece was developed for MoMA. Rather than the softly curved edges of the cast plastic of the Beam, this side table has sharp, crisp edges formed of butt-jointed acrylic. It's particularly fun because it comes in kooky color combinations like green-and-orange and smoke-and-yellow. I love how the transparent colors transform when layered and how the shadows and reflections take on unexpected hues.
This table comes flat-packed as a simple and brilliant puzzle of three pieces and a peg. A rectangle, a triangle, and a circle come together to form a striking side table in a leathered laminate with gold edging. I liked this so much, I got one for our dining room, where it's currently holding a potted rubber plant — and found that it can be used as an extra seat for a petite person in a pinch.
This is side table as performance art. Each set of the Tenon Table from Akron Street comes with an oak mallet to be used to attach the table legs to the table top, asking the end user to become part of the making process. After inserting the three bases, you hammer in contrasting-color wood wedges, leaving a trace of the table's making and celebrating the wedged mortise and tenon joints of traditional woodcraft. The table really sings in an uncommon smoked oak finish; the wood material is classic enough to be at home in any house, but the wobbly childlike top shape and uncommon smoked-oak finish make it feel very contemporary.
This is the one side table on the list that tips over the $500 mark, but I just couldn't help myself. Every time I bring this table out to a job site, it gets oohs and aahs, and on a recent photo shoot for a project, I carried it from room to room because it worked in nearly every shot. From the fantastic New Zealand furniture brand Resident, and stocked in the U.S. by Spartan Shop in Portland, this piece arrives with a set of solid screw-on legs and a chunky, thick top. The trick to its asymmetrical form is that the screws are off-center on the base cylinders, allowing you to rotate the legs as you see fit. For a compact layout, you can twist the legs inward, but I think it looks best when one or two of the legs are pushed outward.