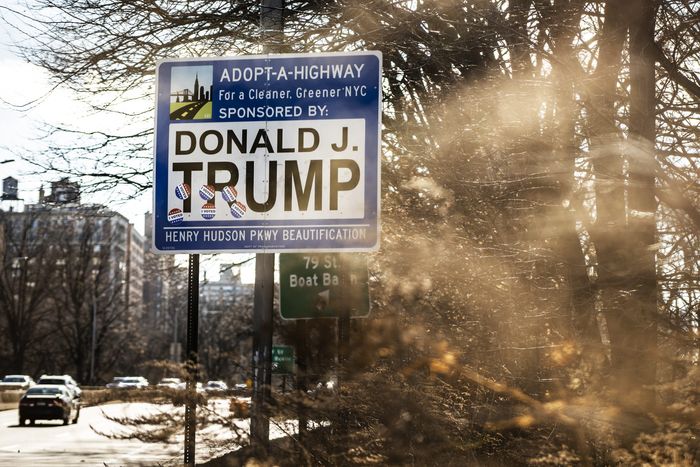 Photo: Mark Kauzlarich/Bloomberg via Getty Images
For more than 20 years, a small Adopt-a-Highway sign stood on the southbound side of the Henry Hudson Parkway, right near the West 79th Street exit. It informed drivers that it was "DONALD J. TRUMP" who paid for the maintenance of this two-mile stretch of road. But after an online petition garnered both 1,600 signatures and the support of local Assemblymember Linda Rosenthal, the Department of Transportation took it down this week. Politicians and candidates aren't allowed to participate in the program, and as the Upper West Siders' online petition pointed out, it should have been removed in 2015. As with a toxic ex-husband whose surname comes off the mailbox after the divorce is final — and here the ticking countdown on the name "Kim Kardashian West" somehow comes to mind — Trump and his once-ubiquitous name have now been largely scrubbed from the landscape. It's been a long-running effort, but New Yorkers seem determined to achieve Trump zero.
It started in 2016, shortly after the election, when three Trump-branded apartment buildings on Riverside Drive voted his name off the façade; in 2018, the condo board at 200 Riverside Boulevard did the same. A year earlier, in 2017, the Trump Soho hotel was sold after bookings slumped and then rebranded the Dominick. The city took his name off the Wollman and Lasker ice-skating rinks in Central Park in 2019 and later stripped the Trump Organization of its contract to operate them.
There are still holdouts, of course, mostly buildings where Trump himself still has a stake or a brand-licensing agreement. Trump International Hotel & Tower on Columbus Circle remains in place, as does Trump World Tower over by the U.N. The golden letters on the Upper East Side's Trump Palace remain, but the condo's manager wants to get rid of them. Manhattan Community Board 8 has even discussed sending a letter to the other two Trump-branded buildings in the area that he no longer owns — but CB8 would essentially just be asking politely since it has no power over them. There's Trump Golf Links golf course in the Bronx as well, at least for now; it will likely get a new name if it, like the rinks, loses its city contract. And then there's the best-known one of all: Trump Tower, its blocky brassy letters looming over Fifth Avenue since 1983. The condos there may be hard to sell these days, but the boss lives there in the development that is his obvious favorite — it's the Ivanka of Trump buildings — and he would sooner run alongside Bernie Sanders than pry his name off it. We'll have to wait until his loans collapse and the building is sold off in bankruptcy court.