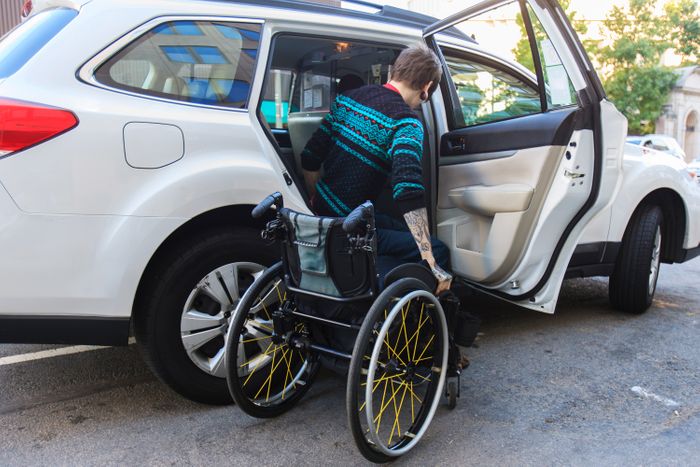 When you call an Uber, the cost of the ride is immediately available on the app screen. But when it takes a little longer to actually get into the car and go — more than two minutes, to be exact — Uber tacks on a wait-time fee. For riders who have a wheelchair or other mobility aid that might require some wrangling to get into a trunk and then get seated, that can mean an additional fee for every ride. And that, according to the Justice Department, amounts to a violation of the American Disabilities Act. On Wednesday, the DOJ filed a lawsuit against Uber on behalf of disabled Americans, citing two people: a 52-year-old woman from Miami and a 34-year-old Philadelphia resident who both use a manual wheelchair. The DOJ is seeking damages and a civil penalty from the company. The DOJ also wants to mandate ADA training for Uber drivers and change the company's policy on wait-time fees.
The 34-year-old whose case is cited in the lawsuit has cerebral palsy and used to rely on Uber for his daily commute and to visit family. In September 2018, he noticed in his receipts that the company had charged him a wait fee for every ride he took that year. He was able to get some of the fees refunded after contacting customer service, but the company later informed him he had reached the maximum number of refunds and stopped waiving the fees.
Uber began using wait-time fees in some cities in 2016. The clock starts two minutes after the vehicle gets to the pickup location, and the company charges the passenger for every minute after that until the driver begins the trip. The company says the fees are 60 cents on average, but that rate varies by location and service. For instance, in San Francisco, it costs 39 cents per minute to keep an UberX waiting. When asked about the lawsuit, Uber denied that the company violated the ADA. The fees "were never intended for riders who are ready at their designated pickup location but need more time to get into the car," Uber spokesperson Noah Edwardsen told Curbed. He noted that wheelchair-accessible trips and Uber Assist, in which trained drivers help passengers board the car, don't incur any wait-time fees. But these services are not available in every city.
The DOJ is now asking for a jury trial, which will take some time. But one issue has already been resolved: Beginning last week, any passenger who certifies they are disabled through the app will have wait-time fees waived, according to an Uber spokesperson. This isn't the first time that the rideshare giant has faced charges of inaccessibility: In 2017, the nonprofit Disability Rights Advocate filed a class-action lawsuit in New York against Uber for not having enough wheelchair-accessible cars, and then similar complaints followed in Washington, D.C., and Chicago.