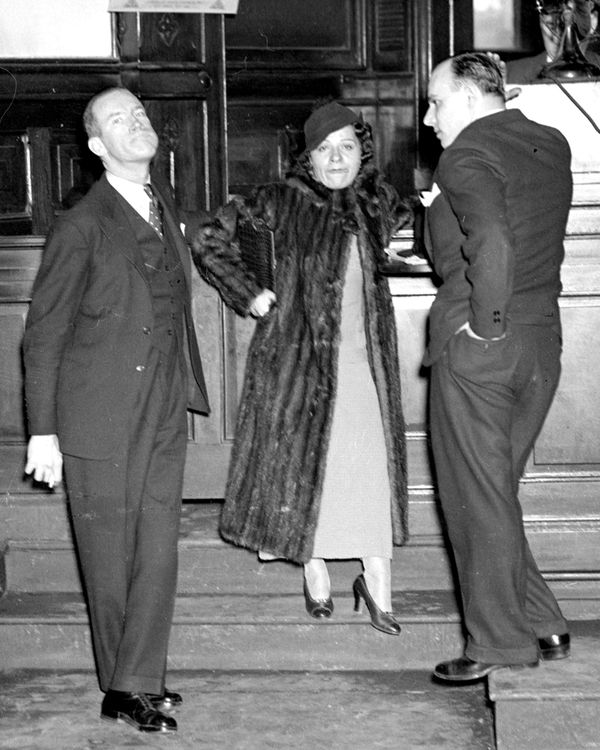 Polly Adler gets hauled into court in Yorkville, 1935.
Photo: New York Daily News Archive/NY Daily News via Getty Images
"There was a club there, the Cocoanut Grove," Debby Applegate says, half to herself, gazing across Seventh Avenue. The nightclub is many decades gone, but its home, the Park Central Hotel, looks about the same as it always did, 25 stolid stories built during the last Roaring Twenties. It was in a room upstairs at the Park Central, on election night 1928, where the gangster Arnold Rothstein—you may remember him as the man who fixed the World Series in 1919—was shot through the groin. "The gun went out the window"—Applegate points at the 56th Street side of the building as she says it, tracing its arc down to the pavement—and Rothstein, she tells me, staggered down to the service entrance, bleeding. He died two days later. The likeliest suspect, a well-known gambler named George McManus, had spent some time that day up in Room 349 with a young woman, and that evening, around the time of the murder, the two of them disappeared for a while.
Applegate knows all of this because she has spent more than a decade living in that sordid old New York, all in the service of her new book. Madam: The Biography of Polly Adler, Icon of the Jazz Age is nominally what its title offers, because Adler was indeed a celebrated public figure, the prime purveyor of sex to New York's high- and low-culture figures. But it is also a hugely digressive book in the best possible way: You meet a lot of gangsters and high rollers in Adler's New York, and they cross paths with novelists, entertainers, professional boxers, and now and then a mayor or a Rockefeller. Not to mention with the young woman in George McManus's hotel room, because she worked in Polly Adler's brothel.
"And down here," Applegate explains as she gestures down Seventh Avenue, McManus most likely—though it was never proven—bolted from the Park Central, ran down a block, and ducked into that brothel, which was at 201 West 54th Street. The neighborhood then was neither the bustling office district it is today (or was, until the pandemic) nor the rotted-out version of itself you see in Taxi Driver. A century ago, it was in between, a little down-at-heel but not down-and-out, and most importantly not too expensive. "A lot of crappy, small, older housing stock, brownstones, townhouses" is how Applegate puts it. The area was—is—on the fringes of the theater district, but "it was really less valuable." It was a hotbed of lively off-hours activity: "the upper Fifties, the feverish Fifties, the fabulous Fifties."
Applegate tosses of language like this easily, producing a hugely entertaining fizz of historical rigor and slam-bang lingo, in print and in person. She will pivot from sharp analysis of Prohibition policy to quoting a waiter who fretted that the club that employed him "couldn't exist without Booze and Cunts." Spend a couple of hours with her in New York, and you find yourself moving through a version of the city where contemporary scholarship—about the place of sex work, say, or about immigration and assimilation—can comfortably overlap with the world of Walter Winchell and his gossip column and Robert Benchley and his droll Vanity Fair writing, not to mention the dames and tomatoes who consorted with them.
Adler herself was a self-made member of that world, born in a shtetl in 1900 and sent to New York, nearly penniless and without family, at 14. Although she gained a lot of polish later in life, she could always revert to a full-on Delancey Street honk at a moment's notice, delivered in a distinctive contralto that contrasted with her tiny size, barely five feet tall. She made her way in America with menial jobs, facing down a variety of terrible men with various degrees of non-success. Eventually she got sick of scraping out a living in garment factories, and by her twenties had entered the sex trade. Adler grew rich very fast. She was, Applegate explains, "a really aggressive recruiter"—she'd ask every pretty young woman she met, actresses or showgirls or waitresses, if there were "times where you might need a helping hand"—that is, whether she'd like to pick up a week's good salary for an hour's work. Adler was utterly pragmatic about it all, providing a service that, obviously, a lot of people wanted. Especially near the old Madison Square Garden, on 49th Street: "Pimps loved boxing," Applegate explains. "They were considered their most devoted, uh, fan base."
Celebrities went to Polly's; so did Ivy League boys, some of whom were directed there by their fathers, expected to dispatch their virginity and charge it to Dad's account. Soon enough, she was a tabloid figure, periodically raided and occasionally jailed when the payoffs to the cops and judges didn't stick, one who was able to draw both customers and staff in a way that's a little hard to grasp today: She was "so well known in the underground network," Applegate explains, that when Adler had a job available, "she has to turn away 30 people every time." By 1927, her income was $60,000 a year, comparable to $900,000 in our time.
She didn't start in this neighborhood: Her earliest operation was on lower Second Avenue, and then she migrated to a variety of places on the Upper West Side. Back then, the West Side was, Applegate explains, "really quite the bedroom community of the raffish and the unrespected." It was, then as now, bourgeois and comfortable—"the garment-district guys, you know, cloak-and-suiters, and theater people. And then you have the bootleggers, and of course all the kept women. There was a super-common phrase: Are you married, or do you live on West 73rd?" But it was not ideal for Polly's purposes: It was just a little too staid, and didn't have a high enough concentration of real fun-loving characters. Too many Upper West Siders, Applegate explains to me, were businessmen who would drop in for a quickie, then go home; she needed types who would order round after round of marked-up illegal whiskey and stay up all night carousing to really bring in money. And that led her down to the upper penumbra of the theater district.
We make our way down toward 54th Street, retracing McManus's probable path as he fled. (He  eventually made it to the Bronx and hid there for a few weeks, then turned himself in; after an extremely sluggish investigation and a trial that was flagrantly corrupt, he walked free.) "Fifty-fourth," Applegate muses, "it changes over time. As time goes on, it becomes dominated by more unrespectable things. It's still Prohibition, but there are speakeasies every which way, a lot of brothels, and a lot of second-story night clubs. Just here"—on Broadway, near 54th—"was exactly that kind of spot—the Hotsy Totsy Club, owned by Legs Diamond," the gangster-bootlegger whose enemies eventually finished him off in 1931. "It was classy to have your own night club. It really was absolutely critical to making these bootleggers more than just criminals, where they become public characters. It's more important to their self esteem, as it's a way of being show-offy big men in a public way. It's not as much fun to be the big man, if all you're showing off to is a bunch of bar girls." But it was a bad idea to go there, she explains: "He was a big blackmailer. Lucky Luciano told his people, Do not go to the Hotsy Totsy, because chances are quite good they'll mickey-finn you and then toss you out as if you're a common drunk, and then you'll be dead."
All of this vice and mayhem constitutes a shift in place and tone for Applegate. Her last (and first) book was a biography of Henry Ward Beecher, the nineteenth century's most prominent preacher. Beecher was a moral force, an abolitionist, an early believer in evolution and women's suffrage. (Although he was also an adulterer, and late in life faced a scandal for it.) I first met Applegate through her work as as an academic historian—she did her Ph.D. at Yale; we met during a biographers' seminar in New York a few years ago, and subsequently traded small research discoveries by e-mail while working on our respective books—and she recalls, as we talk, that her first foray into popular history did not start out smoothly. When she turned in her first two Beecher chapters to her publishers, they canceled the book. "I just didn't know how to do it," she says now. Like any good postdoc, she went back and dug in for some more reading, dissecting other similar biographies to see what made them work. She eventually brought the Beecher research to heel, and The Most Famous Man in America, once it finally came out from Doubleday in 2006, ended up winning the Pulitzer Prize for biography.
We've turned onto 54th now, and face an innocuous apartment building called the Albemarle. It was once the Hotel Harding, named for a president who himself was soon caught in scandal. "Rothstein owned a piece of it—these guys all owned 'pieces,' Applegate says. "One of the few buildings where there is some chain of provenance." After his death it went to another gangster, Owney Madden. Right where we're standing, on October 5, 1928, two of Legs Diamond's people shot and killed a rival of his for supremacy in the beer business. Less than two weeks later, Joe Noe, another player in the same game, was gunned down a few doors to the west.
The basement bar at the former Hotel Harding is now called Flute, but when this was all going down, it was the Club Intime, operated by a fabulous tough dame-around-town named Texas Guinan. (She ran several such nightspots. One down on 45th Street featured, as Applegate writes, "a chorus of lively young girls clad in little more than a string of beads and a wisp of chiffon … close enough to touch as the girls roamed the audience between floor shows, flirting, shimmying, sitting on laps, and tossing back overpriced cocktails.") We pop in for a look. It's the place where Judge Joseph Crater—the New York magistrate who vanished into thin air in 1930, almost certainly murdered—was a regular. Eventually Dutch Schultz, a principal in the underworld operation known as Murder Incorporated, took it over after Guinan was run out of the joint, and he once tried to shoot a man dead on the crowded dance floor. Today, it's too early in the afternoon to get a sense of what the room is like nowadays: The bartender is just setting up, and nobody's drinking anything or murdering anyone. We wander around for about 90 seconds and leave.
This would have been where we head down the block and into 201 West 54th, which was the building where Polly Adler herself operated for a large portion of the 1920s and 1930s, the period when she reached the top of her game. I'd looked up the owners of the building the week before, figuring we could perhaps gain entry, maybe even get a glimpse of Polly's old apartments. But we can't, for very 21st-century reasons: An undistinguished old six-story building on a midtown corner block is irresistible to real-estate developers these days, and this one, owned by the Extell company, was torn down over the summer. We walk up to the chain-link fence and survey the scattering of broken bricks that litter the site, not saying much. Applegate points out the Congress Apartments, a building directly across the street, and that, at least, hasn't changed much. Rothstein owned that one for awhile, too.
Polly spent ten years working here, 1924 through 1934. They were among her most successful, and the location helped. It was a dull enough building to be inconspicuous, and it was large enough, with 21 apartments, that steady foot traffic in and out wouldn't be obvious. "Brownstones were too easy to track women into, so then you get an exodus around 1918, 1919, 1920, of [brothels] leaving, moving into these upper-middle-class elevator apartment buildings," Applegate explains. As Adler's star rose, however, she began to chase a more upscale clientele, and that (as well as, Applegate writes, "a rash of stickups by coked-up gunmen" that had made 54th Street less appealing) led Adler to new places, on the East Side and closer to Central Park. And, eventually, to respectability: In 1953, after she'd retired from the business, she published her dishy-but-not-too-dishy memoir A House Is Not a Home, which became a hit on its unexpected literary merits and eventually a biopic starring Shelley Winters. Adler finished out her life in Los Angeles, doing the author circuit, taking classes and getting a college degree, becoming known as a square old lady. When she died in 1962, The New Yorker eulogized her.
We drift down the block a little further, and a building catches Applegate's eye: 254 West 54th Street. Back then, brand new in 1927, it was the Gallo Opera House. Now it's a theater. But its most famous incarnation in between those two poles was, of course, as Studio 54. Applegate seems a little startled—she hadn't realized it was quite so near all these other dens of misbehavior that she's been writing about—and then pauses. "You know, as a historian … this shifts me into another frame," she says, looking at the building, clearly thinking the same thing I am: In New York, vice will usually find a place to lay its head.