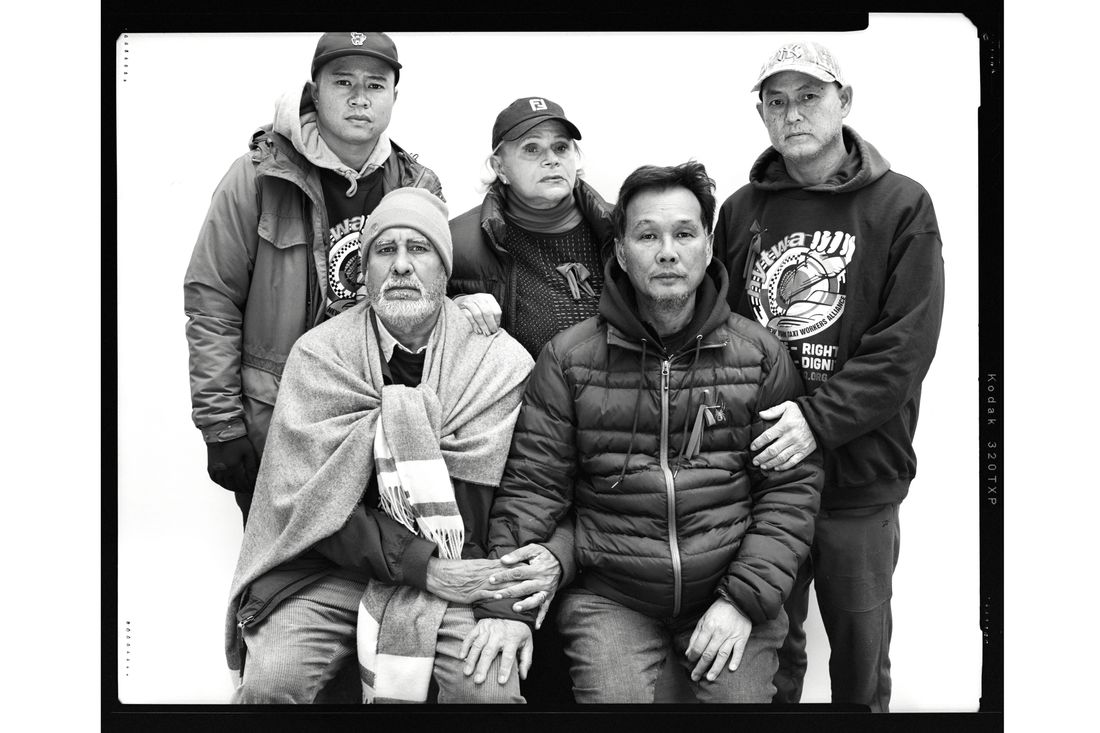 Top row (from left)
: Augustine Tang, Basia Osowki, and Wain Chin. Bottom row: Balkar Singh and Richard Chow.
Photo: Alexei Hay
In early November, after 46 days of picketing and 15 days of hunger strike, members of the New York Taxi Workers Alliance won what they deserved all along: a measure of relief from the vast debts incurred when the inflated value of their city-issued medallions crashed in recent years. Under a three-way agreement among the NYTWA, the de Blasio administration, and the city's largest medallion lender, drivers — who owe, on average, $550,000 each — will see their debt written down to $170,000 and amortized so that monthly payments don't exceed $1,122. Most important, the city will guarantee each of these rescue loans in the event of default.
It was only fair that the city agree to back the loans. The Taxi and Limousine Commission had, in recent decades, driven the value of a medallion to dizzying heights, only to pull the rug out from under the city's mostly immigrant drivers by allowing ride-app companies to flood the streets with tens of thousands of competing cars.
On September 19, facing the specter of bankruptcy and homelessness, drivers set up an encampment outside City Hall and mounted a 24-hour vigil to protest the city's first relief plan, which provided minimal assistance and no loan guarantees. A month later, the hunger strike began with eight drivers, including Basia Osowski and Richard Chow. Chow is a heavily indebted driver; his brother, Kenny, was among nine drivers who committed suicide in 2018, many of them after citing crushing, unpayable debts. "How telling that it was the two older drivers," says the group's president, Bhairavi Desai. "They had the resolve and the discipline, because so much of this fight was about the dignity stolen from our elderly drivers." More drivers would join in the next two weeks, along with some local officials; pictured here are five of the drivers who joined the hunger strike in its early days.
The hunger strikers subsisted on water with electrolytes, Gatorade, and coconut water — and, toward the end, vegetable and chicken broth. Other drivers passed by for rallies or to show solidarity; many slept in their cars to maintain a presence at the 24-hour protest. When the final deal was accepted, in a unanimous vote by 300 drivers, the hunger strikers broke their fast with avocados and dates. "It's a beautiful victory — both the destination and the journey," says Desai. "For a cabdriver, what better can you ask for?"