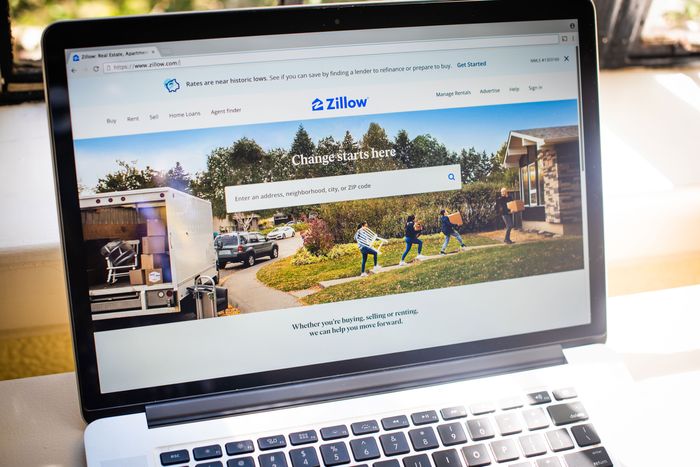 Zillow: Fun for browsing, but don't trust the Zestimates.
Photo: Tiffany Hagler-Geard/Bloomberg via Getty Images
During the last three years, Zillow made a big bet on its bots: It poured more than $1 billion into Zillow Offers, its tech-enabled home-buying program, banking that it could generate big profits by using an algorithm to buy up thousands of houses per month, do some light renovations, and flip them. But it turns out flipping homes this way isn't the most stable business model in the world, especially when you're mass buying properties during a housing boom. Now the company is shutting down its iBuying program and laying off 25 percent of its staff, among them the bots that overpaid for thousands of houses this summer.
Chief executive Rich Barton said that the company had failed to predict home appreciation accurately: "We've determined the unpredictability in forecasting home prices far exceeds what we anticipated." iBuying, Barton said, had turned the company into something akin to a "leveraged housing trader" and the practice had "a high likelihood, at some point, of putting the whole company at risk."
The promise of tech is that it can eliminate, or at least reduce, human fallibility and inefficiencies, specifically the need for labor — among the most expensive, messiest parts of running any business — and thereby reap big profits. But as Zillow's exit from home buying illustrates, tech just as often amplifies error. And no matter how slick the interface, every business still relies on humans — Uber drivers, deliveristas, or, in Zillow's case, data scientists and building contractors — to make the models work.
Over the last few weeks, it's become clear that Zillow made a lot of mistakes. It tweaked its algorithm to be more aggressive with offers, winning bidding wars just as the market was starting to cool and overpaying for properties. (It wasn't the only company that misread the pandemic market.) Building supply and labor shortages made renovations expensive and time-consuming, so that even in a hot housing market, Zillow ended up stuck with a lot of inventory it couldn't sell for a profit — the company currently owns 9,800 houses with another 8,200 in contract. (It is, at the moment, trying to sell 7,000 of those houses to an institutional buyer for $2.8 billion.) And the tactics that smaller-scale flippers might use to find their footing — renting out or moving into a property themselves to wait out the market — weren't options with Zillow's model. So flips became flops: Zillow listed 66 percent of homes for prices below what it paid for them, with an average discount of 4.5 percent, according to an analysis of 650 Zillow homes by KeyBanc Capital markets. It's also not generally recommended to go on a buying spree when prices are at the top of the market, but you can't blame the bots for that one: They were only following directions.
But maybe Zillow's biggest mistake was not realizing that as much as people love house hunting on Zillow, when it comes to actually buying and selling properties, real estate remains very much an in-person business. Real estate is a business of particulars, as any broker, developer, or successful house flipper knows. Data is part of the story, but comps can only tell you so much. (As anyone who's looked at the "Zestimate" for their own home knows, it's often considerably off.) Visiting the actual site is necessary to figure out if a property is worth what it appears to be (and, of course, intimately knowing the city where the property is located helps, too). A factor in the last housing crash was that many mortgages were issued for homes based on appraisals that vastly overestimated their value. Many appraisers were asked to evaluate homes they couldn't physically visit — either because of location or pay rate — and pressured to make appraisals that would justify the loans. Zillow did send out people to do evaluations after making initial offers on homes, to make sure that the homes' condition was as represented, but they were looking for misrepresentations and red flags; the bots were the ones calling the shots. Of course, the business model involved buying thousands of homes, so it could absorb a few duds, but it was also working on small margins.
So is this the end of iBuying? Probably not. Other companies, like Opendoor and Offerpad, pulled back on purchasing when Zillow was going all out this summer and appear to be doing fine. But it is an indication that home selling isn't ready for full automation. And it might never be. iBuying has been pitched to sellers as a way to remove the headaches and hassles of selling a home. But it's not clear that sellers disliked the traditional way of doing things. Selling a home isn't like ordering delivery — it's something that most people do maybe a few times in their lives and, given that a home is the single biggest investment many people make, are understandably worried about screwing up. Only 10 percent of serious sellers accepted Zillow's offers, according to Bloomberg. Which isn't so surprising, given that Zillow was openly buying the properties to flip (and it didn't buy properties that needed major renovation). Unless sellers couldn't be bothered to paint and do some basic repairs, why sell to Zillow? As the last housing crash illustrated, Americans like to think of themselves as the real-estate mavens, even if they are, in reality, the marks. Which is how Zillow became popular in the first place: Everyone loves to be an imaginary real-estate baron — who doesn't thrill to the idea of buying and selling real estate? They also like a bargain, but selling to Zillow cost as much as hiring a broker: Zillow charged an average of 5 percent for the selling fee; brokers' fees are typically 5 to 6 percent. Why wouldn't sellers want to test the market with a traditional listing, unless Zillow was clearly overpaying? And apparently, it was.