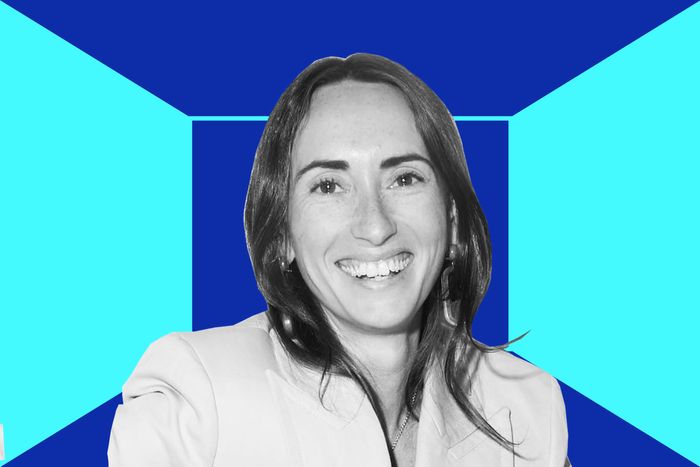 Photo-Illustration: Curbed; Photo: Courtesy Zoe Fisher
New York's "21 Questions" column is back with an eye on creative New Yorkers. Zoe Fisher — the dealer and curator who ran HANDJOB Gallery//Store, 99¢ Plus, and Fisher Parrish — was recently named Director of Salon 94 Design.
What's hanging above your couch? 
It's one of my favorite pieces of artwork I own, a painting by Caitlin MacBride of a Shaker bonnet from a show that we did together. This piece is kind of the epitome of my love of a simple yet intricate beautiful object.
What's the first job you had in New York? 
I was working retail at a denim shop named Loren. But during that whole time I had my own gallery, too, so I would kind of say that my first job was running my own gallery, which was named HANDJOB Gallery//Store. I still love a goofy name. It fit the project so well, but the New York Times wouldn't print it! They were going to include the gallery in a holiday gift guide but there was a review of a new sex toy on the same page. They thought with the word "hand job" and this sex toy, there's just like too much sex going on in this spread, so they ended up cutting it.
What color are you always drawn to? 
Green. My living room is green. Someone once told me that green paintings never sell, so I just started kind of obsessing over them and now I have a small collection of green paintings.
What art or artifact are you most surprised you own?
A painting from 1937 by Jean Xceron. My dad inherited it from his bohemian-artist grandmother, and he passed it down to me recently. Xceron was a Greece-born American abstract painter and art critic, and spent most of his life as a security guard for the Guggenheim.
Which New Yorker would you want to hang out with?
Kate Millet, and this is just off the top of my mind because Salon 94 Design is curating an exhibition of her work. She's best known for writing Sexual Politics, but she also did this incredible body of work in 1967 at the Judson Gallery that she called "fantasy furniture" — sculptures that are based on chairs, beds, cabinets and things, but none of it is functional. Her voice was not being heard as a sculptor, and although she was pushing pretty strong messages in her work, the art world wasn't ready to hear it or didn't want to hear it. I have so many questions for her!
What's the last thing you made with your hands?
One of my pandemic projects was beading, so I made like a million necklaces out of recycled jewelry. In true Zoe fashion, I couldn't just relax and take this just as a meditative process. I made a whole company out of it called EZPZ Beads.
Is there one thing you own multiple versions of?
I have too many artist-made vases — more than I could ever hold flowers in.
What New York City museum do you always go back to?
The Noguchi Museum. Its curator, Dakin Hart, has been doing incredible collaborations where they have contemporary artists in conversation with Noguchi. It's a smart way of curating and bringing relevance to an older body of work.
What do you always have next to your computer?
I don't keep much on my desk, just a glass of water.
Where is the best view of the city?
Driving back to the city from upstate. Not even because it's the best view; it's the excitement of returning to the city.
What building or object do you want to redesign every time you see it?
Dog crates. I am a major dog mom and have a rescue pup named Boobie. She really came to love her crate, but most of the crates out there for larger breeds are really just metal cages. What a great opportunity to design some wildly cool little piece of furniture.
What's one thing you would change about your field?
My not-so-secret mission in life is to merge the fields of art and design, and for them to be able to be sold and viewed and talked about in the same space.
If you could live anywhere in New York City, where would it be?
I would really love to live in Two Bridges, in Chinatown. It's such a cool little pocket, being able to see the water, there's some old little streets, I just think it's a very exciting place.
What would you hoard, if it stopped being produced?
Exhibition catalogues! I keep digging for old exhibition catalogues, especially from museum shows in the '50s and '60s, when major institutions started exhibiting modern design. That info doesn't exist anywhere else, and it has really made me start hoarding one from every new museum show I love.
What do you do to get out of a creative rut? 
I clean and organize. I paint. I hike. I just need to be moving my body to wipe my brain.
Where was your first NYC apartment and how much was the rent? 
It was a third-floor walk-up railroad apartment in Bushwick. I think I paid $600 for my room.
Where in the city do you go to be alone?
I go on gallery strolls to be alone, and just zone out and take in work. I use an app called SeeSaw and map out my day.
Worst piece of career advice you've ever gotten? 
Someone told me that leaving a job after eight months was detrimental to my career. I just think that's so incorrect. I love investing in long-term relationships, but if you're not growing in your position, it's time to go.
What have you given away to someone that you wish you could get back?
It's very easy for a dealer to kind of hold onto everything that is good and start hoarding works, but I think it is very important to get works seen by the larger public and sold and into collections. I'm not one for regrets in my life, but I have a full list of artworks from exhibitions I've done that I've given back to artists or sold to somebody else that are my deepest regrets.
What's your favorite NYC restaurant and regular order? 
Unfortunately, it's kind of embarrassing, but I am really a Roberta's fan. It's so cliché Bushwick for me to say! I always order the Speckenwolf pizza.
What descriptive phrase would you want on your obit headline?
God. I have no idea. I don't think about death a whole lot.