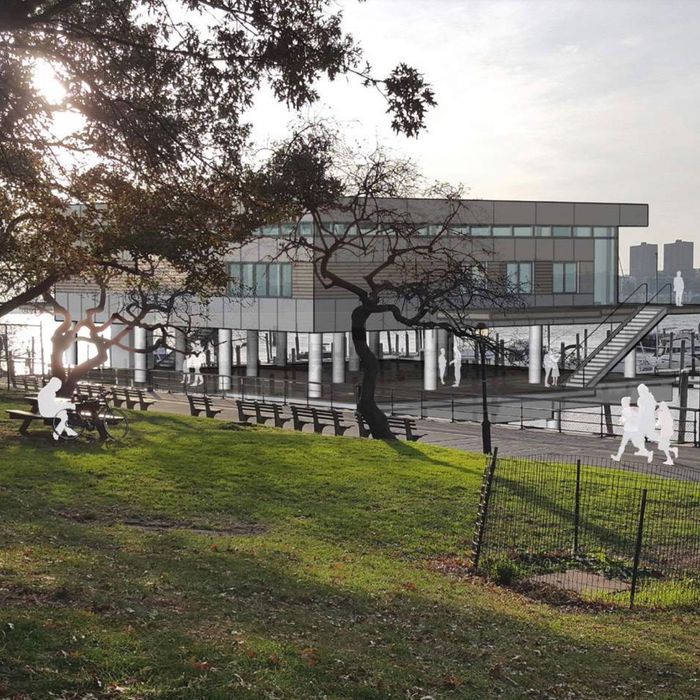 Manhattan has always been hard on small wooden houses: Over the years, almost all of them have been wiped away, replaced by tougher, bulkier buildings. The latest doomed relic is the clapboard shack on a pier that for eight decades has watched over the 79th Street Boat Basin with benevolence and decrepitude. Unassuming to the point of erasure, it's nevertheless the only offshore building for miles, a lone bump against the brushstroke of river. The area is a prime vantage point for savoring golden hour and obeying that instinctual pull to the water, the urge to get what Melville called a "better seaward peep." So when the city presented plans to replace the dock house with a double-decker institutional structure, a reporter from the West Side Rag recorded a collective neighborhood groan. The reaction, joined by a chorus of officials and Riverside Park advocates, expressed a more intense strain of disappointment than the usual reflexive resistance. And with good reason: The proposed fiber-cement slab raised on 16 concrete columns and capped by a sloping metal roof has all the charm of a vending machine that has been tipped on its side.
The howls are fine, all part of the process, according to the Parks Department and the Economic Development Corporation, which have partnered on the project. The city is focused on modernizing infrastructure; the aesthetics will sort themselves out. In the context of a $90 million, mostly federally funded initiative to dredge the silted-up shore and rebuild the dilapidated marina from scratch, the dock house — a 4,000-square-foot facility with a dock master's station plus showers, toilets, storage, classrooms, and locker rooms — is practically an asterisk. (Well, a $7 million asterisk.) And anyway, officials promise, the design will evolve as it wends its way through the approvals process. Community feedback — even the vitriolic kind — will be addressed in future iterations.
Hold on: The appearance of a public project isn't just a decorative flourish to be applied after all the important decisions have been made. When New Yorkers point to a plan and complain that it's big, what they often mean is that it's bad. Here, in a sensitive waterfront location, extra bulk might be easier to swallow if the agencies in charge delivered not just a functional facility but a genuine work of architecture. The city already recognizes that need with a Design Excellence program and a slate of annual awards. The Public Design Commission, which has veto power over projects on city-owned land, is responsible for quality; it will have to sign off on the final design for the marina, and it should impose a much higher standard for the dock house than the agencies have contemplated so far. Instead, aesthetic afterthought is built into the process.
Moffatt + Nichol, the infrastructure firm that won the contract to rebuild the marina, subcontracted the building's design to B. Thayer Associates, a firm with experience rehabbing utilitarian structures like subway stations and bridge operations. The architect at Thayer who's responsible for the current version of the dock house, Vadit Suwatcharapinun, declined to discuss his approach, but he surely modeled it on the quietly businesslike, slope-roofed, glass-fronted structures that Dattner Architects has scattered around Hudson River Park. But what embellishes a pier in Chelsea doesn't necessarily work on a narrow, more bucolic slice of riverbank. Suwatcharapinun seems to have little feeling for the specificity of the site. The boat basin, until recently a year-round community of amphibious New Yorkers, sits across the riverfront esplanade from the 79th Street Rotunda, a stone citadel with an open court and an arcaded perimeter that was perpetually hazed in the fragrance of frying meat until 2019, when the city shut down its café in advance of a separate $200 million renovation. This is not just a stretch of waterfront that people use; it's a spot they love.
For most of New York's history, the shoreline was loud, smelly, hard, and ugly. The piers that jutted out into the East and Hudson Rivers entered a perpetual state of decay the moment they were erected. It never seemed worth building anything dignified or permanent at the water's edge, since it would be pummeled by corrosive spray and the ceaseless slamming of cargo. Chelsea Piers, a high-priced, high-tech monumental gateway to the city for transatlantic passengers, opened in 1910, and almost immediately proved too compact for the ever-more-giant ships that needed to dock in Manhattan. In the 1970s, Gordon Matta-Clark sliced holes into one of the sheds and called it Day's End; last spring, the Whitney erected another Day's End, Dave Hammons's ghostly steel-tube version of that now-vanished artwork. It's an insubstantial gravestone for all that steamer-era activity. Even though the waterway is quieter now, and much of Hudson River Park is lavishly landscaped and geared to leisure, the waterfront below 59th Street is still obstructed by a sanitation shed, a cruise-ship terminal, a heliport, and other noisy encumbrances.
And yet even in the heyday of the industrial waterfront, crude utilitarian structures shared a riverfront with the architecture of enjoyment. Boathouses and yacht clubs served those who used the river for play and sport. In the late-19th century, upriver from the grimiest industrial zones and across the railroad tracks from residential West Side, the Hudson River Yacht Club maintained a handsome building at the foot of West 92nd Street. "On the second floor is a large parlor, furnished very cozily with chairs, tables, and a piano," the Times reported in 1893. "A large piazza runs all around the house on this floor." A handful of blocks to the south, the Columbia Yacht Club built itself a waterfront landmark, a two-story headquarters with a peaked roof and wraparound porch. When Robert Moses evicted it in 1934 for the expansion of Riverside Park and the construction of the West Side Highway, yachters were shocked that their era of gracious waterfront parties was ending. "We have a collection of more than 300 letters from captains who attended these important functions," a club officer wailed. "The Prince of Wales and the late King of Belgium sent us their personal ensigns." Moses tore it down anyway.
Some of that gentility has returned to another part of Manhattan's riverfront, updated and democratized. In 2004, New York Restoration Project, a group founded by Bette Midler, commissioned a new public rowing center from Armand LeGardeur, a purveyor of Hamptons mega-cottages, and the master of throwbacks Robert A.M. Stern. The floating Peter Jay Sharp Boathouse, which is tethered on the Harlem River at Swindler Cove, is a romantic, wood-sided reincarnation of the Hudson River clubs, dedicated not to affluent yachters but to teenage rowers from underserved parts of the city. The nonprofit group Row New York bought the building in 2017 and now plans to replace it with a more expansive structure, set onshore and designed by Norman Foster and the New York firm Bade Stageberg Cox. (The LeGardeur-Stern original is for sale and could be towed wherever there are rowers and a dock.) Foster envisions an elegantly simple two-story pavilion surmounted by a timber latticework canopy like a straw brim: a boathouse wearing a boater.
If it feels unfair to hold up private projects as models for public ones or old buildings as a reproach to new ones, consider Studio Gang's WMS boathouse in Chicago's Clark Park, completed in 2013. Gang translated the motion of oars in the water into the roof's rhythmic profile, an alternating series of V's and M's. With its slate-and-zinc exterior and no-nonsense mien, the building was designed to be durable, functional, accessible to everyone — and sternly beautiful, too. The Chicago Tribune's then-critic Blair Kamin saw the work as a major civic achievement. "The shed's roofline assumes ever-changing profiles, sometimes serrated like an old-fashioned factory; sometimes faceted, as though it were a diamond. Here is the rare building that simultaneously shapes space and works as an object in space," he wrote.
A boathouse and a dock house aren't quite the same species, but design principles carry over. Parks and EDC have been focused on the project's most complex and expensive elements, which lie mostly out of sight. Some conditions are inflexible. A new dock house has to be jacked up beyond the reach of floods, provide direct visual contact with the entire marina, and satisfy the requirements of a fistful of federal and local agencies, including the Coast Guard and (since it receives foreign vessels) Customs and Border Protection. A slightly nicer mariner's hut isn't an option. Yet none of those givens is an excuse for disappointing design. That's what architecture is: the art of extracting inventiveness and grace out of a tangle of awkward constraints.