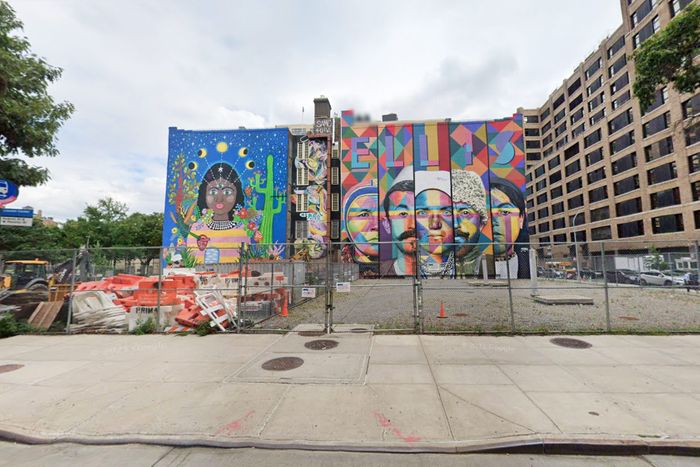 Housing will go up at 388 Hudson.
Photo: Google Maps
For years, supporters of the Elizabeth Street Garden, just north of Little Italy, have fought to save it from being developed for affordable housing. The plan for the site, they say, creates a false choice between people and green space. They even identified what they argued was a superior spot for an apartment building: 388 Hudson Street, a vacant, city-owned parcel over to the west, in Hudson Square, that's controlled by the Department of Environmental Protection. Now, as part of the Soho/Noho rezoning, City Councilmember Margaret Chin has negotiated a deal to put about 100 units of affordable housing at 388 Hudson, which will be built in addition to Haven Green, the low-income senior housing development that is slated for the Elizabeth Street site. "All along, I said it's an additional site," Chin told me. "It's always been an additional, not an alternative site. We want to develop affordable housing anywhere we can." It also means the Elizabeth Street defenders have lost their best argument for building elsewhere, because the elsewhere in question has now been spoken for.
The deal, which is expected to be wrapped up this week when the rezoning passes, is something of a victory lap for Chin, who initiated the redevelopment of the Elizabeth Street site. She staked her last election four years ago on the issue, and she won, despite vociferous opposition from a knot of garden enthusiasts who backed a primary challenger, Christopher Marte. (After that election, Chin was term-limited, and Marte won her seat this fall.)
Although 388 Hudson is outside the proposed Soho/Noho rezoning area, it was selected because there are no city-owned sites within the area. It provides access to a water tunnel running beneath part of it — meaning that only the northern half of the lot can be developed. There are about 12,500 square feet of developable land there, according to Chin, which means that about 100 units of 100 percent affordable housing can go up. Haven Green, on the Elizabeth Street Garden site, will have 123 affordable units. Although the garden's supporters have argued that up to five times as much housing could be built at 388 Hudson, Chin said that was incorrect: "Not true." The water shaft takes up too much space.
Joseph Reiver, the son of the late Elizabeth Street Garden founder and the executive director of the nonprofit, tried to spin the news of the development as validation rather than defeat: The development of 388 Hudson showed that the park's defenders had been right all along — the site was feasible for housing. "This news only supports our position that we can achieve the needed housing without destroying vital community green space," he wrote in an email to me. As for its being suitable for far less units than the garden had claimed and less than Haven Green even, he wasn't willing to concede that, either: 100 units, he said, "seems like a low amount, considering the possibility of more FAR and the DEP easement."
The battle over the Elizabeth Street site started in 2012, when the city first moved to end its month-to-month lease with Allan Reiver, an antiques dealer who had rented the lot since 1991. Reiver, who died in May, was known as a "cantankerous guardsman of the park," according to the New York Times, "deciding who gained access through his adjoining shop, Elizabeth Street Gallery." It was not so much a park as a private enclave — until the city moved to take the lot back, after which Reiver started opening it for more public events. Before the affordable-housing proposal came around, the garden "was never, never open to the general public," said Chin. Then, "all of a sudden, there's a garden and they're protecting it."
After years of legal wrangling, the city finally moved to evict the garden at the end of October. (Where things stand for the moment is unclear; the garden still appears open for events and the Department of Housing Preservation and Development did not respond to a request for comment.) The Elizabeth Street Garden, said Chin, remains "a great site for affordable housing, which the city desperately needs. There are so many seniors on waiting lists." The project will also include open space that — while it will likely lack the grandeur of the garden full of stone sculptures that's there now — will, Chin said, "be a beautiful space where everyone is welcome."