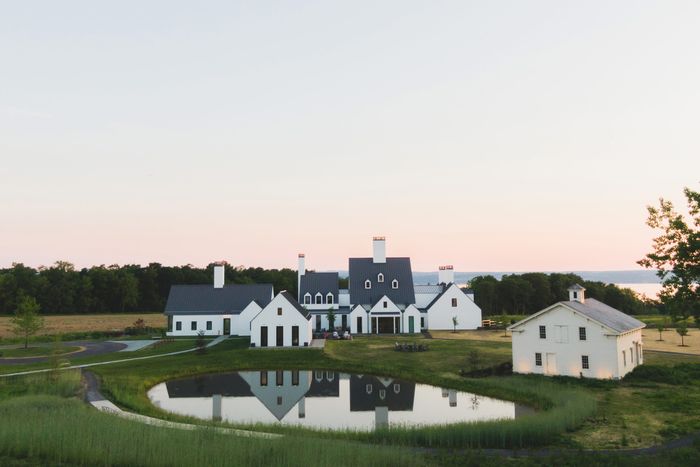 Aerial view of the Inns of Aurora, including the spa
Photo: Inns of Aurora
Most people leave their small-town alma mater with not much more than a distant fondness (or revulsion) for the time they spent there. Not Pleasant Rowland, the creator of the American Girl doll empire, who graduated in 1962 from Wells College in the upstate New York town of Aurora. Rowland, who is best known for her historical (and historically expensive) dolls, has been flying under the radar with another project for the past two decades: obsessively renovating Aurora so it is fit for any American girl (doll) to live in. Rowland has already set up five historical inns and renovated a restaurant in this Finger Lakes town; the latest addition is a 15,000-square-foot luxury spa that opened this fall, overlooking pastoral Cayuga Lake and, as the New York Post noted in a glowing write-up in November, "350 acres with alfalfa and lavender fields, tranquil ponds and scenic nature trails." (For $165, you can get an Abhyanga Massage, which is a deal if you think about the fact that it costs only $1 more than a spa bundle for a doll.)
Aurora, a tiny town of some 724 people, is now Rowland's perfect upstate village. In a speech she gave at the reopening of one of the inns in 2003, Rowland said the town reminded her "of the values and traditions of another, more tender time." When she'd first revisited the school almost 25 years after graduation, though, she found it in a state of economic decline like many small upstate towns. In 2001, Rowland returned and partnered with her alma mater to start the Aurora Foundation, through which she began to spend her considerable doll wealth — she sold the American Girl company to Mattel for $700 million in 1998 — to renovate dilapidated buildings and obsessively restore the town to a historical menagerie, not unlike her dolls themselves. As Vogue reported in 2018, Rowland literally "buried the power lines and redid the sidewalks" and "brought in elm trees to line Main Street." But the project hasn't been dependent on only Rowland's largesse — the state subsidized the construction of the spa in 2015, giving $1.5 million as a grant to spur economic development in central New York. (Aurora's mayor at the time acknowledged that the state's money was going to a business most town residents couldn't afford.)* The spa itself is part of a collection of five inns that are all on the same street and were reconstructed in different historical styles reflecting when the structures themselves were built, a concept Alex Schloop, the inns' creative director, couldn't quite find an explanation for to Vogue. (When asked, Schloop said, "If you have one, let me know.")
Like most rich peoples' projects, the concept doesn't really have to make sense beyond the fact that it fits into Rowland's demanding aesthetic vision of small-town life. Some residents have bristled at a millionaire turning Aurora into a town-size dollhouse — the New York Times reported in 2007 that people made bumper stickers reading "Aurora Was Pleasant Before." But now, like her dolls, Rowland's inns offer a historically polished experience to those who can afford a small sum to get away from the city for a weekend to cosplay upstate life.
Rowland wrote a message on the inns' site that was meant to inspire girls everywhere (in America): "Please hang onto your dreams, keep on being the best that you can be, and some day one of you will be president." For Rowland herself, it seems the dream is just a little smaller: remaking an entire town just to her liking. Is that so much to ask for?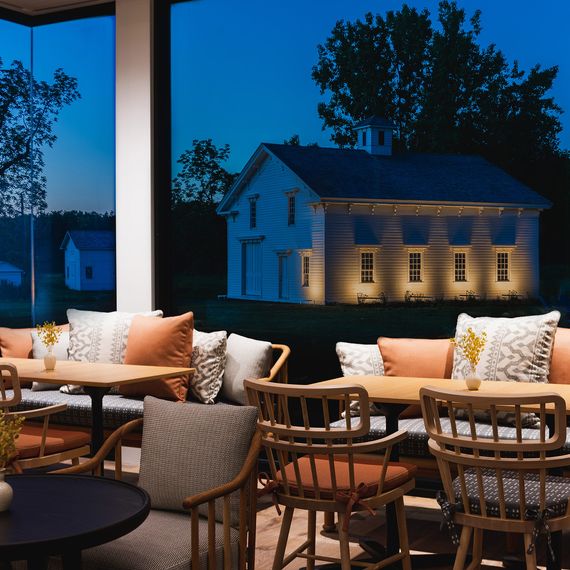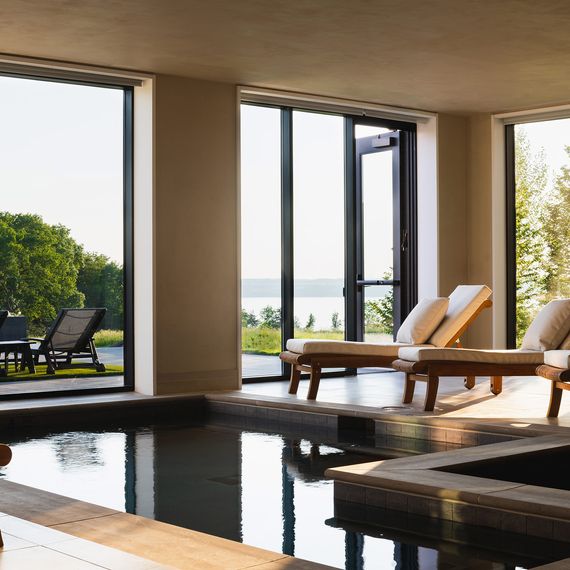 *Update, 12/16/2021: After publication of this article, a spokesperson for the Inns of Aurora clarified that Pleasant Rowland ultimately turned down the offer.