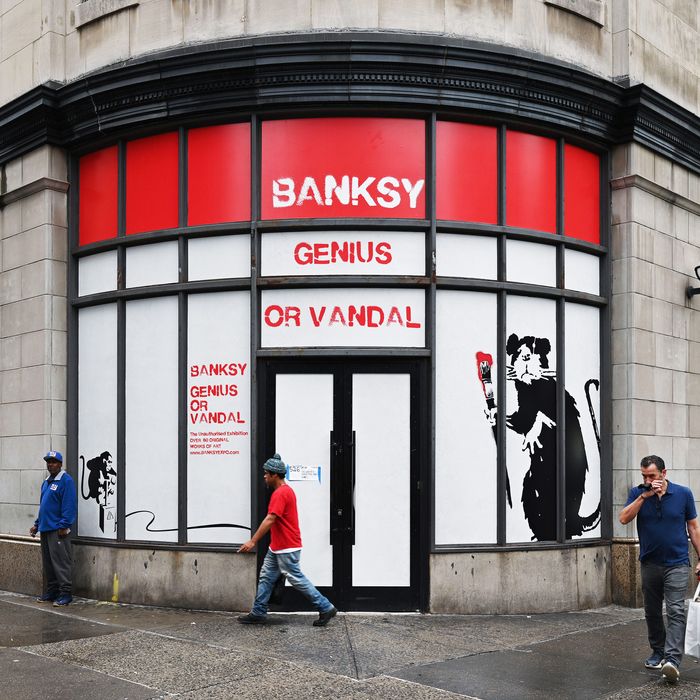 Photo: Erik Pendzich/Shutterstock
Unil last May, the curved-glass storefront at the corner of 14th Street and Sixth Avenue might have featured mannequins sporting crop tops and wavy home goods arranged to look like the corner of a cool person's living room. For more than two decades, it was home to an Urban Outfitters, the once-trendy retail chain that's now approaching cheugy territory. These days, the windows are painted over in broad stripes of white and red, and a human-size black rat holding a dripping paintbrush is stenciled next to the front door. Inside, where there once were racks of wide-legged pants and bucket hats, are screen prints of children pledging allegiance to a plastic grocery bag, a case filled with counterfeit bills featuring Princess Diana's face, and a disco-ball–riot-helmet lamp dangling from the ceiling. These are the familiar hallmarks of Banksy, the British street artist who in the past 15 years has gone from guerrilla stunts to eight-figure sales at auctions.
Since September, his work has filled the 24,500-square-foot space for "Banksy: Genius or Vandal?," an "unauthorized" touring exhibition of pieces drawn from private collections. The show is one of a growing number of immersive pop-up "experiences" held outside the framework of museums and galleries. The Banksy exhibit is co-produced by Fever and the company Exhibition Hub, which has had a hand in some of the most popular of these attractions: "Van Gogh: The Immersive Experience" (not to be confused with the one featured in the TV show Emily in Paris, which is called "Immersive Van Gogh"), "Klimt: The Immersive Experience," and "Claude Monet: The Immersive Experience."
The fad of combining art, spectacle, and sometimes-dizzying projection technology has roots in the success of the Santa Fe arts collective Meow Wolf, founded in 2008 and now a blockbuster brand, and the artist Yayoi Kusama, whose Infinity Mirror Rooms have become international Instagram sensations. The trend has inspired many other "experiences" that are less Rain Room and more Museum of Ice Cream and have moved away from cultural institutions and into other venues — often short-term, ready-to-retrofit retail spaces in urban centers, like the former Urban Outfitters. For Exhibition Hub and others, onetime big-box stores function less like retail spaces and more like content platforms, places to temporarily park prepackaged entertainment, whether it be graffiti screen prints or 3-D projections of artworks by master painters.
There's a lot of money to be made in these temporary shows. Exhibition Hub finds a short-term lease on a space, makes quick-fix renovations, and sells tickets at high prices — $34 a pop for the Banksy show in New York. After a marketing and advertising blitz, they typically draw large crowds. For property owners, having an installation as a short-term tenant can help solve the problem of retail blight. "The former Urban Outfitters is a good example," Exhibition Hub CEO Mario Iacampo said. "What you're doing is you're making their space live again. There's nothing worse than a potential tenant coming to an abandoned building thinking, Why didn't this work last time?"
Exhibition Hub has set up shop in the husks of retail, entertainment, industry, and religion. There have been immersive van Gogh experiences in the Rhode Island Shopping Center in Washington, D.C.; in an industrial warehouse in Seattle; in a once-shuttered historic theater in Miami; and in a former fertilizer plant and munitions factory in Atlanta, which reopened for the first time in 25 years for the exhibition. In Italy, "Van Gogh: The Immersive Experience" took over a Naples church on weekdays, and Mass was held there on Sunday mornings. Exhibition Hub even installed its van Gogh show in the VIP area of the former Texas Rangers stadium.
Vacant spaces are readily available, but the leases that companies like Exhibition Hub are looking for aren't always. The company generally seeks six-to-seven-month leases on large spaces, rather than the traditional multiyear lease that's common in retail. And while Iacampo declined to share details of the Urban Outfitters lease, operators like Exhibition Hub are probably looking for a cut-rate deal. The easiest time to land such a lease is the second half of the year, when it's unlikely that commercial landlords will find a new tenant before January. But lately, after the spate of van Gogh experiences, it has been an easier sell. "We get a lot of calls now, which we didn't used to," Iacampo said.
Even as cities marked a tenuous return to normal over the summer, shopping districts haven't bounced back easily. "There's been a compression in the general retail landscape," said David Ruddick of Unibail-Rodamco-Westfield, which owns and operates Westfield malls. "If you walk through Times Square in New York, you can see that it's becoming less viable." But the market for immersive experiences is booming, and for the Westfield operators that has meant a range of new programming, like a recent partnership with Netflix to produce a virtual-reality experience based on the show Army of the Dead, which debuted on top of the Westfield Century City mall parking garage. The company has put on an interactive soccer experience in London and a Halloween-themed immersive experience, and has an "immersive Nutcracker" that just opened at four Westfield locations in Southern California. Like many of these shows, the latter pays homage to a classic — "a family-friendly walk-through experience of the most beloved holiday fairy tale," according to a release — while promising updated elements, such as a VR battle with the Rat King.
This trend has sparked a philosophical shift for retail companies as they rethink how to sell their brick-and-mortar spaces. "We have a large group of content buyers. We used to call it our leasing department, but now it's really content buying," Ruddick said. The "content" they're seeking could exist in almost any domain — sports, film, TV, art, holidays. Perhaps the epitome of the "experience" rush is at the Westfield Mall of the Netherlands, where an exhibition simply allows you to treat yourself like content: Called Youseum, it's a series of 15 curated rooms where, according to its publicity, people can "take eye-catching photos for your Instagram and create unforgettable content for TikTok, solo or with a group."
Most of these "experiences" are short-lived, but the success of the model has some trying to break out of the pop-up approach. In Houston, a new "immersive" museum called Seismique took over a former Bed Bath & Beyond store for a ten-year lease. The company settled on the big-box space for its size and ease of access — including ample free parking in the retail strip. The exterior of the 40,000-square-foot building has been painted turquoise; inside, 40 galleries feature immersive displays of light, color, and sound with interactive elements. Seismique boasts that it contains 9 million LED light bulbs. "We joke that we've gotten rid of the bed and the bath but kept the beyond," Josh Corley, one of the owners, said.
Clinton Smullyan of Mosbacher Properties Group, which owns the former Urban Outfitters space in New York, said he was "delighted" with its first foray into what he called "experiential tenancy." His company has seen a measurable uptick in inquiries about the space since the exhibition opened, though Smullyan noted that was due to the post-pandemic recovery as much as the rat holding a paintbrush in the window. Still, according to one report, nearly 30 percent of midtown storefronts were vacant last summer, giving the sense that there's plenty of space for more of these exhibits. Outside of New York, "Banksy: Genius or Vandal?" has been presented in Brussels, Hiroshima, Barcelona, and Los Angeles — and it doesn't take much to find a new venue. "We're not expecting a specific look. We can paint the ceiling black and start from there," Iacampo said. "You'd be surprised what a gallon of paint will do."