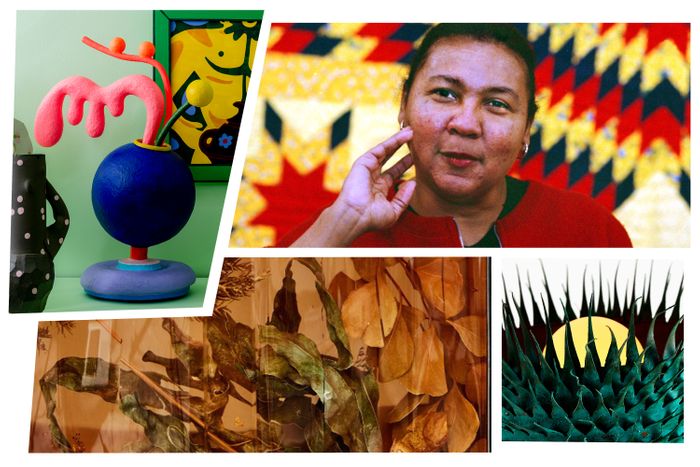 Photo: Sean Davidson, Margaret Thomas/The The Washington Post via Getty Images, Mathijs Labadie, Courtesy of Objective
Every couple of weeks, I'll round up and share the objects, designers, news, and events worth knowing about.
We lost bell hooks this week. Her writing has hugely influenced how I understand the ideologies at the root of American culture, which are then inscribed into our objects, buildings, and cities. Where We Stand, particularly its discussion about "hedonistic consumerism" — the idea that buying certain things unlocks class mobility — was at the front of my mind as I worked on season two of Curbed's podcast Nice Try!, which focused on objects that populate domestic interiors. It was only this week, during the outpourings of gratitude and appreciation for her work, that I came across an essay of hers on design and architecture. (H/T Michael Bierut's Instagram.) In "Design: A Happening Life," hooks, who dreamed of being an architect as a child, reflects on design as an everyday process. She invites an appreciation of simple objects and prizes individualistic aesthetic appreciation over material status and conspicuous consumption. "We would have to see design as shaping how we live, as having spiritual value," she writes. "Every design that we encounter strengthens our recognition of the value of being alive, of being able to experience joy and peace." It's an achingly beautiful philosophy that speaks to a deeper and more dynamic relationship with design.
The Graphic Design of Filipinx
I haven't made any of the dishes in chef Angela Dimayuga and writer Ligaya Mishan's new cookbook of Filipino American recipes, but I've devoured its design and photography. Dimayuga and Mishan, working with the Los Angeles–based studio Ella and Abrams Books' in-house art director Diane Shaw, have made a mini history of Filipino design. The fonts on the cover and throughout the text immediately made me think of Hardworking Goodlooking's 2018 Filipino Folk Foundry book, which was based on hand-painted signs and printed signage found around Manila. The end papers feature illustrations based on the floral patterns found on piña cloth, the fabric used in Barong Tagalogs. On a page about how to cook rice, there's an aside about the abstract shapes representing rice that are found in Indigenous tattoos and textiles, and that also appear as borders throughout the book. What I enjoyed the most, however, were the impeccably styled food shots with the lace tablecloths, bamboo placemats, dishware, utensils, and candle holders that reminded me of tables set by my mom, aunts, and grandmother over the years. Nostalgia isn't new when it comes to cookbooks, but the use of it in Filipinx along with more modern design elements (ahem, gradients) illustrates how experimentation and reinterpretation are at the center of Filipino American food and culture.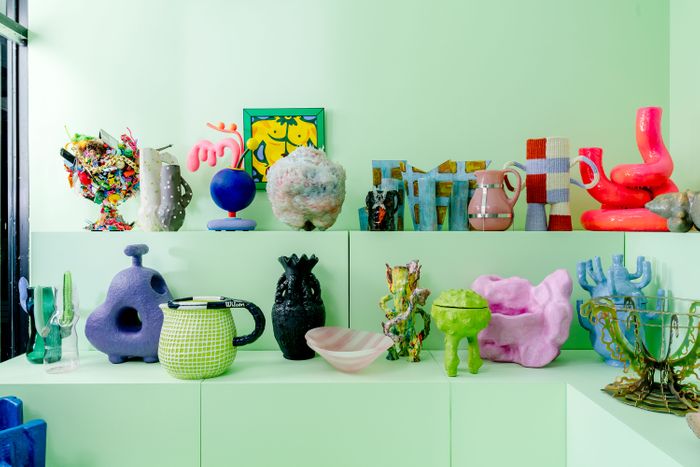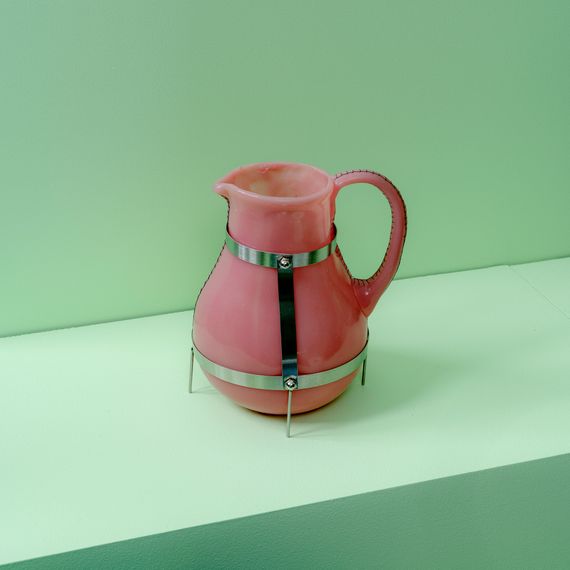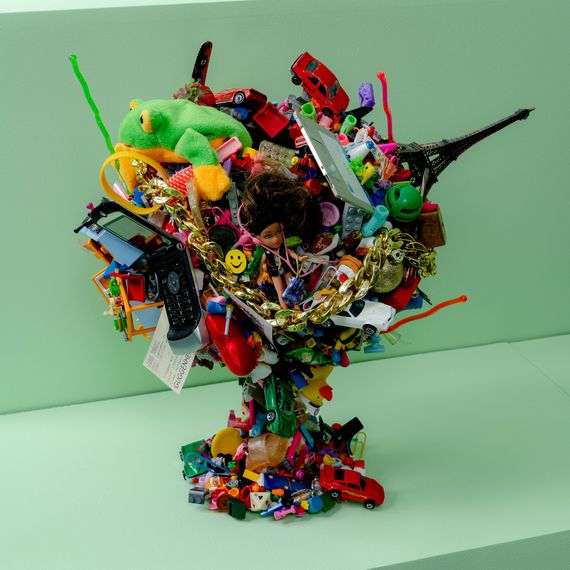 The new Chinatown design gallery Superhouse has a group show in its petite 10-by-10-foot space. Gallery director Stephen Markos invited 50 international artists to make vessels that represent their creative point of view. Like many of the one-object-different-ways exhibitions of late — e.g., Marta's Over/Under East show of toilet-paper holders — the pleasure of the show lies in seeing everything all at once: the lumpy clay alongside bubbly blown-glass, drippy resin cheek-to-jowl with CNC-milled wood. There are so many interesting materials, textures, colors, and fabrication techniques on display. I particularly enjoyed the stitched-together and slightly surgical-looking pink resin jug by the Mexico City–based studio Panorammma and Joseph Algieri's assemblage of toys. Through January 16, 2022.
Two design trends that I've been keeping tabs on lately are references to Surrealism and Viennese Modernism. Both come to a head in the Polish designer Marcin Rusak's Flora cabinet, exhibited with Twenty First Gallery at Design Miami. Rusak explores ephemerality, decay, and preservation in his work and has been experimenting with a material that mixes resin with plants and flowers so that the botanicals look almost like they've been trapped in amber. The Flora cabinet's botanical motif and translucency are a little bit Josef Frank (which Rusak directly referenced) and a little bit Shiro Kuramata — an elegant and unexpected mix.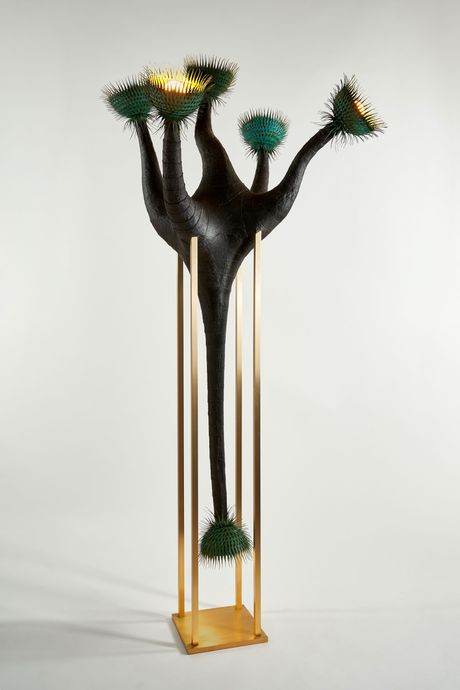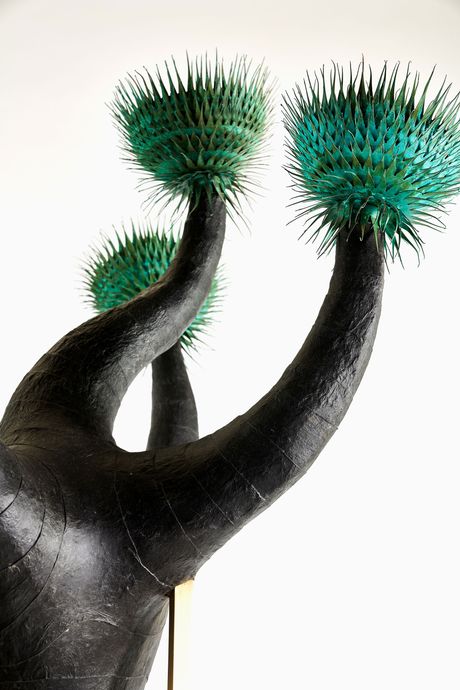 Speaking of Surrealism, I was delighted by this lamp made by the Brooklyn-based artist J McDonald for its form and its backstory. Presented at Design Miami with Objective, it's made from paper and foam and looks like a tentacled creature or a tree out of Dr. Seuss corralled within a steel frame, with a narrative to support such an intersection. "Hexacorallia Luxus is a rare and recently discovered species of lamp, not easily classified into standard taxonomies," McDonald writes in an artist's statement. "Though debate over whether Hexacorallia indeed belongs to the Object Kingdom and not the Plant or Animal Kingdom persists, we must attempt to define and categorize it based on our current — if limited — understanding." He goes on to question whether it belongs to "the Supellex family (common name: Furniture)," or "the Sculptura family." It's an entertaining story, but it also gets at the heart of where conceptual design is heading today — somewhere between art and object, sculpture and function.