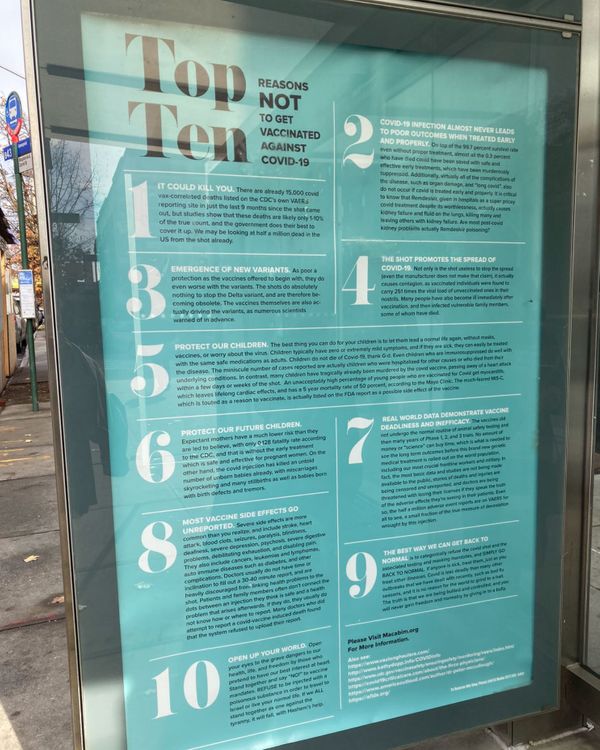 Photo: @allisongeroi/Twitter
The ad placed on the side of the B43 bus shelter in Crown Heights, at first glance, looks just like a city-approved pro-vaccination campaign. But a closer look reveals that the poster is actually offering "Top Ten Reasons Not to Get Vaccinated Against COVID-19." It contains some classic anti-vaxx gems like "REFUSE to be injected with a poisonous substance" — which isn't really a "reason" at all. (And it goes without saying that everything in the ad is false.) As the Twitter user who first posted about it on Thursday morning asked, how the hell did it end up there? Who approved this screed?
The website for an organization called Macabim is listed at the bottom of the ad, as is the telephone number for an ad agency called LG Media. Between the Maccabee-referencing nonprofit and phrases like "with the help of Hashem" on the list, it appeared as if an Orthodox Jewish group had placed the ad with the DOT's approval. But it turns out that's only what the actual group who put it up wanted people to believe.
The Macabim website says the organization comprises "Physicians, Scientists, and Community Activists Standing for Truth, Medical Freedom, and G-d Awareness." Instead of vaccines, it promotes ivermectin as a COVID treatment. Nearly all of the Macabim-affiliated doctors in the "about us" tab are from Texas and have made wild claims about COVID, like that exposure to the vaccine through breast milk could kill nursing babies. And only one of the people listed is Orthodox: Dr. Vladimir Zelenko, who infamously was the first to suggest hydroxychloroquine as a COVID treatment, earning the approval of both the Trump administration and Trump himself. We reached out to the organization and a few of the doctors to ask if they paid to place the ad, but didn't hear back.
And that's the thing: It appears that the ad itself was a guerilla operation. Curbed also called the LG Media Group number listed on the ad (which does appear to work with actual Orthodox clients), and the man who picked up said he didn't know anything about it and that the phone number might have been included by mistake (unless, of course, it was on purpose). Meanwhile, both the Department of Transportation, which manages bus shelters, and the outdoor-advertising company JCDecaux, which has the contract for these ads, said that the ad had been neither purchased nor approved. DOT went so far as to suggest that "it's possible that someone pried open the glass casing."
And although we still don't know who did it, it was swiftly dispensed with. By 3 p.m., a DOT spokesperson confirmed that it had been removed.