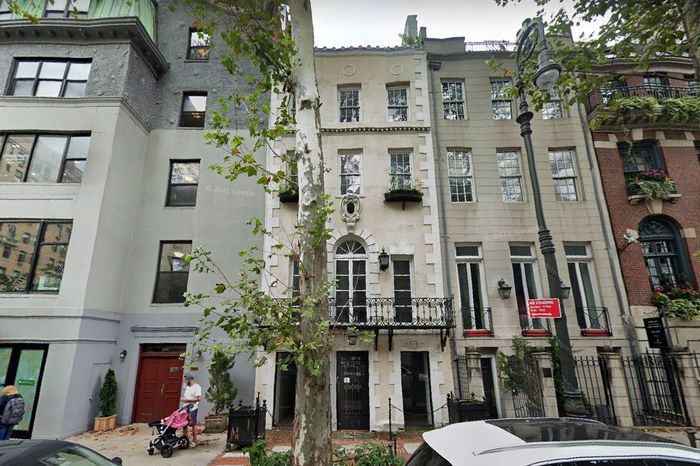 159 East 64th Street.
Photo: Google Maps
Sometimes life can get hectic, one imagines, for a family like the Starks. The L.A. clan owns the rich-rock-and-roller fashion label Chrome Hearts, which sells things like $1,750 leather-patched vintage denim and $165 gothic-lettered logo T-shirts. (Fans include Guns N' Roses, Elton John, and Cher, who is also the eldest daughter's godmother.) What with seven homes in Malibu, collaborating on a sunglasses line with Bella Hadid, summering on a boat in the Mediterranean, and shuttling between Aspen and St. Barts in the winter, it might be easy to lose track of some things. Like owning a townhouse on the Upper East Side.
Last week, the Post reports, three squatters were discovered in the family's townhouse at 159 East 64th Street, a pretty 11-room home that has been vacant for the past eight years apart from a seasonal pop-up business that occupied the ground floor. It seems likely that the neighbors, who complained to the press about ConEd notices piling up on the front door, were the ones who called the police. The people at Chrome Hearts seemed as surprised as anyone when the Post contacted them about the squatter arrests; a spokesperson for the company said it was unaware of any police activity at the house. Police reportedly removed ten bags of garbage and belongings, which suggests that the squatters had been living there for some time — and also that they didn't need to keep a low profile to evade a caretaker.
The house, which once had a Chrome Hearts flagship boutique on the first floor, has carved Spanish ceilings and an interior courtyard. The Starks listed it for sale in 2013, but it needed work and the price — $14 million — was steep for a "bring your architect" situation. When no buyers materialized, the family took it off the market the following year. Then, it seems, they just kind of forgot about it. Which feels on-brand for a company that eschews signage and carves FUCK YOU into the floorboards of its stores.
Indeed, inaccessibility — squatters excepted — is almost a point of pride with the family. "I tried to open the door & fail I look like an idiot but hey they didn't even have a door bell installed," one shopper complained in a Yelp review of the store back when it was open. (She also got yelled at for trying to take a photo inside the store, but still ended up buying a dog-tag cross pendant and a F*CK YOU ring to wear on her middle finger.) "The other day, I was standing on the corner of Robertson Boulevard with all these kids, and they were trying to find the Chrome Hearts store," Jesse Jo, one of the founders' three children, told WWD a few years ago. "I could have turned around and said, 'It's right there.' I don't know why I didn't, because I thought it was funny." "I love that," her father replied. (WWD also reported that the company had recently sold 10 percent of the business to a private-equity firm for $150 million, which perhaps gave the family enough of a cushion to be absentminded about owning a $14 million house.)
This past week, after the squatters were discovered, Chrome Hearts hired a chatty security guard to watch over the place until a secure lock system could be installed. The Starks seem to have no plans to return anytime soon. When we reached out to Chrome Hearts, a spokesperson wrote back that she was sorry, but "the Starks are out of the country until after the New Year and not available for comment."