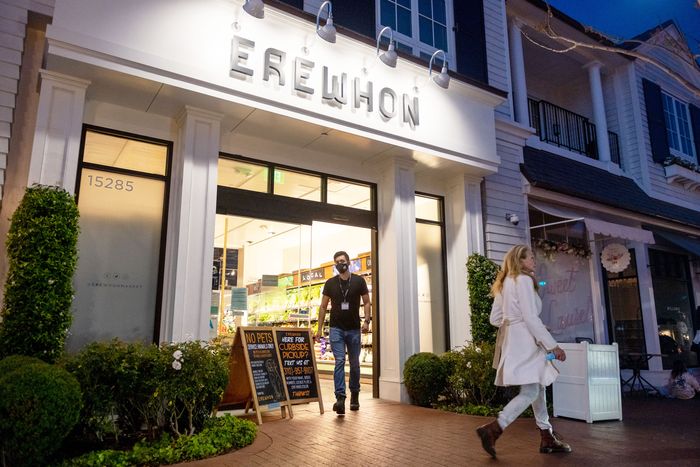 Photo: Alexi Rosenfeld/Getty Images
Erehwon, the Los Angeles health food store where Miley Cyrus, various Kardashians (Kanye too), and even the likes of Eddie Huang shop for vegan coconut yogurt and smoothies made with chocho protein (if you know, you know), is pretty much a lifestyle brand at this point. "It attracts guys who drive G-Wagons and girls who are sporty and rich and like Yeezys," Chris Black of the brand consultancy Public Announcement told Vanity Fair last year. "Those people, 5 to 10 years ago, would have been in a club, doing coke, partying, drinking. Now, being healthy is cool. Having a $30 lunch at a grocery store is cool." It is not altogether surprising, then, as the Los Angeles Times reports, that it's looking to expand beyond its seven Los Angeles–area stores — possibly even to New York.
"We are looking at New York City; it's definitely on the plate," Tony Anitoci, Erewhon's CEO, told the Los Angeles Times. If that comes to pass, it'd be akin to Whole Foods first hitting Time Warner Center or Wegmans opening at the Navy Yard. But for now, expansion will continue to focus on greater Los Angeles, with stores slated to open in Beverly Hills and Culver City next year and in Pasadena in 2023. Glendale, Orange County, Santa Barbara, and the Bay Area will also likely be snacking on Buffalo cauliflower bites and tossing back adaptogenic immunity shots before any New Yorkers living in New York will.
Despite its contemporary gloss, Erewhon started out as a macrobiotic wholesaler in the 1960s, selling mostly brown rice and tubs of miso. Its first outpost wasn't in L.A., however, but Boston. So really, Erewhon has northeastern roots, and maybe it's time to (almost) come home.