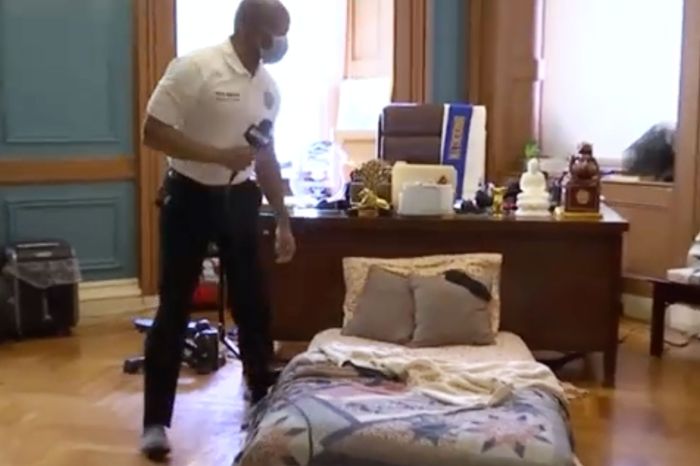 "Here, take this."
Photo: NY1
We've all been there. You borrow something from a guy at the office — a paperback, a scarf, perhaps — and you just end up keeping it and using it a little longer than you expected. By the time it's ready to go back, it looks a little gray around the edges. But you give it back all the same because keeping it would be against the rules of the loan.
Eric Adams, the Brooklyn borough president who so memorably started camping out in front of his city-issued desk in the early days of the pandemic, also has something he wants to return before he heads to City Hall next week. At a press gaggle yesterday, he talked about reviving his mattress-at-the-desk shtick at his new office. But it won't be the same mattress because the one in Brooklyn was a loaner from one of his aides — who, our colleague Katie Honan at the City reports, is getting it back. (In "a ceremony," he joked, because he's "emotionally attached to it.")
Whatever Adams is trying to project with this gesture toward good manners, it's hard to get over the image of this particular mattress — one that's gathered dust, hair, lint, and what-have-you tumbling over the floors of Borough Hall for the past 21 months — going back to its original owner. By all means, have your mattress-transition ceremony, Eric Adams. Burn the sage. Raise a glass. But perhaps it's time to let the thing just … go.
Give it back? Maybe Adams hardly slept on it. Maybe it's going to live on as the unnamed aide's guest-room mattress. But hit it with a good HEPA-filtration vacuum cleaner and it could be so much more — a local tourist attraction, a museum artifact, or the most gimmicky Airbnb listing: the chance to "sleep where the mayor slept." It is, after all, the one place we can be pretty certain the mayor-elect has really slept.