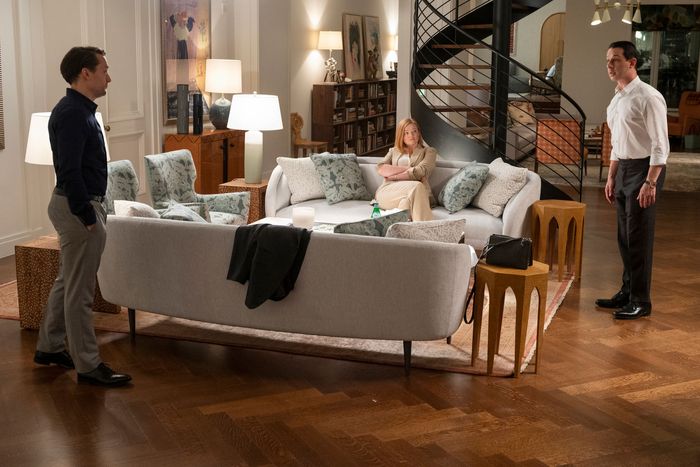 Rava Roy's apartment in the Woolworth Building …
Photo: HBO
Plenty of movies and TV shows portray lives of extreme wealth, but few have done it as well as Succession, which manages to convey both the seductiveness of that world and the blasé entitlement, even boredom, of the global elite. The show's production design lingers on the interiors of immense penthouses, Upper East Side townhouses, and Hamptons mansions, providing tantalizing glimpses of spaces that are, for the most part, ignored by the characters. Almost by accident, the show acts as a kind of de facto commercial for the real estate.
So maybe it's not so surprising that there are no fewer than four Succession locations on the market or recently sold. A few weeks after an episode played out in a modernist house in the Hamptons with a distinctive triangular roofline, the brokerage Bespoke Real Estate announced that the property had sold for $45 million. Another sold earlier this year, a Bespoke mega listing on Jule Pond that appeared on the show a couple of years ago and went for a record-setting $105 million. And two Manhattan apartments, in Hudson Yards and the Woolworth tower, are still up for grabs.
This is all a little unusual, and brokers in the ultra-luxury segment are divided on whether a TV cameo sells real estate. Even though most viewers may spend their Succession viewing time ogling the real estate, a TV hit has, in the past, not reliably been the kind of provenance that draws ultra-wealthy buyers. "Succession has been a lucky charm for us," admits Cody Vichinsky, a co-founder of Bespoke Real Estate. "But people buying in that price range are not sitting on the couch saying, 'Hey I want to buy that $45 million house.' If anything, it has a negative impact."
"A lot of the people we cater to don't want their homes as a relic on TV or to have people discuss their home in a public way," he explained. "I've always tried to get sellers to steer clear of having their houses featured on TV. The last thing buyers in this price bracket want is to have random people coming up to take pictures."
Yet it doesn't seem to have dissuaded buyers of that house in Wainscott, which was listed for $52 million in August 2020 (Vichinsky said the home was already in contract by the time the episode aired, although the filming, obviously, had taken place long before that). Or the record-setting Jule Pond estate, which most likely sat on the market for so long due to the steep price rather than any kind of aversion to Logan Roy — it was first listed for $175 million, $28 million more than the previous sales record. And that was for three contiguous oceanfront parcels.
As for why the sellers agreed to have their homes used as prominent settings in the show, Vichinsky said it was his understanding that the money was very good, especially as both were shot in the off-season when they sat empty. Besides, he added, "having a property featured on there is kind of kitschy and fun for people in the community." Even so, "it has zero percent correlation to sales."
Stan Ponte, the Sotheby's broker who, with Joshua Judge, has the listing for the $23.35 million Woolworth Tower duplex featured in the "Mass in Time of War" episode this season, agreed that a Succession connection would not, on its own, sell an apartment worth tens of millions. But, he is quick to add, "there's certainly a cool factor to Succession having been there. Definitely this buyer group are fans." Everyone they've shown the apartment to, anyway, has known about it. A couple, he said, even paused the showing for a minute when he told them: "Wow, really?"
Ponte said that although the apartment, a 6,711-square-foot sponsor unit, is not yet in contract, there has been a lot of interest, and the show is indeed a factor. "It's a little bit of icing on the cake. It helps to validate that they [potential buyers] love the apartment. And not only them, but the producers, the director, the lighting crew. A lot of people have to approve a decision like that." (He adds that, given the nature of his business, he gets requests from location scouts almost daily, and most don't work out.)
An old-school reticence to divulge its star turn still applies to one of these properties — the condo in Hudson Yards, listed for $49.5 million, that serves as Kendall's apartment. It's clearly a Hudson Yards penthouse, and the windows seem to match up with the Related sponsor unit at 35 Hudson Yards. A call to one of the listing brokers and an email with Related seemed to confirm as much — a publicist wrote that the listing brokers told her I'd reached out "regarding PH90 as a filming location for this season of Succession" and asked for more details — but the conversation stopped there. Of course, it may not help that his penthouse is deliberately meant to evoke Kendall's growing isolation and dislocation from his family and its power, especially as the favorable public perception he enjoyed at the beginning of the season wanes. The apartment is a showpiece, one that's also very much removed from the life of the city, spectacular but alien. As Alexandra Schwartz once wrote in The New Yorker, Hudson Yards "would be a great setting for a breakdown."