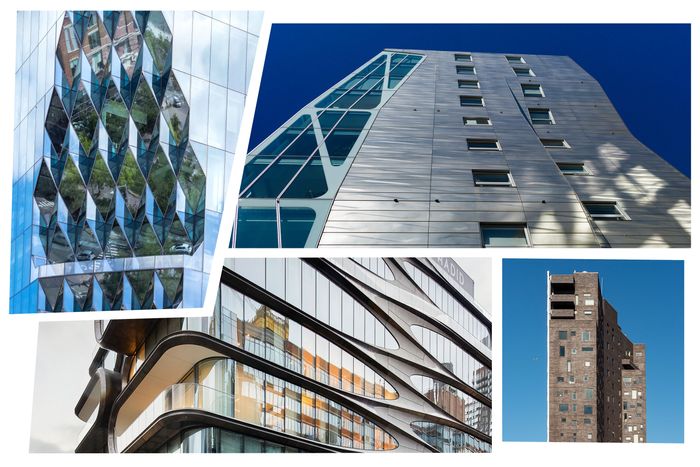 Photo: Getty Images, Alamy
"It's like when you go to someone's wedding and they're trying to prove how fancy it is," an architect is saying to me. "Like they have both sushi and caviar, but the sushi has just been sitting out." He's talking about the apartment towers surrounding the High Line, which arguably constitute the densest conglomeration of buildings designed by celebrated architects anywhere in the world. All these new buildings were constructed after the High Line opened in 2009, and they've turned the trestle park that was once elevated above its surroundings into a canyon. And when architects gather, they talk about the district with irrepressible scorn. "It's like everyone was trying to outdo the next person," another architect told me. "Starchitects and architects all trying to make an identity for themselves. It perpetuated this series of trinkets." A third called it, succinctly, "Dancing-clown architecture."
The corridor's pedigree is immense: Renzo Piano, Neil Denari, Thomas Heatherwick, Enrique Norten, Annabelle Selldorf, Shigeru Ban, Bjarke Ingels, Studio Gang, and the late Zaha Hadid, who beat out Norman Foster for the chance to design a Related Companies project. (Foster managed to land another commission nearby.) Their buildings compete, too, with a few nearby towers from the same era: the Richard Meier, Jean Nouvel, and Frank Gehry buildings along the West Side Highway and the Standard Hotel, the definition of a statement building, straddling the High Line. That one, by Polshek Partnership — now called Ennead Architects — everyone seems to like, though it may well have inspired the crop of what one architect called object buildings, each vying for more attention than its neighbors. That, in fact, is exactly the problem. It's like the "what 10 famous historical figures would you invite to a dinner party?" game, a hypothetical that in real life would almost certainly make a terrible evening: a bunch of massive egos, each out of context, crammed into a small space and shouting over one other.
"There's something about the High Line that causes people to do these twisty, swoopy, bending shapes," said Stephen Alesch, of Roman and Williams. "If they were people, they'd be dancing, but they're bad dancers." They look, he said, like the farcical buildings he'd designed—as jokes!—for Zoolander. "When I saw that Neil Denari building appear, it reminded me of all the Sci-Arc style buildings that were popping up in L.A. everywhere in the '90s," he added, referencing the L.A. architecture school. "It's this kind of silly dystopian architecture that burst out of nothing."
The nicest thing anyone can seem to say about these buildings is that while none of them is any given architect's best work, they're not bad. Or not that bad. Or not a total failure. Except for the Heatherwick building. Everyone hates that one.
"The pickle-barrel building is a disaster. It's the nail in the coffin," said one architect of the bulbous-windowed building officially known as Lantern House. Others tried to be more generous. "It seems like to a degree they were trying to tie it into the old industrial character of the neighborhood with those big bulging windows that look like oversized beer barrels," someone else suggested. Another was unsparing: "We have a running joke in the office that the façade looks like it has a bad case of herpes."
The Heatherwick building, completed during the pandemic, may be almost universally loathed, but it exemplifies the many problems that its neighbors share: a desire to do too much paired with very little freedom to actually do much of anything because of zoning and the imperative to wring every last cent out of the site. As the High Line neared completion, land prices shot up, from the low to the high of hundreds of dollars per buildable square foot. In 2013, Michael Shvo bought a Getty gas station lot for $23.5 million, or nearly $800 per foot, which was unheard of at the time. (It's now a Peter Marino–designed condo inoffensive enough that no one singled it out for ridicule — and it says something when a leather-daddy designer is the one who's offering understatement.) A few years later, HFZ, the now-embattled developers behind Bjarke Ingels's unfinished twisting towers, paid $870 million, or $1,100 per buildable square foot, for a full-block site right next to the High Line.
This is, really, where the starchitect boom was leading all along. Around the turn of the century, when three Richard Meier buildings went up in the West Village and sold at sharp premiums to celebrities, developers realized that they could charge extra for buildings by prominent names. It was a trick used somewhat sparingly back then — starchitects aren't cheap — until the High Line building boom, when developers who had purchased insanely priced sites needed to find a way to justify the equally insane condo prices they'd be charging. Before the High Line opened, condos in West Chelsea sold for about $1,000 per square foot. Six years later, they were approaching three times as much. The problem, according to one architect, wasn't only the cluttered curio-cabinet quality of so many statement buildings crammed together but also that all those famous architects were handcuffed by the highly prescriptive zoning in the area. There was, in short, a lot of pressure to create something showy and not many ways to do it. "The only place where there could be any innovation is the skin of the building," he explained. "So they made a lot of fancy wrappers."
"They had to use them as status symbols to vie for customers' attention," he continued. "It becomes this weird petting zoo." But not-terrible as most of the buildings may be, the overall effect is weird and bad. Next to the nearby Cass Gilbert buildings or the Starrett-Lehigh, they come off, as another architect put it, "sort of twee." Whimsy, or at least attempted whimsy, is sclerosed by great wealth.
The Zaha Hadid building, most architects agreed, was the least bad of the bunch. "It's not offensive, just pretentious — it's trying too hard," said Alesch. "The Zaha building is not a good Zaha building," said another. "She's all about sectional and sculptural form, but Related had her completely fill up the whole zoning envelope, so it ends up this pastiche Zaha wallpaper." (After winning the design competition, Hadid told New York that it was "on a quite restricted site … you can't really go wild.") "High-gloss Ross," said another with a laugh, referring to the chairman of Related. "Stephen Ross is either using Bob Stern or someone else, and when he uses someone else it's not that good. The Bob Stern buildings are forgettable."
Another architect came to the defense of a couple of other buildings: He actually likes Enrique Norten's Hotel Americano and the Annabelle Selldorf building on West 19th Street. (The one on 11th Avenue, with so-called sky garages, he deemed "like a cartoon.") Shigeru Ban's Metal Shutter House and Studio Gang's Solar Carve building both drew compliments — Daniel Lobitz, a partner at Robert A.M. Stern Architects, said he admired the facteted corners on the Studio Gang building — but there was a general agreement that all these architects have done much better work elsewhere.
There are also several buildings in the district that are argument-starters, like Renzo Piano's design for the Whitney Museum. "I think it's his worst building. I think that building is terrible," said one architect. "He's usually so taut and rigid — the New York Times building is spectacular." The galleries, he conceded, were quite nice, "but the entrance sucks. You are walking through the fire stair to get to the galleries." Lobitz said that he thought the Whitney was one of Piano's best works, though he agreed that the entrance was problematic. Several architects said they liked the Morris Adjmi building, perched on the top of an old Meatpacking warehouse that goes over the High Line, but another thought it was a disaster. "It looks squashed, like someone sat on it," he lamented. "He's usually very disciplined. He did this building in Brooklyn by the Ace Hotel that's just perfect."
Much of the problem with the High Line parade, suggested Grant Marani, a partner at RAMSA — which designed the Abington House, on West 30th Street — is that many architects seemed to view the neighborhood as a blank slate. "Rather than doing something that grows out of the industrial neighborhood," he suggested, many architects' projects "seem like they could be anywhere." The star-studded slate of people who've worked nearby "is really astonishing," he added. The problem "is that they're not really having a conversation with their neighbors. They're having a monologue: I'm here."
Elihu Rubin, an associate professor of urbanism at the Yale School of Architecture, said the aesthetic of the corridor is very much technofuturist, a sort of new baroque architecture that makes a spectacle of technical innovation. "But," he said, "I think it's a little depressing to see so much effort and resources and skill and talent being given over to elite and exclusive environments instead of for public infrastructure. It has this late-capitalist last-gasp-of-decadence feel to it." It does create a spectacle for people walking the High Line, of course — it's fun to peer into all those palatial living rooms — but the invitation is to admire, not to participate. There's a pretense of playfulness, but the reality is anything but, and that adds a grotesque quality.
That so many of the virtuoistic designs are residential buildings is part of what makes the High Line feel so inappropriately loud, so cacophonous. "In the great historic settings of old, residential buildings were the backdrop and the more distinctive, unusual buildings were public buildings," said Lobitz. "We do a lot of distinctive residential buildings, but we're also trying to fit in. We question, 'Should a residential building really be screaming out like that?'"
"The High Line is such a generous public thing, and it created this special look on the city," said another architect. "And then what's crazy is that developers used it as a way to make a luxury product for the few, so there's an inherent tension there."
"It's so bad that you want to fight it," said Alesch, "but I don't think it's possible. I think the tide of clowny architecture is going to continue because it's the architecture of our time. Disciplined, classic architecture is not. It's crazy and distorted and all over the place."
Still, it could be worse. "It's nothing compared to the absolute disaster of Hudson Yards," said one of these architects. "All those blue glass buildings, and arranged in the worst way. It's like God pooped a bunch of blue glass."