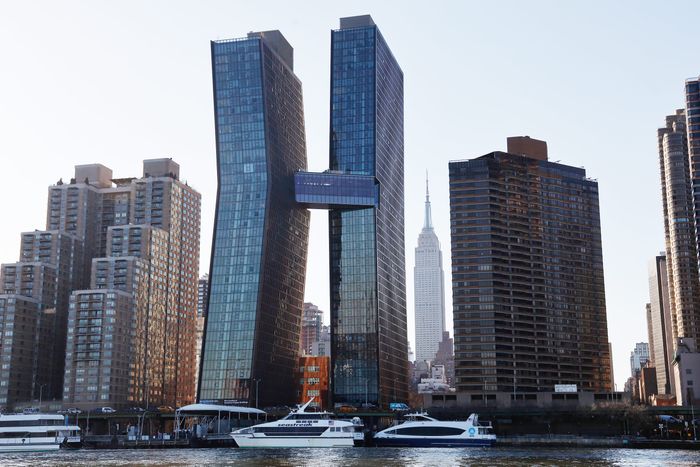 American Copper, worth its weight in gold.
Photo: Gary Hershorn/Getty Images
The American Copper Buildings, a bendy H of 761 luxury apartments on the East River, are being sold for the near-record sum of $850 million. And if you're looking for a signal that investors (among others) believe New York rents will continue to rise, this is the copper wire carrying it. When the rental buildings were listed for sale earlier this fall, it was widely seen as a test of the multifamily market. Only two single-property complexes in the U.S. have traded for more than $900 million, and one of them was Stuyvesant Town and Peter Cooper Village, a vastly larger complex of 11,250 apartments (the other was Parkmerced, another sprawling MetLife complex in San Francisco). The sale, which is expected to close early next year, will be one of the biggest residential deals since the start of the pandemic.
The penny-colored towers, designed by SHoP Architects with an unusual three-story sky bridge that contains a swimming pool, were built by JDS, the architect-developer team that's also behind 111 West 57th Street and the still-under-construction Brooklyn Tower, now the tallest building in its borough. The buyer is Black Spruce Management, a Manhattan firm that has made a number of acquisitions during the pandemic, including a portfolio of 50 rental buildings near the northern edge of Central Park that it bought for $200 million in November 2020.
Although New York City rents plummeted in the first year of the pandemic — in Manhattan, they bottomed out in November 2020, according to Douglas Elliman — by this spring, they had rebounded and then some. Bidding wars, which had been rare in the rental market, became commonplace during the summer as people who'd left town flooded back into the city. The sales pitch for the American Copper towers had been that they were poised for rent growth, according to Green Street. The owners had offered only limited concessions during the pandemic, so they're not locked into lowball leases now, and — because a portion of the building is set aside as affordable housing — the towers have a 20-year tax abatement that still has 16 and a half years to run and thus keep profits up. (Market rate studios in the building start around $4,000 a month.)
A few weeks after American Copper went on the market, 8 Spruce Street, the Frank Gehry–designed tower that is valued at roughly the same amount as American Copper, also started looking for a buyer. The listings, one developer said at the time, could be a reflection of the intensity of the residential market: "People are scrambling for cash to build more."