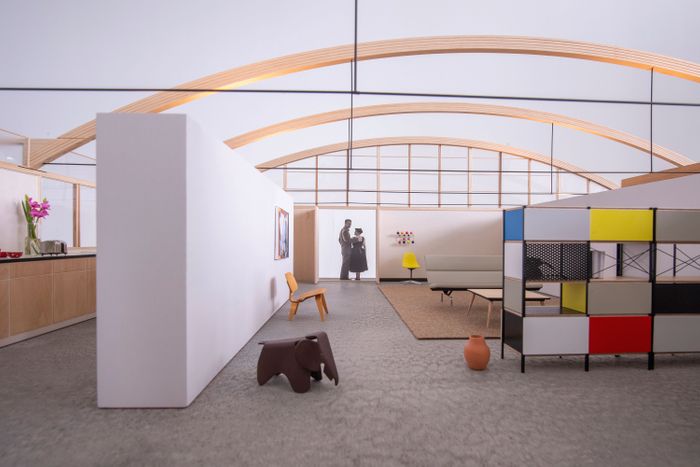 Photo: Courtesy of Eames Office
With a swooping arched roof like an airplane hangar, exposed wood beams, floor-to-ceiling glass walls, and an open plan, the Kwikset House represented Charles and Ray Eames's philosophy for affordable housing: It should be inexpensive and factory-built, with a slick look that would make anyone want to move in. But the idea, also known as the Eames Modular House, never moved past the concept phase. It was shelved because Kwikset, the lock manufacturer that sponsored the project, changed ownership, and the new bosses didn't want to become home builders.
Now the Eames Office, an organization dedicated to preserving and extending the work of the Eameses, wants to finish what the couple started and put this design into production. "Charles and Ray had some very beautiful philosophies and expressed themselves in a lot of different ways. Part of our role is to put those ideas out in the world," said Eames Demetrios, director of the Eames Office (and the Eamses' grandson). The organization dusted off the remaining photographs, architectural drawings, and spec sheets of a now-lost model in the Eames archive in order to build a brand-new 1:12 scale model of the house. It's the centerpiece of "Eames Office: 80 Years of Design," a new exhibition at the Tokyo retailer Isetan. Sparking interest in the design is a crucial step in bringing this prefab one step closer to turnkey, the Eames Office believes.
"Some people have asked me, 'Well, why are you bragging about a model?'" says Demetrios of the four-foot-wide, 1.3-foot-tall house made from wood, concrete, plexiglass, rubber, brass, and steel. "The model is really cool, but the bigger reason we made it is because it represents Charles and Ray's process to often model problems." Like a dollhouse, it's filled with tiny shell chairs, plywood loungers, storage units, a sofa, and a smiling cutout of the architect couple. It's the Eameses philosophy of "the best for the most for the least" represented at one-inch scale. It's easy to imagine living inside this house, and the Eames Office hopes that one day you or I or someone reading this very article might step inside one. But what would it take to actually build it? And can a 70-year-old concept meet the challenges of today's housing crisis?
When the Eameses began developing their prefab homes, the country faced a tremendous housing shortage that bears some similarities to today. In an article published in 1944 in Arts & Architecture magazine, they cited the need for as many as 1.5 million homes a year to be built over ten years to alleviate the problem. "The enormity of such a need cannot even be partially satisfied by building techniques as we have known and used them in the past," they wrote. "Large scale industry would seem to be the only logical means by which we can achieve an enterprise of such proportion." So they set out to construct a house made entirely of industrially manufactured parts. It became Case Study No. 8, their famous house designed and built in the L.A. neighborhood of Pacific Palisades in 1949. Everything — from the steel frame to the spiral staircase to the windows — was ordered from manufacturing, boatbuilding, and airplane catalogs. But there was one big problem: No single factory could make all the components, so the house remained a prototype even though the Eameses had intended their house to be the first of many.
The Kwikset House did away with the fatal flaw at the outset. Designing it in collaboration with a company that wanted to build prefabs solved the production problem that doomed Case Study No. 8. The concept, created in 1951, centered around a tall arched roof that covered a compact but not cramped 1,500-square-foot floor plan. Depending on the climate, the ratio of insulated walls to glass could be changed and the interior could be divided into smaller bays using walls, similar to how cubicles carve out private space in commercial offices. The Eameses acquired a plot of land, specified materials and components — from the electrical system down to the bathroom fixtures — and priced it all out. They estimated it would cost $8,000 to build. In 1950, the average size of a new home was more than a third smaller, at about 983 square feet, and cost $11,000. However, Kwikset's ownership change happened before construction started.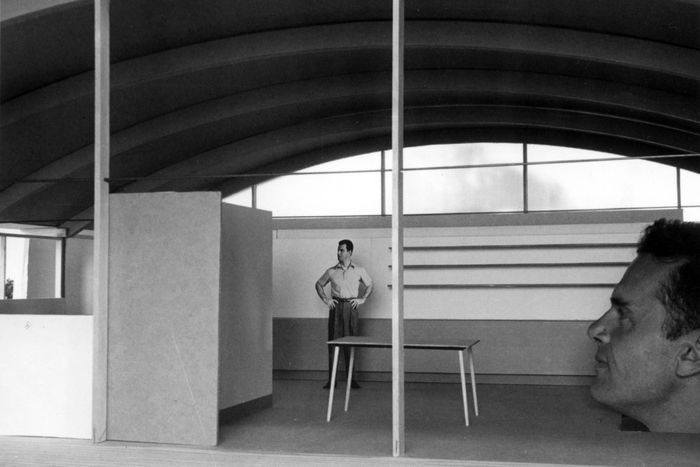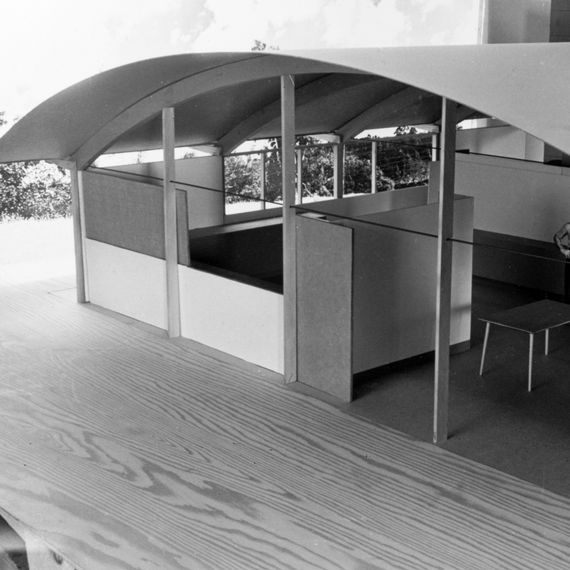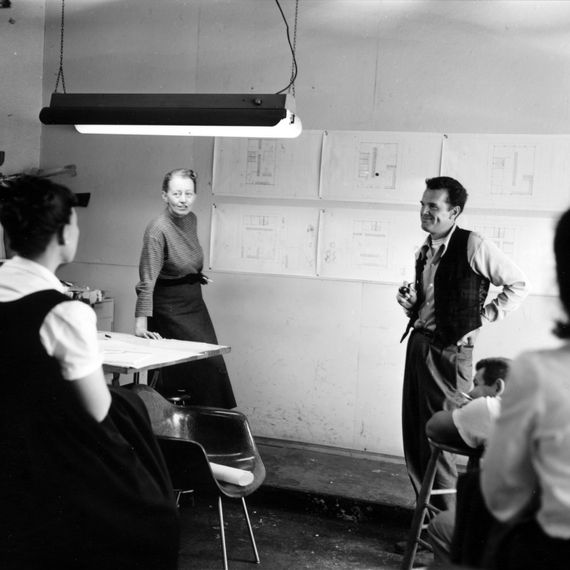 The housing shortage has only worsened and become more complicated since the postwar era. According to Freddie Mac, the housing-supply deficit today is 4 million units. The statistics are even more dire for renters, who face a shortage of 6.8 million units. In 2018, the Joint Center for Housing Studies at Harvard said the country would need to build at least 1.5 million units of housing every year for ten years to close the gap. It's a similar figure as back in the 1940s, but the context is different. Building materials, land, and labor have all become more expensive; affordable-housing programs are chronically underfunded; and outdated zoning codes are choking cities' ability to build more densely. The trickle of new housing is so slow that when anything does manage to survive NIMBY battles and regulatory hurdles, pent-up demand causes prices to spike.
Builders of prefab houses that grace Dwell and Architectural Digest evangelize specific construction techniques and frame them as panacea for all housing woes. Reality offers a different perspective. These dream homes remain unattainable for people without wads of cash and often wind up taking just as long if not longer to build than regular houses do. Financing and insurance are often more complicated. Meanwhile, there's a debate brewing about whether we should be building single-family housing at all. In the postwar era, federal policy subsidized suburban development to solve the housing crisis, but today's planners know sprawl isn't sustainable. Plus the housing stock and lending tools like the 30-year mortgage developed around that time were intended for nuclear families. There are strong arguments that the dream house ought to be replaced with the dream condo.
Still, Demetrios believes the Eames Modular House isn't destined to a similar fate and can contribute a lot to the housing problem. "I think it would make a very beautiful experience for homeowners," he says. "I don't think people always understand that, in a way, prefab has already won. Because many houses are prefabricated, it's just not the beautiful, cool mid-century modern house … It simulated a Cape Cod house or a farmhouse in a development. Of course, there's nothing wrong with that, but there's another idea: that prefabrication creates a new kind of structure that is of more value in terms of the quality of life." He adds that the adaptability of the design means it could serve equally well as a civic structure like a library or as a student center on a university campus.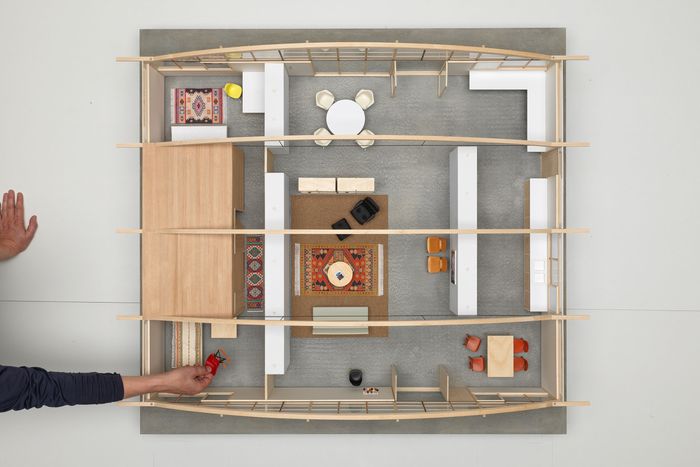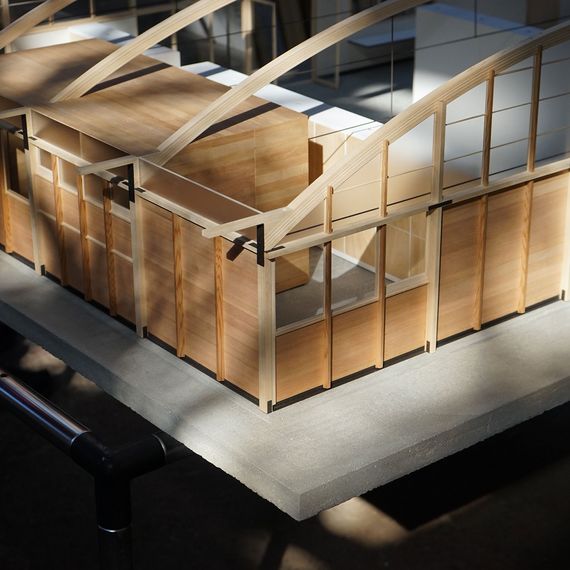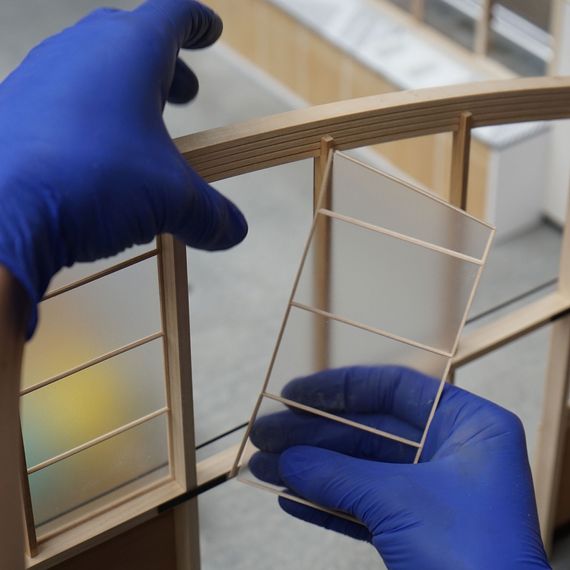 The Eames Office has started to talk to prefab builders about reissuing the design, but Demetrios wouldn't say which ones, only that conversations about zoning and energy-efficiency requirements are happening. Some builders have asked about adapting it for solar power. Others have expressed concern about having such a large open space in terms of building permits. And then there is the issue of the large beams needed for the roof: How would you actually make them and bring them to the construction site? All of these issues with bureaucracy, logistics, and construction are still present, and the Eames Office is working to resolve them.
I asked Demetrios if the modular house is just destined to become an art object, much like Eames furniture is today, instead of a low-cost housing solution for the middle class as intended. "If you worry about those sorts of things, then you have to remember that seat belts came through luxury cars and aviation," he replied. "So sometimes those first iterations help out everybody somewhere along the line." And maybe that's okay. The average size of a new home in America is 2,333 square feet. If fewer people build McMansions because they want an Eames House, all the better. California recently loosened restrictions on accessory dwelling units, which the Eames Modular House could be if it shaved off some square footage. Perhaps an iconic design could make ADUs more palatable and turn a few NIMBYs into YIMBYs.
All hurdles — logistical and conceptual — aside, Demetrios remains undaunted. "One of the things people respond to in Charles and Ray's work is the optimism in it," he says. "Optimism is not about pretending everything's going great; it's about being determined, to keep contributing, to make the world a bit better and maybe even a lot better."