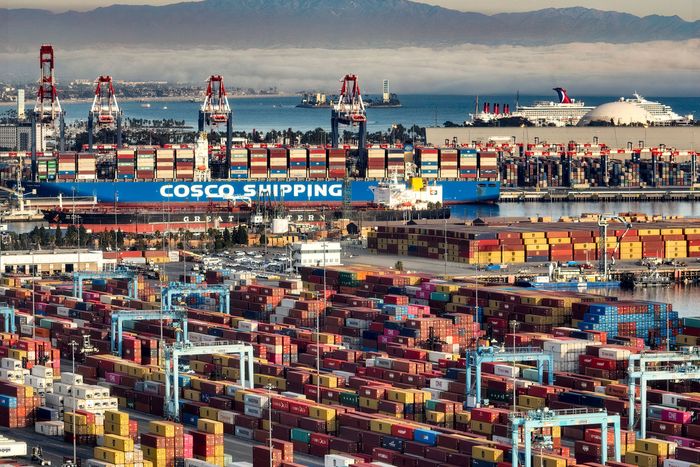 Backups at the ports of Los Angeles and Long Beach mean that ships idle offshore for days, and the fumes are making the nearby neighborhoods unlivable.
Photo: Jeff Gritchen/MediaNews Group/Orange County Register via Getty Images
The plan was that I'd meet Theral Golden at a park atop Signal Hill with sweeping views of Los Angeles's harbor. The 50-year West Long Beach resident wanted to show me the array of container ships that have been idling offshore for months, fouling both air and water, choking his neighborhood. As it turned out, we couldn't see any ships, or even the port complex itself — the rows of cranes hoisting bright-red and hot-pink boxes of cargo high above the water — and could barely make out the outlines of the buildings in downtown Long Beach, less than three miles away. A thick haze of putty-colored smog blanketed everything.
Golden knows the landscape well enough that he can point out what the smog obscures. He used to be in the Navy, stationed aboard a ship in the harbor that we can't see. In October, there were container ships scattered all the way to the horizon, until President Joe Biden, in his attempt to cut shipping delays and "save Christmas," announced that the port would switch to 24-hour operations. About a month after the changes went into effect, there are 40 percent fewer ships anchored immediately off the coast, according to port officials. But just as many ships are waiting 150 miles offshore for a spot in the queue, which isn't necessarily solving the problem. Golden says he doesn't understand how the port, which uses a sophisticated system to schedule arrivals, got into this mess. "You get a time when you leave port, and you have a time when you're estimated to arrive at your next stop," he says. "That's not what's happening here. Now we have ships for 150 miles out, and all that pollution is still going to come here."
The port — which is actually two adjacent facilities, the Port of Los Angeles and the Port of Long Beach — is the largest of its kind in the Western Hemisphere, a complex through which four out of ten shipping containers full of imported goods will pass on their way to U.S. households. It's the reason that Los Angeles is shaped the way it is, with a narrow ribbon of trucking corridors dangling directly south from L.A.'s downtown to San Pedro Bay. In addition to being at a higher risk of cancer, residents near the port have some of the highest rates of asthma and related emergency-room visits in the state, making them particularly vulnerable when the air turns worse; for Golden, this means experiencing symptoms of persistent allergies and, on the worst days, nosebleeds. But during the pandemic, the public-health impacts of living adjacent to the port have become even more alarming. Golden points to a study by UCLA that broke down the neighborhood death rate for COVID-19, known to be exacerbated by exposure to particulate pollution. "In most communities in and around the port, it was 60 percent higher than the rest of Los Angeles County," he says. "So who's bearing the burden?"
Since the port began experiencing this gridlock, the entire Los Angeles Basin has been enveloped by a soupy inversion layer, in which particulates are trapped low in the atmosphere. Air-quality tests show that residents have been routinely breathing unhealthy air, with red and orange dots on the map showing AQI levels of 100 and above all over the region day after day. Regulators noted an uptick in certain pollutants during a November with no measurable precipitation, reporting that emissions are up 75 percent compared to the same period in 2019, but they hesitate to declare a direct link between the smog and the port. For residents who are inhaling it, the connection is obvious. "When President Biden came here and made that announcement, I think he was misled," says Golden. "In my opinion, it shows you the mind-set of people who were in control here. And what they're saying is those communities in and around the Ports of Long Beach and Los Angeles will never have clean air."
The neighborhoods around San Pedro Bay have become something of a sacrificial zone for U.S. commerce. The pollution from port operations is like having 6 million more cars driving around every day, and it's estimated to cause 1,300 premature deaths in Los Angeles and Long Beach each year. That's only part of the problem, Golden says, sweeping his hand toward the working oil wells bobbing behind us and throughout the neighborhood surrounding the park; some of the wells are even painted to match the nearest McMansion. It's not just the movement of freight that's poisoning this community, he says; it's all the other industries that have set up shop here because the port enables them: oil and gas, tires, trucking.
Earlier this year, an investigation by Floodlight News and the Los Angeles Times revealed that residents who lived near the port were being paid by natural-gas companies to advocate for natural-gas trucks over electric ones. It's a testament to how clever these polluting industries have gotten at lobbying, says Adriano Martinez, an environmental attorney at Earthjustice who keeps tabs on local air quality at @LASmogGuy. All the attention currently being showered on the supply chain is showing how quickly decisions can be made to favor what Martinez calls the freight-industrial complex at a cost to residents, who have been told to wait decades for basic reforms. In November, the CEO of a shipping start-up tweeted a thread with proposals to increase throughput at the port and was contacted by Governor Gavin Newsom the next day to implement his ideas. Meanwhile, advocates who have been demanding clean-air standards are given target dates years in the future, says Martinez. "It's like if you come to the hospital and you're bleeding, and they say in a month they'll give you a Band-Aid." In recent weeks, port officials have made declarations suggesting the increased throughput would become the new normal, which Martinez says would be a catastrophe for people who live nearby. "The 'new normal,'" he says, "is when we'll force them to care about air quality just as much as moving cargo, and when, instead of port officials giving out incentives based on throughput, it will be for how much cleaner the air has gotten."
Last week, on a day that was somewhat clearer, L.A. and Long Beach officials joined Labor secretary Marty Walsh at a press conference in the harbor, praising the actions the port has taken. Leaders tout recent efforts to electrify the port, where some ships now have access to shore power by "plugging in" at a berth instead of burning fuel in the harbor. They also cite a $20-per-container fee to fund zero-emission trucks — although its implementation has been delayed until the spring. Last month, L.A.'s city council passed a resolution requiring its biggest importers to switch to zero-emission ships by 2030. This came after a recent report by Pacific Environment and Stand.earth on shipping emissions from major retailers concluded that two of them, Target and Amazon, have played an outsize role in fouling the Ports of Los Angeles and Long Beach, "bringing higher levels of asthma and cancer-associated air pollutants including particulate matter, nitrogen oxide, and sulfur oxide into the port-adjacent communities of San Pedro, Wilmington, and West Long Beach." But electric cargo ships are deep in the future — right now, the weight of the batteries required to power them would sink them — and Amazon aims to switch to zero-carbon fuels only by 2040. In the meantime, city, state, and federal agencies could do much more to protect the millions of people who live near the freeways and distribution centers that are choked with particulates once those containers come ashore. When I headed west through Watson Center, a massive logistics hub adjacent to a residential neighborhood, the containers were stacked as high as the apartment buildings, with yards of tires creating cylindrical rubber towers. The smell of diesel exhaust was overwhelming. Each extra-wide street I took was lined on both sides by idling semis. I thought back to Golden's observation atop Signal Hill: freight, oil, tires, trucks.
At a park in Carson where Amazon delivery vehicles were zipping around the perimeter, I sat at a picnic table with Jan Victor Andasan, an organizer for East Yard Communities for Environmental Justice, who has lived nearby for 24 years. In addition to Carson's proximity to the port, they told me, the city is also ground zero for most of the ancillary industries: rail yards, warehouses, and oil refineries, all of which, they say, are inflicting violence on local Black and brown communities. "We're literally fighting even harder for our lives because we're dealing with a pandemic and trying to stay safe, dealing with the housing crisis and making sure we have homes, and dealing with just the ability to breathe," says Andasan. "In frontline communities, we've never had a moment of peace because every breath we take could be killing us." Although the striking visuals of logjammed ships and disrupted holiday shopping have managed to get people's attention, Andasan says to remember the problem has existed for decades, and it's not going to go away once the pandemic is over — in fact, without intervention, it could get worse. Andasan explains their shock at learning the port was legally allowed to expand its operations to 24 hours without even consulting the community. "That is so deeply flawed, because you're saying that if this is within the scope, that means they've always been allowed to overpollute, and so, legally, they're allowed to kill us?"
On Saturday night, the harbor held its annual holiday parade, as boats strung with twinkling lights and inflatable Santas made their way along the shipping channel. Under the glow of the Vincent Thomas Bridge, the harbor feels positively festive this time of year: cranes striped red and white like candy canes, most ships emblazoned with the fittingly seasonal phrase EVERGREEN, presents literally stashed inside. It's hard not to be awestruck by it all. "When I show people, they say, 'Isn't it gorgeous?' Because it does look very colorful, very beautiful," Andasan agrees. "But right now, our skyline is toxic."