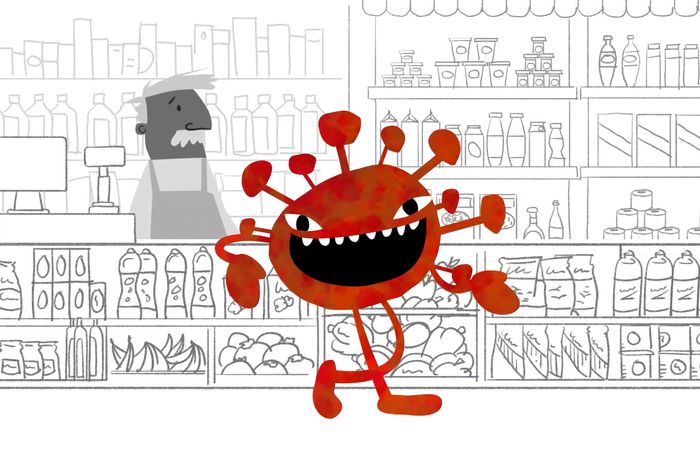 Appearances to the contrary, this is not a Dave Brubeck album cover.
Photo: NYC Department of Aging
There's no shortage of national figures urging people to get vaccinated against COVID. Dr. Fauci does so many times a week on the news. President Biden shared a video of himself getting a shot. The White House released a get-vaxxed video with Olivia Rodrigo. The WNBA made a PSA for women's-basketball fans, and Darius Rucker made one for … the opposite of women's-basketball fans. Even Morgan Freeman lent his signature baritone to a TV spot.
None of this was enough to convince about 20 percent of New Yorkers over the age of 60 to follow through. If the New York City Department for the Aging wanted to convince this vulnerable population, it was going to have to pull out all the stops. Get a huge name involved. Someone every boomer knows and trusts.
They were going to need Rampage, the Friendly Talking COVID-19 Bug.
Apparently all out of options, the DFTA released a new public-education campaign last week starring a smiling, gravel-voiced cartoon coronavirus mascot. The little guy's a trickster, a bright-red man-about-town who strolls around before hopping down people's nasal passages and into their lungs, where he promises to "smother you with my Rampage love," by which he means murder you. He looks like what you'd see if Eric Carle books had lethal antagonists, and he sounds like Bradley Cooper voicing Rocket Raccoon. The 30-second PSA could be a Schoolhouse Rock segment from some dystopian mirror world or maybe a retro Sesame Street interstitial. All of which brings about so many more questions than it answers, including: How, exactly, does this kindercore kawaii effectively target the AARP set? 
Rampage is clearly a graduate of Miss Gritty's Finishing School for Ragamuffin Mascots, all cute pointy teeth and splotchy viral appendages. He's got that Jon Klassen "toddler content with a bit of an edge" appeal. It seems like a natural fit for, say, elementary-school students, but it's tonally way off for the senior demographic. One theory suggests that dissonance is intentional — that Rampage's mid-century jazz-album-cover aesthetics will subconsciously take seniors back to the Googie Cold War PSAs of their youth, like this stylish one about nuclear fallout …
… and perhaps lull them into grade-school compliance with their teachers' orders.
DFTA commissioner Lorraine Cortés-Vásquez has said the campaign's "goal is to engage older adults rather than 'talk at' them." This seems like a strange way to win over vaccine resisters, a group that has often stated that it finds COVID-19 public-health messaging condescending. The right-wing boomers for whom this ad would ring some sort of nostalgia bell are exactly the folks who get drawn into conspiracy theories because it lets them feel like they're in on some top-secret knowledge. They've turned down sober scientific explanations and hard cash payments. They would rather eat horse paste than be played to. Least of all by a bootleg Mucinex Man.
"Prior to creating the PSAs, the campaign's creative team spoke to older New Yorkers," reads a press release. "Some of them expressed feeling overwhelmed by vaccine messaging, while others said they did not have enough information about the vaccine's interaction with their long-term illnesses like diabetes and heart disease." We must have missed this part of the ad, the bit where Rampage explains that vaccination is by far the less risky option. True, Rampage does tell New Yorkers to talk to their doctors — assuming they have doctors, which is not a given — but why should I trust a talking coronavirus? He wants me dead.
The PSA was done pro bono for the DFTA by a creative agency, and sometimes this sort of thing can look great in an awards reel. It will also, according to its press release, "be prominently featured in neighborhoods with low vaccination rates and will be translated to Spanish and Yiddish." Our search for the Yiddish Rampage dub came up tragically short; the filmmakers just laid on subtitles. Either way, most Yiddish-as-a-primary-language households in 2021 aren't likely to be watching secular TV all day, so it's kind of moot.
Look, there's a chance we could be totally proven wrong. Maybe this is the thing that works where cash incentives, scientific studies, or pleas to both self-preservation and the greater civic good have not. (Japan also has a COVID mascot — a pink cat named Koronon — and its national vaccination rates are among the highest in the world.) This ad has the same stink of cutesy sass as the Minions meme that your anti-vaxx aunt shares enthusiastically on her Facebook page. But we're not that optimistic.