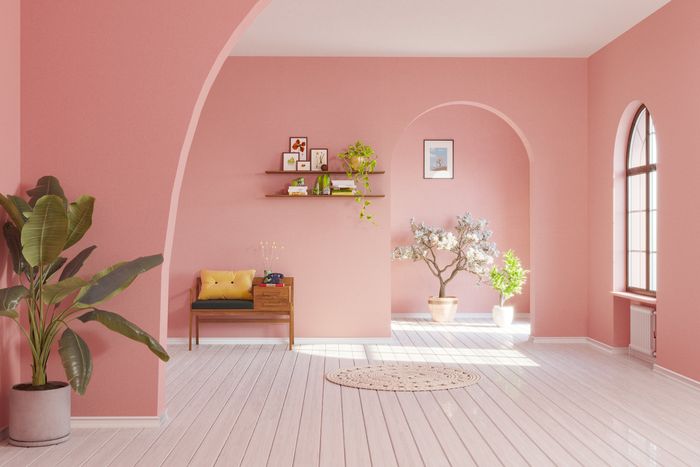 Photo: Boris SV/Getty Images
Early last year, the Cut's Molly Fischer asked, "Will the millennial aesthetic ever end?" It's the question pressing down on those desperate for an escape from the "blank pastel landscapes" that have taken over interior design. Well, according to the online auction house 1stDibs, which has anointed itself a design authority, the answer, finally, is yes. It surveyed 750 interior designers (members of its trade program and presumed shoppers of the site, so trust this narrow sample of designers accordingly), asking them about their tastes going into 2022. They overwhelmingly dismissed millennial pink, cane furniture, and arches — the telltale emblems of the style that's taken over Instagram, defined the look of DTC brands, and spawned umpteenth terrazzo tables that would have Shiro Kuramata rolling in his grave.
Less than 5 percent of designers surveyed think millennial pink will be popular next year. Structured seating, neon signs, and the grandmillennial style are also out. So are all-black interiors. And it makes sense. It seems people aren't paying professional interior designers to renovate their homes in the same flattened style found on thousands (millions?) of Pinterest mood boards.
So what's in? Designers are flocking to cobalt blues and emerald greens. Eames chairs and Noguchi lamps (important to note: not the Noguchi table) — stalwarts of modern design — continue to be popular. When asked for their "preferred iconic seating" choices, only 3 percent cited a Cesca chair. So maybe the inflated secondhand market will get some relief. Interior designers are now gravitating toward softer, more plush-looking furniture like the Soriana, Camaleonda, and Togo sofas. However, these pieces are approaching a tipping point, if design thirst traps are any indication. Everything au courant with influencers becomes woefully out of date after their followers buy into it. At least we'll always have the memes.