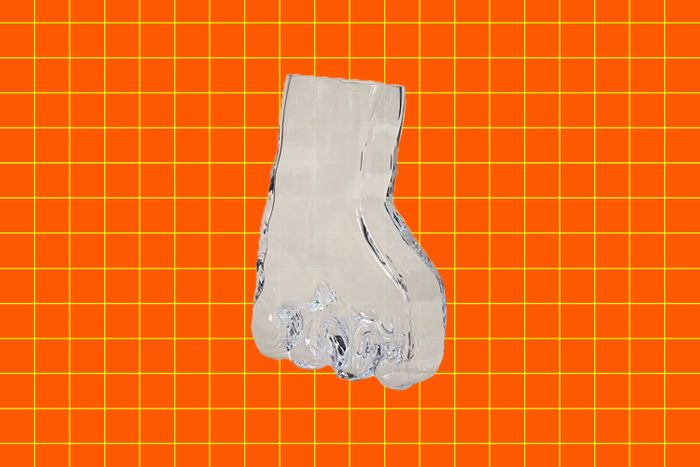 Photo-Illustration: Curbed; Photo: Retailer
Welcome to Curbed's Advent-calendar gift guide. For each of the 25 days before Christmas, we will be doling out, one by one, the gifts recommended by dozens of design bigwigs with extremely good taste. So keep checking in daily for new drops.
Monica Khemsurov, co-founder of Sight Unseen and design fair Offsite, says she and her co-founder, Jill Singer, have been "especially drawn lately to strange objects in the form of random body parts" lately. Like this foot, by Swedish glassblower Lisa Reiser. "The fact that it's made of clear glass makes it somehow more sophisticated and understated despite being such a wacky shape, and I also really love its anatomically incorrect flat profile," she says. "The minute I saw it, I just wanted it, and I don't even really use vases, to be honest."
In 2018, the Sight Unseen duo predicted that glass would soon usurp ceramics as the status material. "Just as we saw hordes of young people become obsessed with making and buying small-batch ceramics in prior years, we were starting to see the same tide turning towards glassmaking," Khemsurov says. This has since proven "100% true," judging by the "dozens of design-y glass projects" she and Singer constantly spot nowadays.
She also just loves the shape. "There's a certain absurdity to putting flowers into a foot on the dining table, where feet are not supposed to go," Khemsurov says — though she'd likely "spotlight it more as a work of art by putting it on its own dedicated pedestal." Namely, David Thulstrup's new Tore side table for e15 in ultra-bright yellow, a combo she says she's been fantasizing about as a way to "create a visually arresting living room moment."