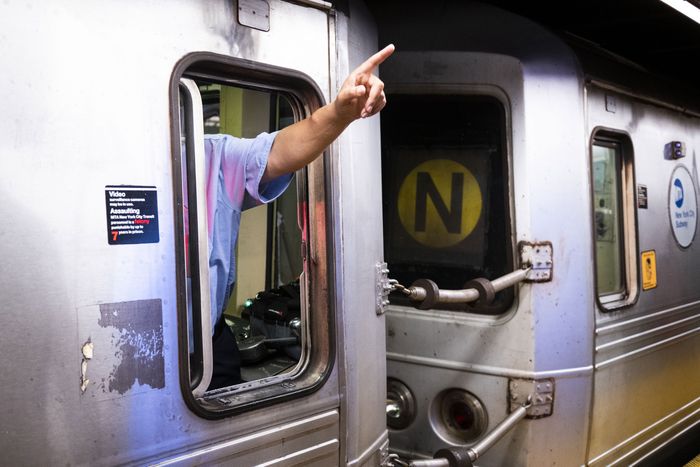 Photo: Mark Kauzlarich/Bloomberg via Getty Images
As ridership has rebounded, the MTA faces a fresh problem: not enough train conductors and operators and bus drivers. Trips are being delayed and canceled by the thousands. Where to get already trained, approved, highly skilled workers? Call in the reserves: In September, the agency sent out some 700 letters to employees who'd retired in the past three years, asking them to come back for one last three-month stint — offering up to $35,000 in wages and overtime. So far, 20 people are back on the job, with more likely to come. We spoke to two of them — a train conductor and a train operator — to ask why they came back, and what it's like.
Paul Jones, 63, train conductor
Retired on January 1, 2020, after 31 years at the MTA. 
When I retired, I moved to Georgia. I bought a house that I'm now remodeling in Canton, like 45 miles north of Atlanta. It's much more relaxed than the city. It's a nice suburban area, it's really quiet. I've been refereeing kids' basketball games there, so I'm still helping people. I used to ref high-school games in all the New York City street tournaments — like Rucker, West 4th Street, those tournaments. They have a lot of basketball in Georgia. So it's … it's heaven on earth!
My wife still has two more years to work in the city before she can receive her pension and retire too; she works for a cleaning company, she's been there for 34 years. So since we are working on the house in Georgia, she comes back and forth. When I first heard from the MTA asking for people to come back, I called my wife and I said, "The TA wants me to come back for like 90 days. How do you feel about it?" And she said, "That means you'll be here!" So I said, "Hey, you know what? If I can be here for three months, and with my family, my grandchildren, and I'm making a little money, and I'm doing something I know how to do? It's a win-win situation." I started on October 25, and I've been running into a lot of people that I used to work with; of course, that's a beautiful thing. I've been letting them know that retirement is good.
Most of my career I was in Queens, on the J line. I'm on the E train now, which runs down the Queens corridor. I'm usually in the middle of the train — I'm the guy sticking my head out the window. My job is making sure that people are safe as they get on the train, to make sure I don't hit them with the doors, and that they get off safely. Another part of the job is passing along information, keeping people  informed. I love helping people. That's always been my thing. I've been giving people instructions on how to get to different places — I've always enjoyed that. 
At least 95 percent of the passengers wear their masks, but the trains are a lot more empty now. Because I'm running the doors and stuff, it's a lot easier when there are not as many people. But I was talking to a few guys who still work here, and they were like, "Yo, you know, you really got to be careful," because people are doing different things to conductors now — throwing things at them and stuff like that, assaulting them.
Yvonne Richardson, train operator
Retired in June 2019 after 31 years at the MTA.
Since I retired, I've been traveling upstate and down south to see family. Then COVID hit, and I was pretty much just staying in the house. When MTA sent out letters, I was like, You need me? Let me go in — because I may never get the chance to be back on the train again. It's not that I hated retirement. It's just, you get the chance to come back and help them out? I was like, I'm ready. I do miss the people, I missed the train.
From day one, I always wanted to be a train operator. I started off as a cleaner, then I was a railroad clerk, then conductor, and I finished as a train operator. I used to be on the 7 line in Flushing, but I worked pretty much all the lines in the A Division [the numbered lines]. I wound up loving the 7 line: You were outside pretty much the whole trip.
There's a lot of new people, but the people from before, you just pick up where you left off. Sometimes you don't recognize a person because their mask is on. So when they say, "Hi, it's good to see you back!" sometimes I have to say, "Pull your mask down," to see who it is. Sometimes I still don't recognize the person because it's been two and a half years. But it's just like I never left. It's like a big family down there.