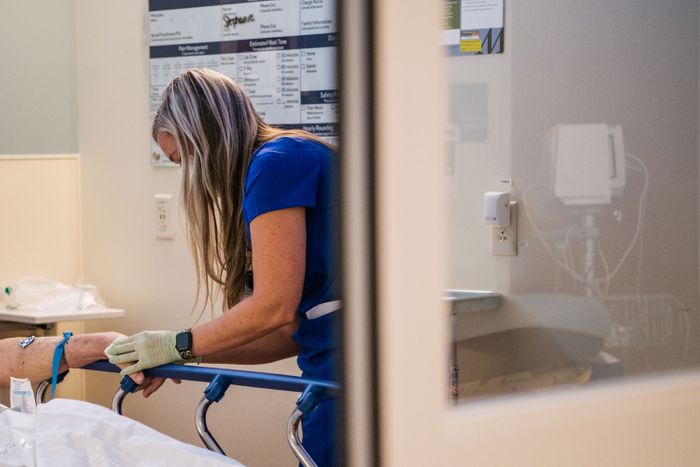 Photo: Brandon Bell/Getty Images
On the afternoon of November 22, the Long Beach Emergency Department at Mount Sinai South Nassau did something rather dire: It closed. The decision to temporarily shutter the department, which serves a city of 33,500 people, was driven by the growing emergency at hospitals across New York City and surrounding areas. There just weren't enough nurses for it to operate safely. While more than 99 percent of South Nassau's staff are fully vaccinated, Mount Sinai said the state's vaccine mandate had to cut down its already limited staff. So far the Long Island emergency room may be the only area ER to actually close, but nurses say the situation at other hospitals is trending in a similar direction.
On Wednesday, roughly three dozen nurses in teal scrubs gathered on the sidewalk outside of Mount Sinai West in midtown to protest the conditions that have been wearing on those who are still reporting to work. "We cannot allow nurses to come to work every day in an ER and have to care for 20 patients," Nancy Hagan, a nurse and the president of the New York State Nurses Association, shouted into a microphone. As of November 4, Mount Sinai West has 133 vacancies for registered nurses and nurse practitioners, and another 130 openings at the Morningside location. Union officials say other networks, such as Montefiore and New York Presbyterian, are also severely understaffed. Here are what five Mount Sinai nurses said are the day-to-day challenges of working shorthanded.
Kira Downes-Vogel, labor and delivery nurse at Mount Sinai West
In our contract we're supposed to have 17 nurses per shift. But then all of a sudden, the norm is 15, and then 14. Yesterday every bed in our unit was taken, and there were 12 nurses. Sometimes we have even fewer. On nights they are lucky to have 10. When we are 12 nurses per shift, it means we don't get breaks on our 12 1/2-hour shifts. It means patients who require the undivided attention of one nurse cannot be their only patient. Yesterday, at the birth of a gorgeous baby boy, there was no baby nurse. Not only was I responsible for completing baby nurse duties — I had to admit him into the system; I had to check his vitals; I had to send labs; and I had to administer medications — but I also had to monitor his mother, who had just delivered. Both are vulnerable and in need of a nurse's full attention. Everything went well, but every nurse knows that you are never guaranteed that outcome. Undivided attention can be the difference between life and death.
My biggest fear is that something will happen that could have been preventable to a mother or a newborn and I will never fully recover from it. What's more likely to happen is that more nurses are going to leave and they're going to start mandating us to work 24-hour shifts. They don't have enough night nurses, and the new nurses they train leave because they feel unsafe and unsupported. If they mandate me to work a 24-hour shift, that's a line I won't cross. They have done it with another nurse in my department. If they did that, I don't think it would be safe for myself, my body, or anybody I'm caring for in the 24th hour of that shift. That might be my breaking point.
Nicole Kolvenbach, a med–surg nurse who treats COVID patients at Mount Sinai West
I had six patients today. That's hard to manage. We do go up to seven or eight, which is bursting at the seams. After surgery, when a patient comes on to the unit, one of the most important things is to get them up and walking — and to manage their pain and monitor their wounds. When you have six or seven patients who all require that attention, you're just spread too thin, and you have to prioritize your care when everyone needs the same care. That's how falls happen; that's how patients don't meet their goals. One patient got walked one day, but the next day they didn't, so that delayed their treatment and they had to stay another day.
One day I came into work and I had 14 patients with two nurses, and I called management and told them I could not physically handle it. They weren't able to find another nurse. I had to plead and cry and say I was going to go to the ER because I felt my heart rate going up and I was getting palpitations — and that's when they found another nurse to come.
The COVID patients, they're scared and require a lot of emotional support as well as physical. So it's important to spend that extra five to 10 minutes with them so they're keeping realistic and focused on their plan of care. That's also a very big strain because you have so many patients and you're trying to make it into every room. I'll never forget, I had one patient, she would cry to me, "I'm going to die." She could not calm down because she thought she was going to die. I needed to spend a lot of time to provide that emotional support. I try my best to do that with everyone, but when there's not enough people and people don't want to work on a COVID unit, it's hard.
Madeline Hernandez, emergency room nurse at Mount Sinai Morningside
When COVID first occurred, we had the same amount of staff and equipment despite having this tremendous increase in the quantity of patients who were sick. This continues today. But now it is due to a new issue: Nurses are resigning from work they love because they are completely overwhelmed. Our work has doubled, if not tripled, in the emergency room. There are times on a day-to-day basis when our staff is half of what it should be. In serious situations, we'll only have a quarter of the nurses that should be on shift. That means you have to do the work of multiple people and you just have to make it work. But I think that the public forgets that we're human too. We've had a lot of issues with people resigning because they're old and it's just too hard. People can't do it anymore. It's just too much physically and emotionally. A lot of us are suffering from PTSD from COVID. I'll never forget March 17, 2020. It was Saint Patrick's Day and the city was shutting down. Just that morning six people died in the ER. That continued for, like, six months. People are carrying that trauma with them while doing their jobs. The weight is just too much. With this new variant we have to stay prepared and diligent. Personally, for me, I stay because I love my coworkers and I want to be there for them.
Robert Rodes, psychiatric nurse at Mount Sinai West
With psych, it's very important to talk to people and see how they're feeling — if they're hearing voices, if they want to hurt themselves. And if you're so short-staffed that you can't take that time to talk to them, that's a problem. It could be dangerous because we don't have enough staff to watch and see what people are doing or what they're not doing. We've had a lot of staff assaults. We've had nurses get physically hurt. And more staff could have helped to calm patients down and help make sure situations don't escalate. People are leaving because they're exhausted. They can't get people to do overtime because they're tired. They hire traveling nurses, and a lot of them come here and see what we're doing and say, "I don't want to do that," so they leave. It's a vicious cycle.
Peggy Desiderio, former emergency room nurse at Mount Sinai Morningside
You could have a patient who is in bad shape, but a notification comes in and you have to drop everything and run into the trauma room. I'm the co-president of the union at Morningside, and because I was so worried about my members, I didn't realize it was affecting me too. I have a large family with a lot of kids and it was causing a problem for them. They saw the way I came home, stripping down in front of my house and putting on a robe, hearing about this person died and that person died. I couldn't do it anymore. There is no time to heal. One day I just woke up and said, "I can't do it." It was last December; we were in the second surge and it was starting up again, and I said I just can't do it. I put in my papers and gave them three months' notice. Now I work at Morningside's vaccine pod. I go in one or two days a week giving vaccines, so this way I can check in with the nurses. I'm still fighting for them.