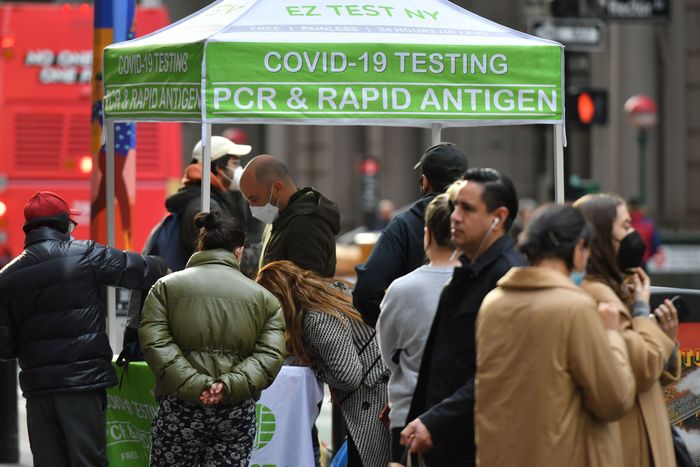 Photo: Erik Pendzich/Shutterstock
The Omicron wave crashed into New York the weekend before last, when seemingly half the journalists in the city caught COVID. The BuzzFeed SPAC party, David Zwirner's holiday festivities, the LCD Soundsystem residency, and SantaCon all (allegedly) achieved superspreader status. And that's what appears to be the starkest difference in this go-around: It's the relatively well-off New York neighborhoods where people are testing positive. In one week, the number of newly infected Manhattanites tripled to roughly 15 out of 1,000 — dramatically outpacing the other boroughs — and neighborhoods like Tribeca, Chelsea, and Gramercy are driving the increase. In Soho and Greenwich Village, a staggering 1 out of 56 people have been diagnosed with COVID over the last seven days, and that of course doesn't include the asymptomatic people who haven't felt the need to get tested. In the past two years, this kind of spike among the well-off has never happened.
We wanted to get a sense of why Omicron seems to be the variant of the wealthy — or what factors are at least making it appear that way. Experts say the reasons why cases are so much higher in Manhattan are varied — and it's likely that the high transmission rates that are being documented there actually exist throughout the rest of the city, too.
Everyone Who Needs a Test Can't Get a Test
We're nearly a year into widely available testing, but the lines outside the sites look like they did at the beginning of the pandemic. How is it that you still have to wait two or three hours — if not longer — in order to get swabbed? Well, the number of city-operated testing sites dropped from 54 to 34 in November, according to The City. That includes a big center in Woodside, Queens — a neighborhood that's also dealing with a spike in COVID cases that may well be underreported — and five smaller sites in The Bronx. Outside the city's affluent areas in particular, many New Yorkers are instead turning to places like CityMD, taking at-home tests, or not getting tested at all.
While cases are rising in Manhattan, "it's hard to tell whether that actually really represents where the virus is going versus that's just where tests are occurring," said Dr. Bruce Y. Lee, a public-health-policy expert at CUNY. That's apparent in the data: In both Manhattan and Brooklyn, where testing is generally more accessible, the positivity rate is right around 15 percent; it's 7 percent in Queens and 6 percent in the Bronx. This week Mayor Bill de Blasio pledged to open 27 new testing centers and mobile sites, and President Biden also pledged to open federal testing sites in New York City — the first four of which will be launching in underserved parts of Queens — before Christmas.
Waiting in Line Sucks — But Being Able to Is a Luxury
For the Media Variant set, it's easy enough to watch Slack on a phone while standing in line for most of an afternoon. That is not a luxury available to, say, gig workers or hourly employees. "It costs money to stand in line," said Danielle Ompad, an epidemiologist and associate professor at New York University's School of Global Public Health. For those who have already burned through their sick leave or days off, "missing work is just not an option," said Ompad. "That could absolutely be driving some of the testing differentials we're seeing."
Younger New Yorkers Are Driving Cases
Omicron's arrival during December travel and holiday get-togethers created a "perfect storm" for new cases, according to Jessica Justman, an epidemiologist and associate professor at Columbia Mailman School of Public Health. That's what City Councilman Mark Levine, the chair of the council's Health Committee, thinks has fueled infections among young New Yorkers between 25 and 34 years old in parts of the city — overall that figure has jumped from less than 2 percent of cases in the city in early November up to more than 5 percent a week ago. "I really think this reflects how young people are socializing in the holiday season and how they are now disproportionately testing positive," said Levine (Justman thinks this may be happening too). "Particularly when you're eating and drinking, masks come off, and because Omicron is just so contagious, where we weren't seeing a lot of spread there's just many more cases now." And we still have to get through Christmas and New Year's Eve.