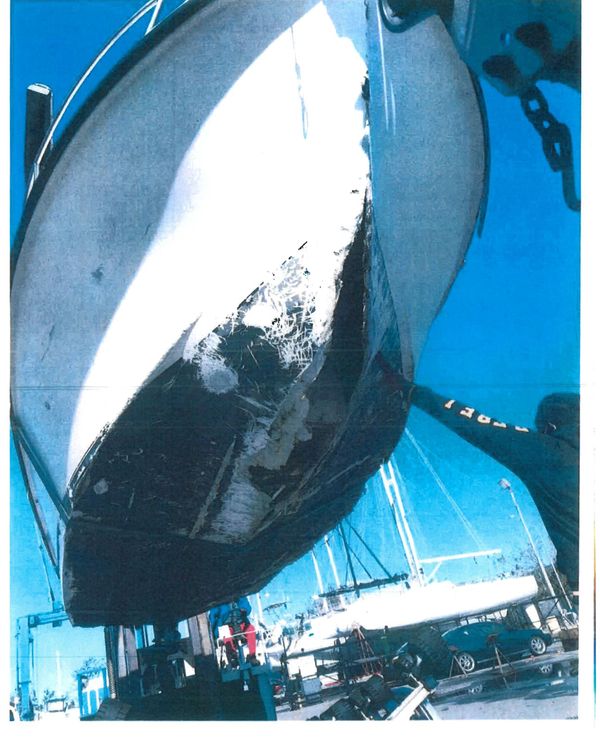 The
Perfect Storm
(launched in 2000, wrecked in 2020).
Photo: From the Office of the MTA Inspector General. MTA/OIG Report #2021-30. Internet. Available from https://mtaig.state.ny.us/Reports/21-30.pdf; accessed 2021 December 20.
The New York Post reported this morning that a boat owned by New York City Transit was wrecked by a couple of employees in October 2020. Apparently the crew of two — one of them lightly trained as a marine pilot, aboard a vessel whose maintenance records are now at the bottom of the harbor — got in over their heads when the engine and anchor both failed in choppy seas, and they abandoned ship, leaving the boat to run around and capsize near Coney Island. In the end, they were rescued by FDNY, and nobody was hurt. The state inspector general's report on the incident suggests that the agency's foray into boat ownership was negligent, wasteful, dangerous, and hilarious.
Our first reaction, though: The MTA has a boat?
Apparently so. It is (was) a 25-footer, fiberglass, a fishing boat built by Steiger Craft and bearing the Italian-chef's kiss of a name Perfect Storm. (The landlubbers at the Post refer to it as a "schooner," which it is absolutely not.) Its operation was reportedly, and oddly, overseen by the agency's hydraulics department, which runs the subway system's pumps and drains and is headquartered on Sands Street in Brooklyn. The acting assistant chief of the department had no idea that it even had a boat. The vessel is about 20 years old, and nobody seems to know for sure who at the MTA manages its use or even why the state bought it in the first place — bridge maintenance, search and rescue, perhaps a taste for striped bass? ("We were at a loss as to who specifically to recommend be held accountable," the report said. "The proverbial buck stopped with no one when it came to this boat.") On that fateful day, it had been requisitioned to help with a maintenance job on the 63rd Street tunnel, one that required employees to dangle over the water in harnesses; the boat, apparently, was there in case someone fell. (The two hydraulics employees who were aboard have no search-and-rescue training.)
Post-capsize, the hull is now busted up beyond what can reasonably be repaired, and the agency has no plans to replace its little watercraft anytime soon. As the IG's report notes, "The fact that MTA has determined not to replace the Boat calls into question whether it even was needed to begin with." Depends whom you ask, of course.