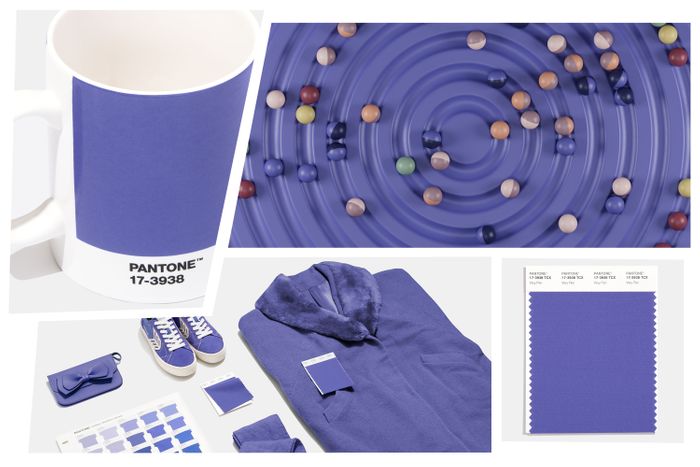 Photo: Courtesy of Pantone
Whenever Pantone has released Color of the Year, as the color standards company has done annually since 2000, it has plumbed its library of hues to find something that represents a cultural forecast for the year ahead. But for 2022, the brand did something a little different — it launched an entirely new color: PANTONE 17-3938, also known as Very Peri. Pantone describes it as a "dynamic periwinkle-blue hue with a vivifying violet-red undertone," and goes on to say "this happiest and warmest of all the blue hues introduces an empowering mix of newness." Except this color doesn't seem new. It just feels like the recent colors of the year were recycled.
To wit: 2021's color of the year was Ultimate Gray (a sadly apt choice for the second year of the pandemic), 2020's was Classic Blue, 2019's was Living Coral, and 2018's was Ultra Violet. Throw them in a blender and you'd probably get something like Very Peri, which also reminds me of a color you'd find in an L.L.Bean catalogue that's a little more spicy than beige but just as safe. When I first read the description of Very Peri, I thought for a second the hue might look similar to bisexual lighting. Again, an older trend, but one that would have evoked some of the excitement Pantone claims Very Peri represents. I also couldn't shake off its similarity to the 2016 Colors of the Year, Rose Quartz and Serenity — a pastel pink and a sky blue that Pantone chose, rather obtusely, to represent a "gender blur." Pantone's promotional video this year even shows those two colors exploding into one another to make Very Peri.
The watered-downness of Very Peri feels like an analog for the limbo of the last few years. "We are living in transformative times," Pantone's explanation reminds us. "As we emerge from an intense period of isolation, our notions and standards are changing, and our physical and digital lives have merged in new ways." Again, this gave me a flashback to the reasoning behind 2020's Classic Blue — a deep and intense saturated blue not unlike Biden Blue — as "a dependable and stable foundation on which to build as we cross the threshold into a new era." Little did we know that just a few months later, just as we were crawling out of the era of orange, the pandemic would shut down the country and introduce more entropy. This year's muted blue is like a toning down of expectations yet again, a liminal color for another year of purgatory. But is that what we need for the year ahead? Dopamine Dressing — and all of its raucous reds, electric greens, and highlighter colors — would like to have a word.