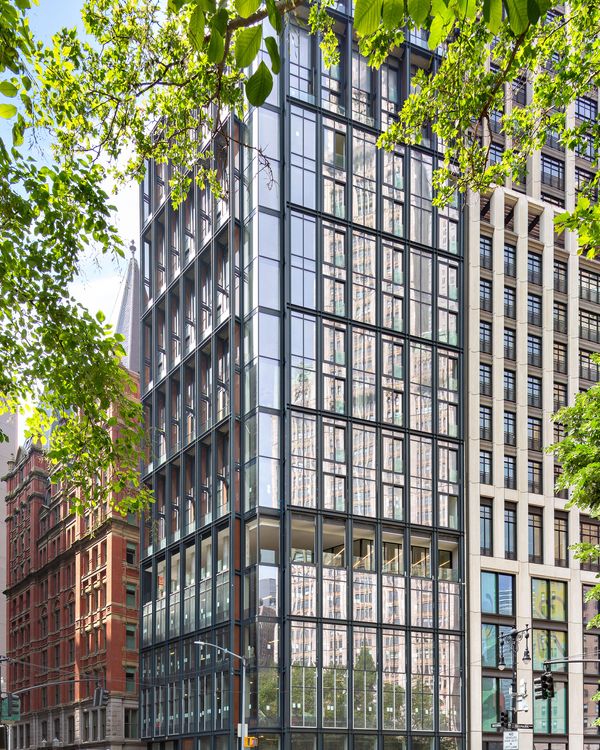 Photo: Donna Dotan Photography
You know that moment in a well-cast drama when an actor in a three-line role — a gruff shopkeeper, perhaps, or a suspect's aunt — delivers a burst of personality that galvanizes the entire scene? Rogers Stirk Harbour + Partners' narrow-hipped condo building at 33 Park Row takes its place at the edge of City Hall Park in an Oscar-worthy feat of ostentatious modesty. At 331 feet tall, it seems almost diminutive next to Cookfox's elaborately Neo Deco 25 Park Row, which rises twice as high. No. 33's black-steel columns and patinated-copper flashes give it some red-carpet panache, but its neighbor across Beekman Street, the flamboyantly russet Potter Building, with its Victorian flair and terracotta ruffles, monopolizes attention. New Yorkers with long memories will always think of this corner as the birthplace of J&R Music and Computer World, the electronics emporium that spilled across a chain of low-rise buildings on Park Row. Those holdovers from a storefront city are gone now, but the area has avoided total blandification. Rogers Stirk's late arrival steps up to its mark, completing the scene with a confident murmur. For now, at least, the jostle and glister of lower Manhattan retain their fragile balance.
That's never a given. New York is full of blown chances and gross erasures, where elderly buildings are swept away in a fever of renewal. The exchange rate can be cruel, four or five shabby holdovers for one bright but bland new tower, and the swath around City Hall Park has always been especially vulnerable to change. New York's skyline was born here; the Park Row Building at No. 15 was the tallest in the world for the first years of the 20th century until it ceded the title to the Singer Building, a few blocks down Broadway. From a living room window at No. 33, you can survey more than 200 years of architectural history, from the Italianate City Hall to the Woolworth Building to the bird-struck glass needles of the World Trade Center. That glorious aesthetic jumble assembled itself by accretion, accident, and destruction. It can be obliterated that way, too.
When J&R closed in 2014, gloom seemed like the only appropriate response. A store that had accompanied us through the eras of the cassette deck, boom box, digital point-and-shoot, Walkman, Discman, and Palm Pilot had at last been undone by technological revolution. Stores themselves were becoming obsolete and with them the neighborhoods that drew shoppers from across the city. Workplaces, too, were migrating elsewhere. The media business had long ago drifted uptown from Newspaper Row, where the Times, the Observer, the World, the Tribune, the Herald, and the New Yorker Staats-Zeitung all planted their headquarters. In more recent decades, this concentration of New York busyness slowly metamorphosed into a residential zone. The daytime population of politicians, financiers, reporters, clerks, stenographers, insurance executives, and sales reps who once geysered out of the subway every morning and drained away each evening replaced by a homogenizing tranche of the well-to-do.
Park Row sits at a juncture where trends and events collide. A ten-minute walk takes you to Chinatown, beleaguered by gentrification and battered by the pandemic; to Wall Street, a physical relic of an industry that exists almost entirely in the ether; onto the Brooklyn Bridge, where tourists pursue an Instagram moment; or into the chic heart of Tribeca, where the hardiest overpriced restaurants hang on, waiting for tourists to return.
How does a lone apartment building deal with all these urban eddies and swirls that will change direction dozens of times over the course of its existence? By getting the details right. The tower occupies a diamond-shaped site formed by Park Row, Beekman Street, and Theater Alley, and each apartment spreads out from the diagonal axis that leads the eye straight across City Hall Park and straight uptown. Outside, dark I-beams and slender mullions pattern the façade like a tastefully checked gabardine with rust-colored accents. The glass skin takes a few steps back from the street on the way up, leaving narrow balconies and creating a play of gloss and shadow. The tower is crowned with a high-ceilinged penthouse balcony that echoes a Renaissance loggia. These gestures merge into a building that harmonizes with a cacophony of stylistic revivals yet doesn't give up an iota of modernist elegance.
It's striking to see Rogers Stirk sidle into the city's residential market after making its New York debut with the 1,000-foot 3 World Trade Center. The firm has sown London with landmarks, including the classic Lloyd's, the skyline-altering Leadenhall Building right across the street, and the luxury complex at One Hyde Park, which contains the priciest apartment in London, or maybe in Britain, or possibly the world. Rogers Stirk's philosophy of exposing a building's bones and musculature so that we see it as an animate machine has been so influential as to graze cliché. Yet none of that experience or august reputation was any guarantee that the firm would thrive in Manhattan's architecturally brutal environs. This is a place where the world's architects want to compete yet few do their best work — where virtuosos try to cram in whatever pirouettes the zoning will allow and geniuses of space and light are routinely demoted to façade decoration. Rogers Stirk, though, resisted. Rather than try to hog the spotlight or fall back on formula, the firm astutely figured out how to fortify an already great ensemble.