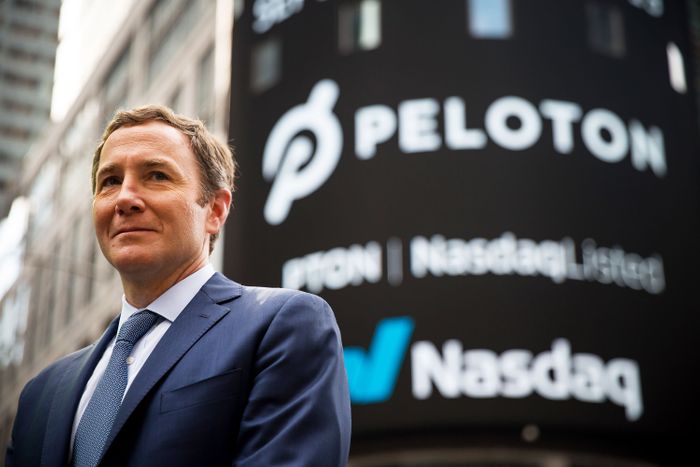 John Foley's new East Hampton estate cost him $55 million.
Photo: Michael Nagle/Bloomberg via Getty Images
As lockdown restrictions eased and at-home workout fatigue set in over the past year, Peloton slid from its exalted early-pandemic status. The company's stock price, which in 2020 went from $30 to a high of $171, is now back down to about $40 as investors worry about competition, the limited market for expensive exercise bikes, and supply-chain woes. Pelotons started doubling as $2,000 clothing racks; some even got set out as trash. And that was before the Sex and the City fiasco: After [belated spoiler alert] Chris Noth's Big died at the end of a Peloton ride in the first episode of the show's reboot, And Just Like That …, the company aired a suspiciously not rushed-looking commercial featuring Chris Noth and his Peloton instructor living happily ever after. Which seemed like a savvy way to own the situation — until two women accused Noth of sexual assault, and the company pulled the ad. In a recent call with staff, CEO John Foley said Peloton's popularity early in the pandemic had made it "undisciplined."
So how's Foley's own fiscal restraint? Although he slipped from billionaire status in November and more than two-thirds of his wealth consists of options, Foley, reports the Post, just purchased a $55 million oceanfront estate on Further Lane in East Hampton. He's still spending like it's 2020: That's roughly 12 times the price he put on his prior East Hampton estate, which is listed for $4.5 million. The two homes are roughly the same size — 6,000 square feet — but the new one includes 400 feet of oceanfront, suitable for long morning gazes at the ocean as he and his wife and colleague, Jill, pedal to nowhere.
News of the purchase didn't sit well with Peloton employees, who vented to the Post that morale at the company is at an all-time low. (The Foleys also have a place in the West Village with bathrooms ample enough to accommodate prototypes of their new treadmills.) In December, Foley hosted a lavish party for instructors at the Plaza Hotel after canceling the company party and instituting a hiring freeze. (Peloton claimed the Plaza party had been paid for with Foley's own money.) Maybe it's time for another Christmas ad?