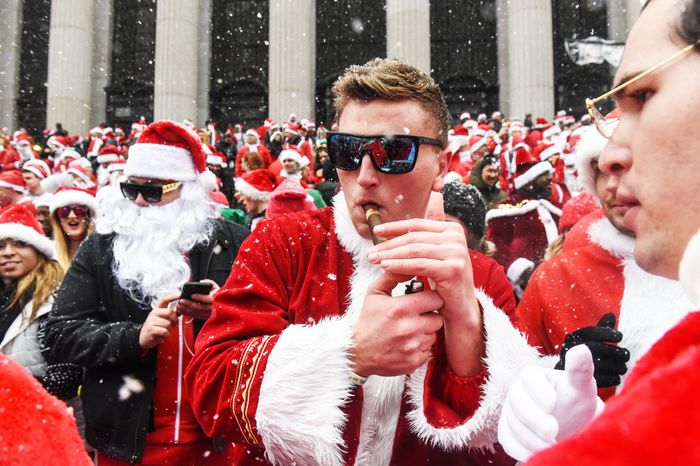 Photo: Stephanie Keith/Getty Images
Last winter was truly grim: No vaccine was available, hospitals were brimming with COVID-19 cases, and practically everything was shut down except for outdoor dining. But in December, there was a single bright spot: SantaCon, the annual festival of red-hatted projectile vomiting and debauchery, was canceled for the first time in two decades. While many New Yorkers may have fantasized that the bar crawl would be canceled for good (or at least while COVID rates are spiking), it's back this year. It's touching that the SantaCon website actually outlines a code of conduct for Santas, with simple edicts like, "Santa spreads joy: not terror. Not vomit. Not trash" and "Santa doesn't piss on the streets, start fights, block streets, climb on cars, or deface property." But we already know what this frenzy of suburbanite day-drinking will yield. On the occasion of SantaCon's return, we looked back at some of the most indelible moments from SantaCons past.
Roughing up everyone — including the disabled.
Nothing good can come from running into a gang of men in red on SantaCon weekend, but in 2011, one particularly aggressive Santa caused a scene on Houston Street when he started pushing everyone who walked past him. That included a man who walks with a cane, whom the Santa grabbed by the jacket and threw to the ground. "Due to the fact that I'm literally 100 pounds, I flew down under," the man later told Gothamist, "with enough reflex to not bash my head on the ground."
Hitching a ride with the FDNY. 
Rather than walking (or crawling) from bar to bar, one SantaCongoer hitched an illicit ride on the back of a fire truck in 2016. The partier, dressed in a Santa coat and hat, calmly perched on one of the ladders as the truck made its way down Third Avenue.
Scaling the Washington Square Park Christmas tree.
In 2010, a Santa managed to climb nearly to the top of the park's 45-foot tree as friends and onlookers cheered. Things did not go nearly as well on the way back down, though: He slipped, got tangled in the lights, and almost fell out of the tree.
Mass turnstile-hopping.
A group of at least a dozen Santas was seen gleefully jumping the turnstile at the Astor Place station in 2019. But there was at least a bit of the giving spirit to the fare evasion: Another group of Santas opened the station's doors from the inside to allow people in while singing, "Merry Christmas, ride for free!" No one tried to stop either group, of course.
Sexually assaulting a journalist.
In 2011, a drunk guy dressed as a Christmas tree forcefully grabbed and kissed photographer Katie Sokoler, who was working for Gothamist at the time.
More like SantaBrawl.
Fights are to SantaCon as candy canes are to Christmas — but some conflicts go above and beyond your average scuffle between grown men wearing Santa hats. Case in point: the brawl that broke out in the middle of the street in 2018 between a dozen dudes dressed in Santa outfits and one in a nutcracker costume. In a video of the melee posted to Instagram by @WhatIsNewYork, "It's the Most Wonderful Time of the Year" plays in the background as the punches fly. Indeed.