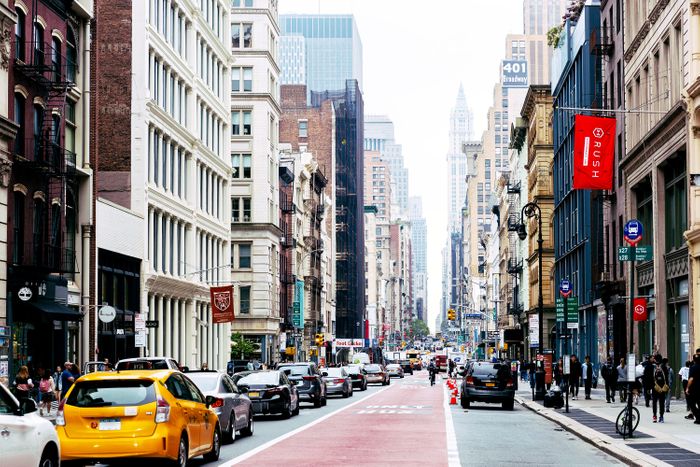 Photo: Alexander Spatari/Getty Images
Soho is more than just a wealthy neighborhood — it's one of the most aspirational places to live in the city. Celebrities like Emily Ratajkowski, Daniel Craig, and John Legend call its landmarked cast-iron buildings home, and residents who aren't famous (or run hedge funds) still earn double the city's average household income, which helps when the median rent for a one-bedroom is $4,200. But the plan to redevelop the neighborhood — which the City Council is expected to approve Wednesday after months of raucous community meetings and a court battle — may finally make a dent in Soho's (and neighboring Noho's) exclusivity. Hundreds of new apartments will be built in the coming years that lower-income New Yorkers can actually afford, including some who earn $15 an hour.
Under the rezoning, some 3,500 new apartments will be built, with up to 900 subsidized for low- and middle-income New Yorkers. That's a lot less new housing than other city-led rezonings, but Soho's and Noho's byzantine zoning and vigorously protected historic districts have made building there a Herculean task. Late in the negotiations last week, City Council members Margaret Chin and Carlina Rivera proposed a change that would make those apartments even more affordable. Developers will only have two pricing options for below-market units in Soho and Noho rather than the usual three: Under one scheme, 20 percent of a building's apartments must be affordable to households of three earning around $42,000 a year. Or, a slightly larger share of apartments, 25 percent, must be affordable to a family of three making about $64,000 a year, with an additional 10 percent of the total units available to a household of three that earns $42,000. A third option normally available to developers, which requires rents to be affordable for a household of three earning $85,000 annually, was cut entirely.
The rezoning, of course, will also bring about plenty of shiny new lofts with five-figure rents and stylish, amenity-laden offices. But this small change may ultimately bring greater economic — and racial — diversity to Soho and Noho. Instead of a neighborhood that only the wealthy and those who moved there during the Carter administration can afford, Soho could actually be a place where a retail worker employed at one of the area's luxurious shops can finish their shift and walk a couple of blocks back home.