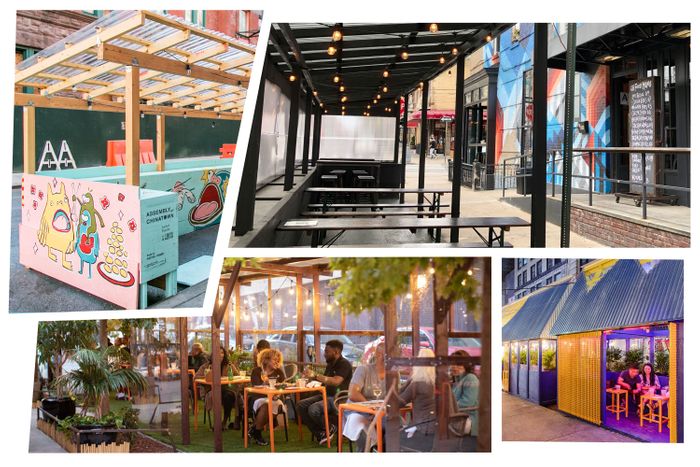 Winners of the Regional Plan Association's Al Fresco awards for outdoor dining.
Photo: Regional Plan Association
Sameness has befallen much of New York City's new construction, and it's not due to a dearth of originality. The cutthroat real-estate market leads developers to max out what zoning codes will allow, to hew to building standards that ensure whatever they build will sail through design review, and to value-engineer out any moves that might make a project more unique but also more bureaucratically cumbersome. We all know the look of buildings that follow this playbook — flat, unadorned, boxy. All of which is why the emergence of streeteries was so thrilling to me — without rules or (much) precedent, the streets got interesting at a scale and speed that New York isn't accustomed to. Every restaurant proprietor, propelled by a sense of urgency and limited by their resources, became a designer and built interesting structures. But that's coming to an end, as DOT develops permitting rules for open restaurants. Enjoy the weird, comical, and eccentric structures while you can.
Don't get me wrong — the city's move to make open restaurants permanent is remarkable. It's a rare opportunity to enhance the public realm. It's also bittersweet. Design standards and sameness are a tag team. While I hope that the creative spirit that's fueled these structures for the past year and a half survives the impending legislation, I'm not holding my breath.
So far, we've seen kinetic structures, pastel-pink arched arcades, yurts, and faux railcar diners, bungalows that look indistinguishable from the interiors of the four-star restaurant they belong to, cottagecore embellishments, greenhouses, and architectural ducks. I relished the little details that restaurants incorporated into their designs, like a pizza restaurant on Smith Street using spent cans of tomato sauce for planters, and a natural-wine bar on Centre Street that added a towering flower-shaped cistern to its streetery to collect rainwater. A lot of the experimentation was due to the lack of clear rules about what was and wasn't permissible and a mad dash to just build something. A bar on Vanderbilt tessellated a few cinder blocks — a precarious construction which really wouldn't protect diners if a car crashed into it — when it first opened its outdoor dining area, before building a sturdier and safer plywood pavilion adorned with a mural.
To date, open restaurants have mostly operated on the honor system. DOT issued rules about accessibility, clearance, and safety but hasn't really been enforcing them unless it received complaints. Even then, it wasn't operating from a punitive perspective, giving restaurants a chance to rectify any violations before levying a fine. Some restaurants and bars have taken a perspective of "ask for forgiveness, not permission" a little too far, like an East Village Izakaya's failed attempt at building a two-story streetery, proving that we do need policy and enforcement that's more robust than we currently have, especially when sidewalks have become too congested and many of them (anecdotally speaking, the majority that I've seen) aren't ADA compliant as DOT mandates. Accessibility is non-negotiable, and more thorough permitting seems to be the only way to ensure this isn't ignored.
Most streeteries I've seen lately have all been flattened into the same utilitarian silhouette — a boxy corral with a pitched roof and walls enclosed with acrylic. It's become a platonic ideal for open restaurants.
We saw early signs of this last winter. When streeteries were viewed only as a temporary stopgap, something that needed to last a few weeks, they didn't really need to be robust. When it became clear, though, that the pandemic wasn't going to let up, restaurants with means were shelling out anywhere between $5,000 and $25,000 to build structures that could withstand snow, gusty winds, and traffic. The more ad-hoc mom-and-pop streeteries have gotten worse for wear, and many look like they're on their last leg. Some restaurants have simply abandoned them.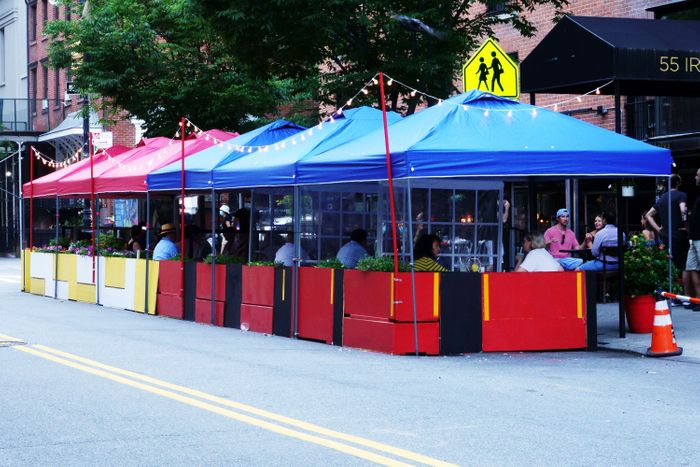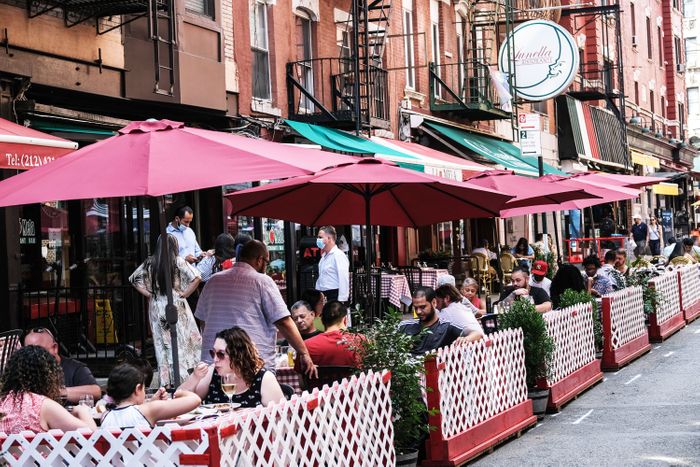 Now that open restaurants are on their way to becoming permanent, offering a future speculators can hedge against, opportunists have arrived. Landlords are already looking for ways to inflate rents for spaces with sidewalk space and parking space adjacency. "It's obviously not necessarily the landlord's space. This belongs to the city if it's on the sidewalk," Brandon Singer, CEO of the brokerage Retail by MONA recently told The Real Deal. "But you can make the argument, if you're a landlord, you're going to be utilizing the space outside my building, you should pay me more." It's creating a market where the mom and pops won't be able to compete with investor-backed enterprises, whose design sensibilities are usually pretty tame.
There will be more regulations, and with that, the program will become harder for businesses to participate in. DOT also hinted that the program will involve a fee for participation in the future. Ahead of issuing the new guidelines, the department has begun a five-borough listening tour to hear concerns from local officials, which are expected to be released sometime early next year and will go into effect in 2023. After community boards lost their bid to kill open restaurants outright, a few of the more domineering ones are demanding to review permits, which would introduce another layer of bureaucracy to getting permanent streeteries built.
I imagine that in the near future, it'll only be restaurant groups and chains that can afford to build open restaurants. They'll become investments, where aesthetic risks are few. To appeal to as many customers as they can, design will become mediocre, passable, and inoffensive — the equivalent of the ubiquitous yawn of a Starbucks.