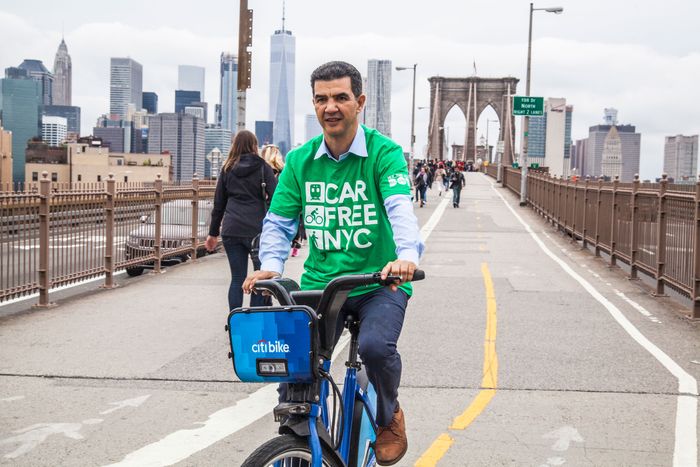 Photo: Konstantin Sergeyev
On Christmas Eve, a truck driver fatally hit a pedestrian and a deliverista on the corner of East 61st Street and Third Avenue. It was the 22nd crash at that intersection since 2011, and the truck itself has accrued 271 traffic violations over the last two years — clear signs of an utterly preventable tragedy. The next day, Ydanis Rodriguez, the incoming DOT commissioner appointed by Eric Adams, attended a vigil in honor of 37-year-old Taurino Rosendo Morales Rodriguez, the delivery worker killed that day, and vowed to improve pedestrian and cyclist safety. The two deaths added to the already grim toll this year, as the city wraps up one of its deadliest for pedestrians and cyclists. Rodriguez, who has represented Washington Heights and Inwood in the City Council since 2010, will definitely face a steep challenge in his new role.
As a longtime advocate for safe streets, micromobility, and better biking infrastructure, Rodriguez seems like a pretty excellent choice to head the DOT. He has been the chair of the council's transportation committee for eight years, and has passed at least a dozen transportation-related bills during his tenure. As a supporter of Mayor de Blasio's Vision Zero policy, he co-sponsored the Justice for Hit and Run Victims Act in 2014, which allowed the city to impose civil fines on drivers who flee crashes. Since 2018, Rodriguez has advocated for legalizing e-bikes and e-scooters, which are vital to the livelihood of delivery workers, even as de Blasio for years insisted on upholding the ban on them. Adams's choice of Rodriguez actually makes a lot of sense, which is more than we can say for the brief, 11-month appointment of Hank Gutman, de Blasio's pick to fill Polly Trottenberg's role when she was appointed to the Biden administration. Gutman's only qualification at the time seemed to be his closeness to the mayor, according to transit advocates, and his career in intellectual property law had almost no overlap with the duties of the DOT.
At a time when record numbers of New Yorkers are out in the streets — riding bikes and scooters and one-wheels, making deliveries, eating in streeteries, walking on Open Streets, and driving pandemic cars — Rodriguez has made the big promise to "turn New York City into the most pedestrian and cyclist-friendly city in the nation." But he has already laid out some specifics as well: Last week, during his official announcement as the new commissioner, he committed to replacing 50 percent of all plastic-bollard protected bike lanes with "sturdier and more permanent structures" within his first 100 days. That seems like a good start.