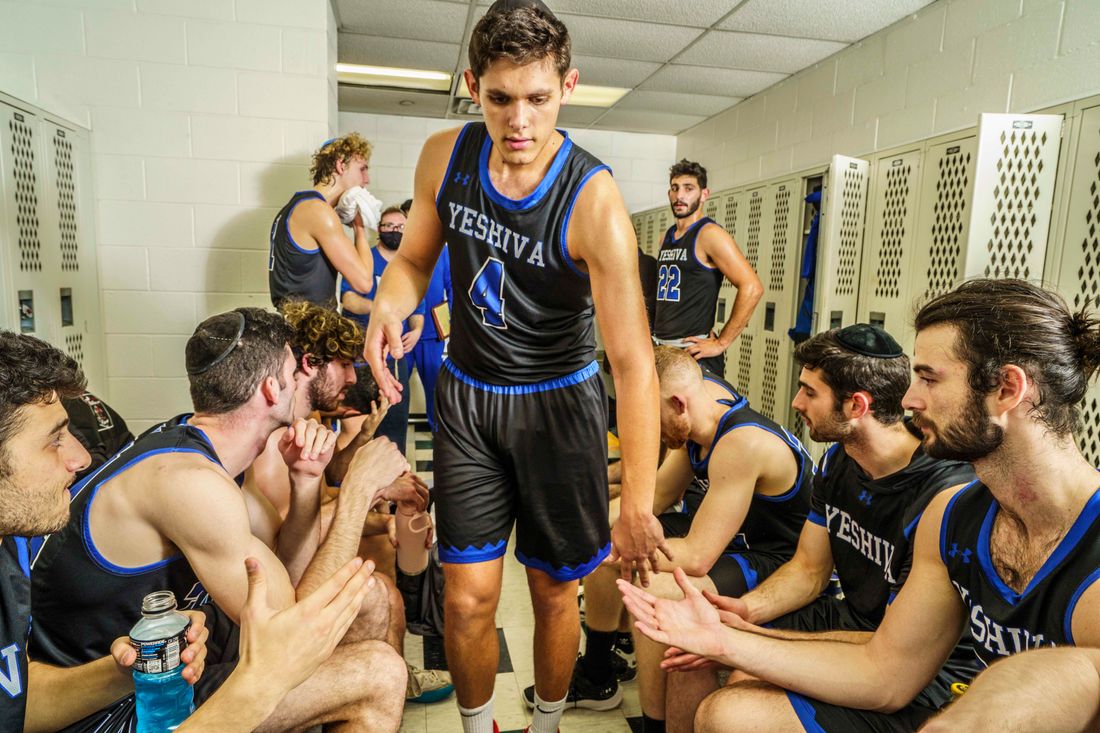 From left,
Zachary Muller, Alon Jakubowitz, Ofek Reef, Ryan Turell, Gabriel Leifer, Matan Zucker, Adi Markovich, Max Leibowitz, and Jordan Armstrong.
Photo: Mark Peterson / Redux Pictures/mark peterson/redux pictures 2021
With all due respect to Bing Bong Nation, the most exciting local basketball squad right now is the men's team at Yeshiva University, which won its 50th-straight game recently and is currently the top-ranked Division III team in the country. Yeshiva — hardly a traditional basketball powerhouse — isn't just winning games; it's dominating them. The Maccabees' average margin of victory through 14 games this season is more than 29 points, and only twice have they won by fewer than ten.
Much of their success can be attributed to Ryan Turell, a senior from Los Angeles who leads all Division III players in points. Turell had offers to play for Division I schools — which would have meant more exposure to scouts and a more conventional pipeline to a pro career — and briefly committed to Army. "I realized that my Jewish lifestyle would be sacrificed in order to play Division I basketball. It just wasn't worth it to me," he says. Turell hopes that if he helps transform Yeshiva into a reliable contender, future players facing the same choice can keep Judaism as part of their lives and still play at a high level, even competing for a national title. He's also hoping to become the first Orthodox Jewish NBA player.
At an away game against New Jersey City University on December 15, the Maccabees built up a big halftime lead before fighting off a furious second-half rally by their opponents. Turell scored a game-high 41 points, while forward Gabriel Leifer led the Macs with ten rebounds. After the final buzzer, the fans who made their way to Jersey City rose to their feet (and let out a sigh of relief). "We have a real niche fan base," says head coach Elliot Steinmetz. On Purim, the Jewish holiday when people wear costumes, many young fans have even dressed up as Yeshiva University players. "I haven't seen anyone shave their head bald and dress up as the coach yet," Steinmetz says. "But hopefully that's coming."