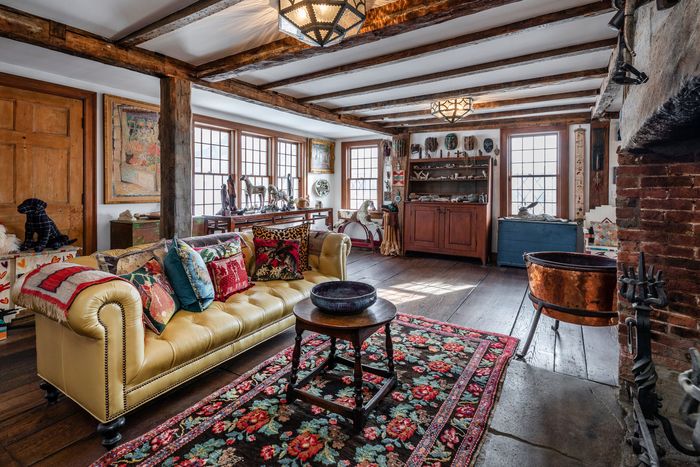 Photo: Courtesy of The Matthews Team at William Raveis Real Estate
Pre-19th-century houses tend to be built right up against busy main roads (for ease of access in pre-automobile times). Not this circa-1740 house, asking $750,000 in Litchfield, Connecticut, which sits relatively far back from the (already quiet) street on a 2.2-acre lot with a large front lawn and a long driveway off to the side.
Something else unusual for a house this age: the two-bedroom, two-bath home comes completely updated. The current owner, a history-obsessed collector of Native American artifacts, bought the place in 2004 and promptly took it down to the studs. That means the house has 21st-century siding, windows, insulation, electrical, and plumbing systems, plus all stainless steel appliances. Another quietly modern selling point of the house is a relatively open floor plan on the ground level, especially the kitchen and dining area with vaulted ceilings.
For the most part, though, the house still looks thoroughly 1700s. There are wide-plank floors in every room and hand-hewn exposed ceiling beams all throughout the first floor. Gothic-style flush-mount ceiling lights abound, as do built-in recessed shelves, and there's a freestanding pedestal tub in the main bathroom. And thanks to a rebuilt chimney, the original hearth wood-burning fireplace in the living room — which takes up essentially an entire wall — actually works, which listing agent Stacey Matthews says is rather rare for houses from this time period.
Matthews has been "inundated" with showings already, though prospective buyers aren't getting quite the full picture at the moment. "Whoever buys this is going to be very surprised when they get in in the spring," she says. The owner is apparently a "serious gardener," and the meticulously cultivated grounds include many varieties of heirloom roses, an arbor with Japanese wisteria, and espalier apple trees.